I have a confession to make... I'm addicted to creating weird (and sometimes wonderful) sound effects in Logic. There's something undeniably satisfying about stretching, flexing, effecting, warping, a
I have a confession to make... I'm addicted to creating weird (and sometimes wonderful) sound effects in Logic. There's something undeniably satisfying about stretching, flexing, effecting, warping, and generally manipulating one sound until it's transformed into something completely different! Check out Part 1 of this Halloween Sound Design series to see what I mean. In this featured tutorial we're going to transform a simple sample of my (or your) voice into a variety of gut wrenching and unearthly monster growls. The kind of scary growls that would leave you paralyzed and rooted to the spot.... Even if you're not a fan of the Horror movie genre (I prefer to hide behind the Sofa) or you take no pleasure in scaring Trick-or-Treaters on All Hallows Eve, you can apply the techniques below to design sounds and foley for film, TV, animation and video games. So grab your portable recorder, or boot up your DAW (that's right - Cubase, Live and Pro Tools users are most welcome here!) and get ready to create some monstrously scary sounds.
This is what you'll need:
a voice (one that can growl is ideal)
a microphone or portable recorder
some time in Logic (or any DAW)
Michael Norris' Sound Magic Spectral plugins (optional - but free to download!)
a Monster mask (optional to set the mood)
Step 1 - Release the Monster Within
I recorded a few takes of myself imitating a growl. Interestingly, the more authentic-sounding ones didn't always produce the best end results. So experiment and have some fun recording a few sample growls, moans, breathy snarls, etc. I used my trusty Sony PCM-D50 to record these samples. Although I still find it an indispensable part of my portable recording setup, I don't recommend recording growls or snarls in a public place...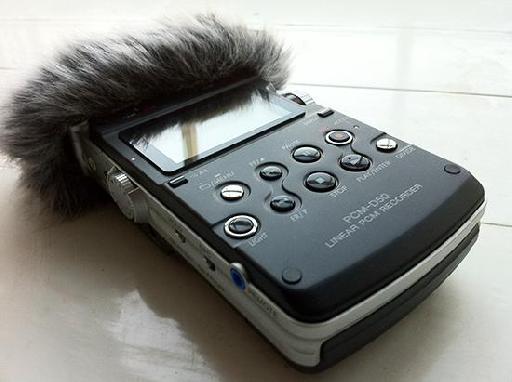 Step 2 - Import into Logic
Alright, before you listen to my far from scary growls below, bear in mind that the aim is to try to capture the essence of the kind of sound you wish to create. In my case, I was going for an animal style - growl and then progressed into recording somewhat more throaty sounds. Once you have recorded your vocals growls, import the audio files into a new Logic project and place the file on an audio track.
If you've recorded multiple samples, use the marquee tool or scissors to split the region into multiple parts like in the image below. I like to get rid of as much silence as possible. You can use the Strip Silence functions in Logic to remove any unwanted silence. You may also wish to remove any unwanted background noise from the audio files in Sound Track Pro or any Audio Editor with noise reduction features, e.g. Audacity.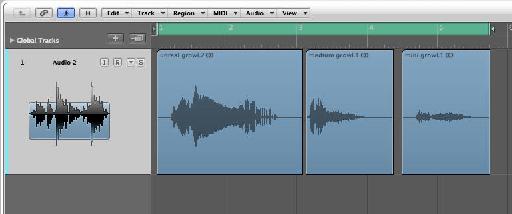 Take a listen to the three sounds my voice made unprocessed:

I decided to choose the first sound to process as it has more of a growl and less of a breathy feel.
Step 3 - Dr Jekyl Meet Mr Hyde
Lowering the pitch of my puny growl is the first action I want to take. Now we could use Logic's Pitch Shifter II plugin, like we did in Part 1, but each instance of Pitch Shifter II can only apply a maximum of -12 semi tones. Here's what it sounds like:
Not bad for a small Jungle animal perhaps... But we're going to create something more ferocious and other-worldly than this.
Another way to play with the pitch dynamically is to load the audio file into Logic's Sampler, the EXS24. In Logic 9 you can use the Convert to Sampler Instrument feature to make this a quicker process. (Previous Logic versions require you to make an EXS24 sampler instrument from scratch).
Select one region and choose Audio > Convert Regions to new Sample Track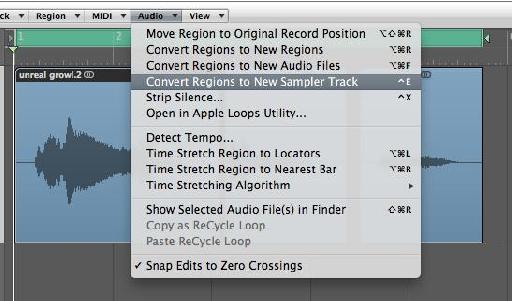 In the dialogue window set Create Zones from Regions. Give it a name of your choice.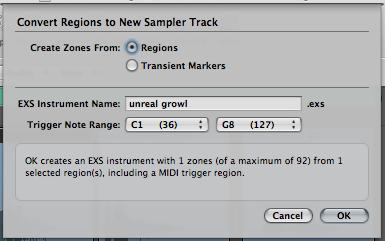 Step 4 - I Know What you Did Last Summer (in Logic)
Select the new EXS24 track (which will still have a puny growl playing back on it) and double-click on the EXS24 in the I/O section of the channel strip to open the EXS24. Now click on the Edit button in the top right to open the Instrument Editor.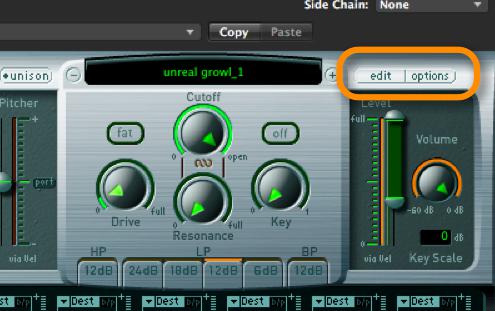 The audio file is only mapped to one key. In my case to C1. Position your mouse cursor over the left edge of the zone in the Zones area above the keyboard display and drag to the left to increase the key range, until it starts on the C -2 key. Also make sure that the Pitch Checkbox is enabled for the zone.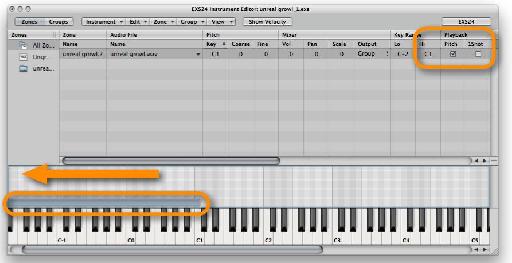 Play your MIDI Controller or the Caps Lock Keyboard to trigger your growl sample at different pitches. For example I've gone down about 18 semi tones on my original sample. Find a pitch that works for you. You can close the EXS24 editor windows and return to the relative safety of Logic's Arrange area.
Step 5 - Be Bold in the Piano Roll
If you're easily scared at this point I'd recommend leaving a light on. If your significant other, housemate or your neighbours are also on the twitchy side now's a good time to plug in your headphones and proceed...
Open up the Piano Roll and move the Note event from it's original C1 pitch down to a mind trembling pitch of your choice. An easy way to "nudge" a note using the keyboard is to use the Event Transpose +1/-1 or +12/-12 which you can set up in the Key Commands Window.
Before we add some effects it's important to make sure the note event length matches the duration of the sample. (We could have set the sample to One-shot in the EXS Instrument Editor in Step 4, but I prefer to have full control over the end point of sound fx.) Because we're triggering the growl at a lower pitch using the EXS24 the length of the sample has changed. Extend the note to match the sample duration.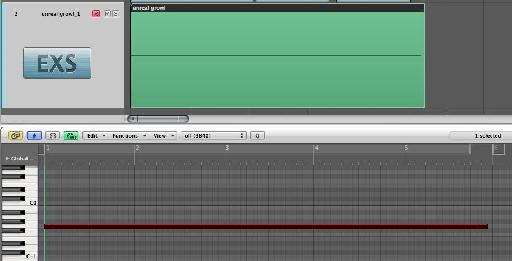 Step 6 - Render the Growl to Audio
Let's Bounce our instrument to audio and then apply some extreme flex time edits to the sections we like. Choose Region > Bounce in Place and make sure to enable Include Audio tail with the bounce and click OK.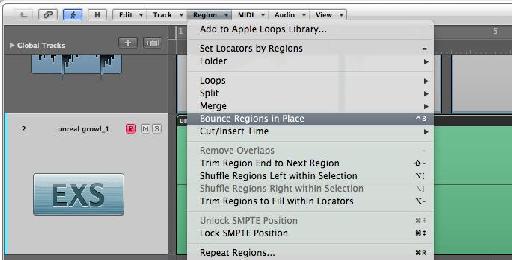 You'll notice from the resulting bounced file that there may be long gaps at the beginning and end of the audio region. This is a perfect time to trim your audio file of any unwanted silence.
While you're doing that take a listen to the growl so far.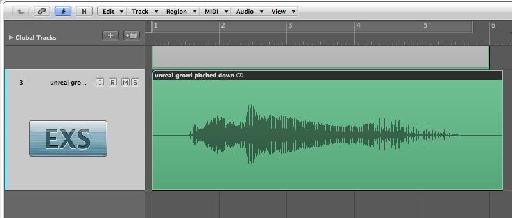 Step 7 - Flexing the Growl
For want of a better word the "gurgling" / grainy sound at the end of the growl could do with being stretched out to create a very intimidating sound. Using Logic 9's Flex tool is a great way to do this.
Turn on Flex by choosing View > Flex View
Then choose a Flex mode from the Track Header's Flex menu. You can experiment with a mode, but generally I find Monophonic works really well.

I'm aiming to extend the end to subtly accentuate the throaty growl and graininess of the sound. Create a flex marker a the beginning of the "grainy growl by clicking in the top half of the region. Create a flex marker at the end of the growls too. Now drag the last flex marker to the right. Preview it until you are happy with the results.

Rather than be too prescriptive about flex algorithms and how far to flex and where to flex from, it's more important you play with flex mode to find what works best for your growl sound. Remember to use the Edit > Undo option as much as you need to! You can exit Flex view mode whenever you're done. (View > Flex View.)
Step 8 - Feeling Effected
Adding extra presence to and increasing the fear factor of this monster growl comes in the way of adding effect plugins. The effects and their settings you choose to use will very much depending on the sample you are working with and what you are aiming to create. Filter and Modulation and reverb based plugins used subtly could give the impression of a large angry bear in a cave. Used less subtly, your audience might well envisage a monster from beyond this planet or a creature escaped from Middle Earth or Stranger Things.
Here's the route I took:
Compressor: To even out the levels and bring the quieter sections to the foreground too.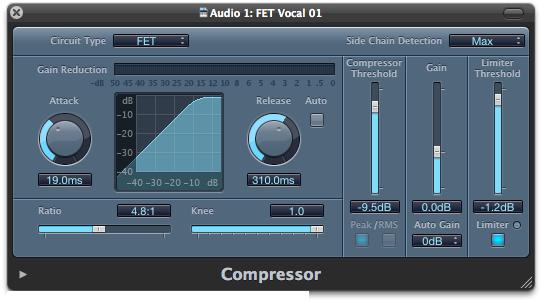 Listen to the growl post-compression:
Chorus: I used the chorus to add more depth and to give the impression of a larger sound. You may also wish to explore the Ensemble plugin effect, which is more effective for dramatic effects in my opinion.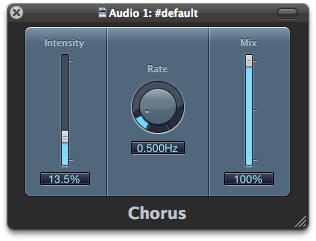 Take a listen to the sound post-chorus (I'd recommend using Headphones to hear the subtle differences from this point onwards):
Reverb: I'm a stickler for the Space Designer, but in this case I wanted a more metallic sounding reverb. I created a send from the Audio Channel strip to a Bus and placed an Enverb on the Bus, but that was too metallic so opted instead to use the PlatinumVerb on the Aux Channel Strip..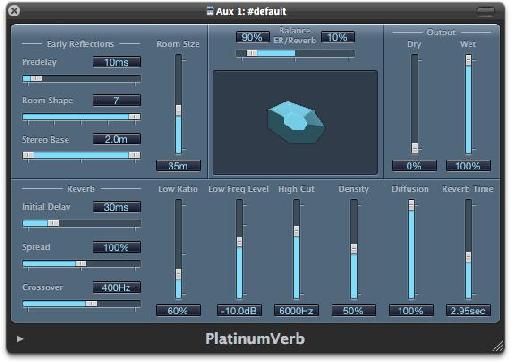 Here's what our growl sound like now:
Now, if you're happy with your sound at this point then that's great. You may wish to stop here... Or if you'd like to explore how to add even more scariness to the monster sound, read on...
Step 9 - Take Effects to the Next Level
Just like in Part 1 of this series, I'd recommend you take advantage of Michael Norris' SOUNDMAGIC SPECTRAL FOR MAC OS X plugins. They're free to download here and are fantastic effects plugins which in my opinion should be in every Sound Designer's toolbox!
We're going to be working on the same Aux Channel that we placed the PlatinumVerb on. Move the PlatinumVerb from the 1st insert slot to the 3rd insert slot. Hold down Command and drag it to the empty slot. This is a great way to move plugins across slots and between Channel Strips.
In the Aux Channel's first slot insert the Amp Designer plugin and choose the aptly named setting form the Setting Menu:
02 Hybrid Amps > Halloween Stack > Halloween Crunch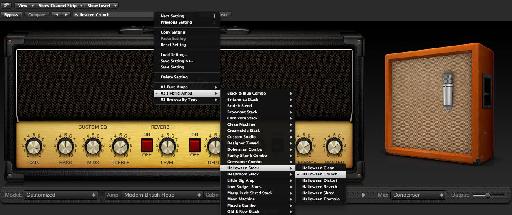 Routing non-guitar sounds through the
Amp Designer
can produce very cool results. Try this later on your drum loops to make them more gritty.
Adjust the settings to your taste. I kept the stock setting. Next, insert the Michael Norris Spectral Stretch plugin into the second insert slot. Audio Units > Michael Norris > Spectral Stretch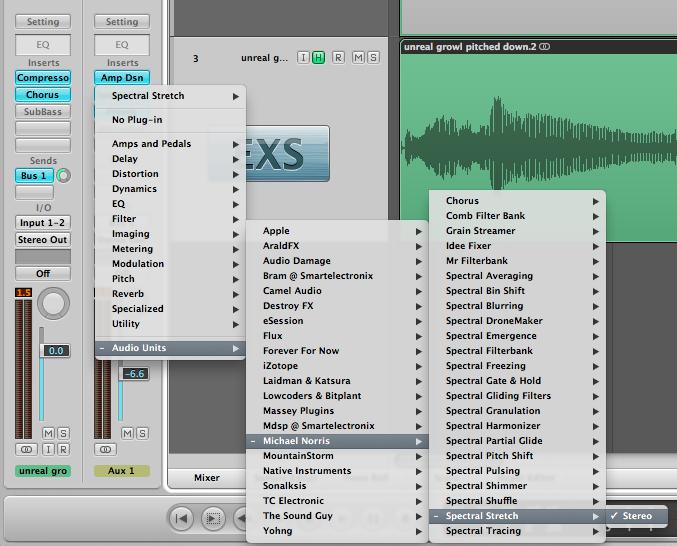 This plugin can produce very interesting effects! Here are the settings I used.
Alpha Stretch 1.3396
Beta Stretch 0.9703
Variance Type None
Lo bin cutoff 0.0%
Hi bin cutoff 7.3%
FFT Size 16384 (The higher the value, the greater the strain on your CPU!)
Again, experimentation is key here in order to work most effectively on your particular growl sound and of course keep listening to your growl to get a feel for the changes each parameter has upon the overall sound.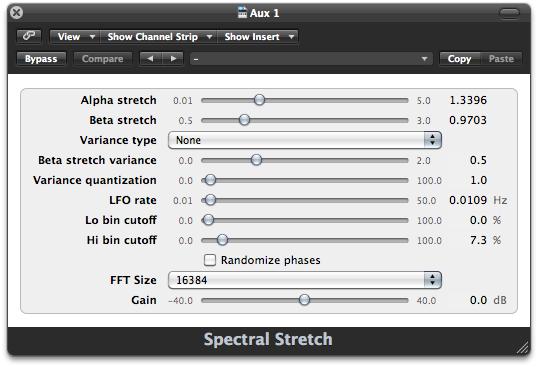 Using three simple plugins on the Aux Channel we've managed to create an unearthly sound that lies somewhere beneath the main growl. It certainly provides an interesting backdrop to our scary sound.
Here's what it sounds like so far:
Step 10 - Leaving Planet Earth
Finally, I'm going to strip away the elements of our sound that still provide some connection to our familiar habitat. The Essence of the growl sound signal has been sent through the Bus to an Aux Channel strip. This has been heavily processed to create an interesting underbelly to our overall sound... but creating good sound fx can often mean thinking outside the box. In this case, I'm curious to explore what the Aux channel will sound like is we remove the main growl on the Audio track.
We can't mute the Unreal Growl channel strip otherwise none of the signal will be sent to the Aux Channel. Instead Click-hold on the Output slot under I/O of the Unreal Growl Audio Channel strip. From the drop down menu choose No Output.
Remember to re-select Output 1-2/Stereo 1-2 or whichever output you need after this step is complete.

Now play back your project and you'll hear only the signal that's being fed through to the Aux Channel. Eerie isn't it! I added a little automation to the Alpha Stretch parameter in the Spectral Stretch plugin to add some movement to the overall sound. And here is what our alien/monster/growl sound experiment has turned into:
So we've gone "pretend human growl" to jungle animal to an alien species I don't ever want to meet.... You can come out from behind the sofa now! I hope you enjoy experimenting with these effects to create as scary a sound as you care to! Have a very safe (and scary?) Halloween!
Many thanks to AnaA for creating the headline image.
Learn more tips and tricks in the Ask.Audio Academy for Logic Pro & Sound Design.