Most DAW nowadays incorporate time-shifting features, but not all include pitch-shifting capabilities. Logic does, with several tools for manipulating pitch for both corrective and creative purposes.
Logic has three basic plug-ins dedicated to manipulating pitch, plus the more powerful Flex Pitch feature, which offers Melodyne-stye pitch editing. I'll take a brief look at these tools, focusing mainly on pitch processing vocals.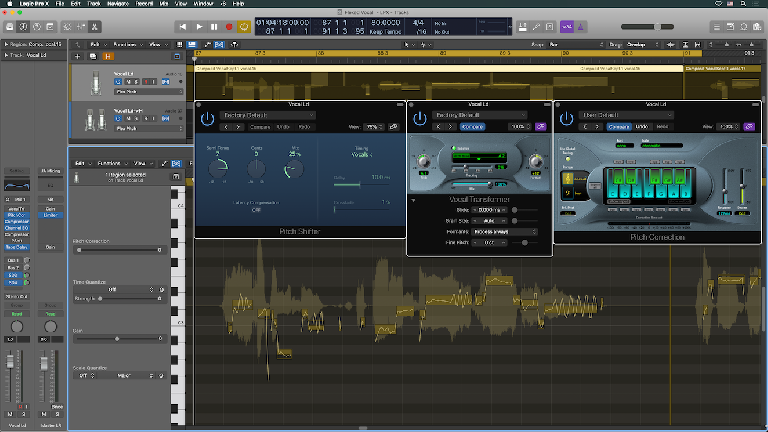 Old School
Three pitch plug-ins provide various takes on realtime pitch processing—Pitch Shifter, Vocal Transformer, and Pitch Correction.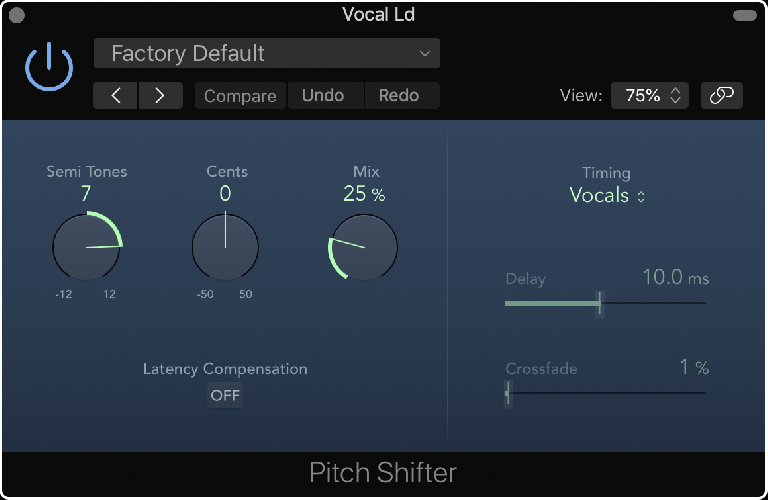 Pitch Shifter provides exactly what its name suggests—a classic realtime pitch-shifting algorithm.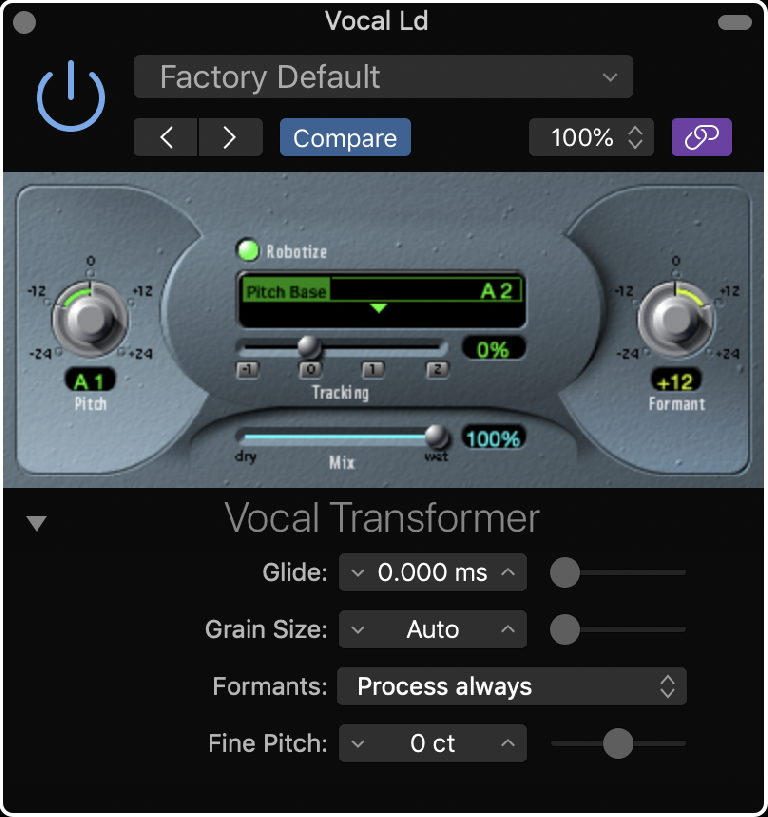 This is a legacy plug-in, offering quick & dirty pitch transposition. There are no fancy features to preserve the tonal character of pitch-shifted signals, so transposing more than a couple of semitones away from the original pitch will introduce classic pitch-shifting artifacts, like the well-known Chipmunk Effect, where a pitch-shifted vocal takes on a squeaky tonal quality (when transposed up). This makes Pitch Shifter more suitable for small shifts or special effects.
Pitch Shifter lets you mix the transposed signal in with the original, so it can be an easy way to generate a very simple harmony, but the artificial quality of the pitch-shifted version makes it unlikely to be a first choice for serious harmony creation, which would be better done with Flex Pitch.
Formant Games
The Vocal Transformer plug-in is a little more sophisticated.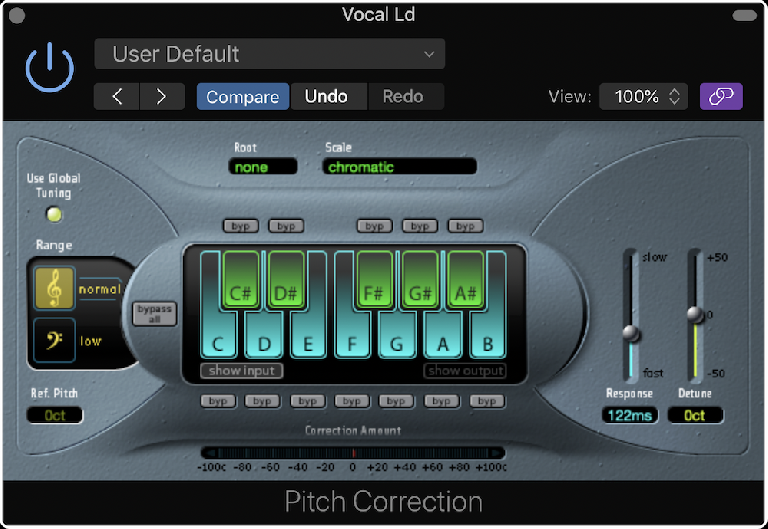 It does include the capability to compensate for the artificial tonal quality introduced by pitch-shifts of more than a semitone or two. The tonal character of a voice (or instrument) is a result of the resonant peaks of that individual's voice—a function of the physical components of their vocal tract; these resonances are called Formants. When a person sings different notes, the frequency changes with each different pitch, but the Formants are the same for all pitches, providing consistent vocal tone. But when a signal is pitch-shifted the Formant frequencies are shifted up or down as well, resulting in an unnatural tonal shift—the above-mentioned Chipmunk Effect.
Vocal Transformer automatically compensates for the Formant transposition artifact, which can provide a transposed signal with a somewhat higher quality, though shifts of more than a few semitones will still start to sound a bit off, especially when heard in isolation.
But what Vocal Transformer really excels at is special effects. The Formants can be shifted independently from the pitch of the signal, allowing the deliberate creation of artificial tonalities for creative effect. There's even a "Robotize" button, which—together with separate Pitch and Formant transposition settings—can easily create metallic robot voices.
The Fix is In
The Pitch Correction plug-in is Logic's take on classic auto-tuning.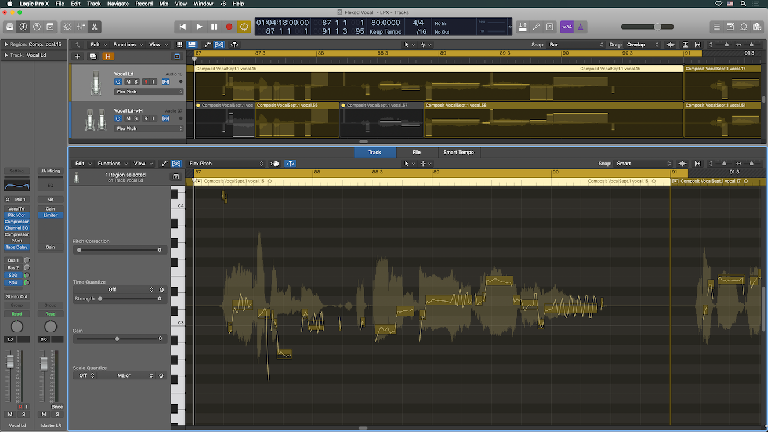 It automatically quantizes pitches to the correct frequencies of the standard chromatic scale. The Response setting is key—response times of around 60-120 milliseconds or so result in natural-sounding transparent pitch correction, while fast settings (like 0.0 ms) can create the familiar auto-tuning pitch quantization effect.
As with all pitch-correction processors, there are options for correcting to a particular musical scale (as well as general-purpose chromatic correction), and you can manually remove certain notes from being correction targets, as well as isolate some pitches to prevent their correction. This last feature is useful for a performance which includes certain notes that are bent or slid in or out of, where correction might spoil the deliberate musical effect of those performance gestures.
Pitch Correction does a good job of automatic realtime auto-tuning, though—as with all realtime pitch-fixing tools—I'd selectively apply it only to sections or phrases where it's really needed, rather than leaving it active on an entire track.
Flexibility
For more sophisticated pitch processing tasks, Logic offers Flex Pitch. This does for pitch what Flex Time does for time-shifting. Flex Pitch is a high-quality pitch editing feature, and while it's not perfect—none of these kinds of processors are—it stands up impressively in comparison with the industry-leading pitch-processing tool, Melodyne. The only limitation is that it only processes monophonic tracks—a limit it shares with every other pitch editor, except for Melodyne's DNA feature.
To apply Flex Pitch, you enable it on a particular track. It analyzes the audio file(s) on that track, detecting individual notes (from transients) and pitches (from frequency analysis). The individual notes are displayed in a piano roll grid, as bars which can be moved, trimmed and edited in a variety of ways, both corrective and creative.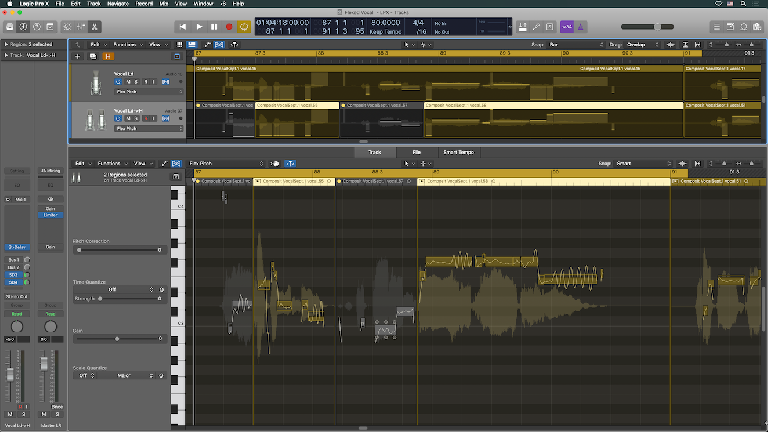 Flex Pitch can be used as the engine for high-quality automatic pitch correction, via an option in the Track Editor pane. Just as with the Pitch Correction plug-in, you can pitch-quantize notes chromatically or to a particular musical scale.
Take Note
But the real power of Flex Pitch comes from its ability to manually edit individual notes. In the piano roll grid, the note bars can be dragged up or down to more specifically correct for tuning, or to deliberately transpose individual pitches. This makes it possible for a producer to change a melody after the fact, or create a custom harmony from a copy of, say, a lead vocal track. Most harmony lines are made up of notes that are not consistently the same interval above (or below) the original melody, and while pitch-quantizing to Scale in the key of the song can sometimes account for this, manual harmony creation opens up much more musical possibilities.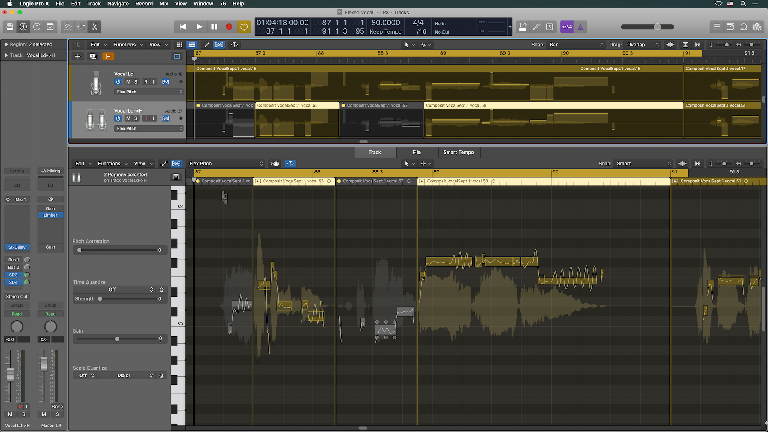 Pitch Handling
But Flex Pitch goes further than simple note adjustments. Each note bar in the Flex Pitch grid has six handles, which allow for additional adjustments to the note.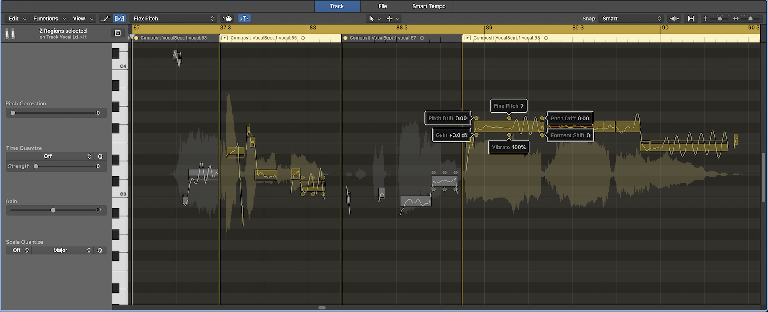 The top middle Handle offers Fine Tuning for that note, and the lower left Handle provides for individual note Gain—sometimes a better solution for one or two errant notes than applying more overall compression than would otherwise be desirable.
The lower right Handle applies a manual Formant shift. Flex Pitch automatically corrects for Formant transposition, with better quality than any of the realtime pitch plug-ins—I've been able to pitch-shift as much as an octave and get away with it at times—but if a little additional Formant correction is deemed necessary, it can applied here on a note-by-note basis.
The bottom middle Handle adjusts the strength of any musical Vibrato effect detected in each note. Vibrato—and pitch variation in general—is displayed as a wavy line over the note bar(s), and as you adjust the Vibrato handle you'll see this increase or decrease in intensity. Though I wouldn't try to completely remove Vibrato from most voices or acoustic instruments—that can sometimes sound unnatural—it's good for taming excessive expression in a performance.
Finally, the upper left and right Handles are labelled Pitch Drift, These are good for adjusting slides into or out of notes, which are also displayed as lines at the beginnings and ends of note bars. If you change the pitch of a note that had slid into the next note, it might be necessary to adjust these to restore a natural transition between notes.
Perfect Pitch
With all the options included in Flex Pitch, it should be possible to dial up just about any desired pitch edits, while maintaining transparency. Combine that with the other Pitch plug-ins and effects, and the Pitch tools in Logic should be able to handle any tasks you might throw at it.