Digital Audio Workstations (DAWs) are the center of most music studios. It's where we spend the most time recording, editing, arranging, mixing and mastering audio. So which is the most popular DAW? Â 
In October, 2017 we held a massive music gear contest with a whopping $103,076 USD worth of music hardware and software prizes that made other music studio contests pale by comparison.
As part of the contest we asked you to complete a simple survey about your music production gear and habits. One question that everyone is interested in the results of was about your primary preferred DAW. Over 30,600 musicians and producers gave their answer. Here's the results!
The Best DAW?
What is the best DAW? It's a question where suddenly families and friends are split and face off against each other. When tribes become fierce. But ultimately, it's a fairly pointless question to a large extent. The DAW we choose often depends on the type of music we make (Ableton Live is clearly the favorite of electronic producers, while Pro Tools tends to have more sway with band-based recording engineers). Other factors include what our friends or colleagues use, which DAW we learned first, which DAW came bundled with your first audio interface or MIDI controller, which one we first learned via video tutorials, and of course which is used by our favorite musicians and DJs.
At the end of the day, most modern DAWs can do everything the others are capable of with varying degrees of success. Certain DAWs are more specialised in certain areas than others of course.
Perhaps a more relevant question is which DAW is the most popular and has the largest user base. We asked 30, 611 musicians and producers who answered our Ask.Audio survey in October 2017 what their primary DAW is. Let's take a look at the results: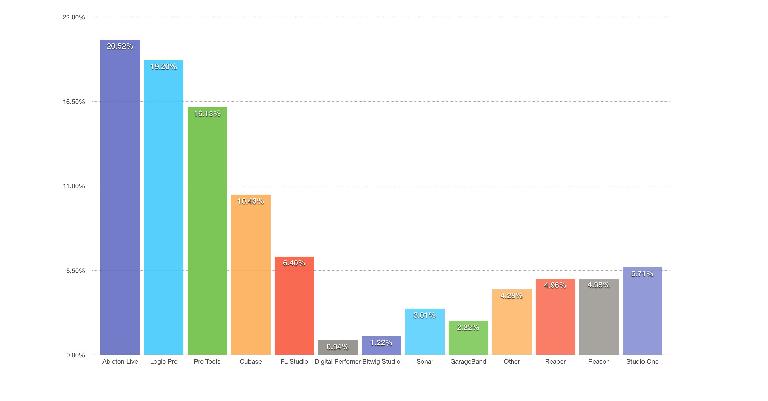 Above: Ask.Audio Survey results from over 30,611 respondents.
Ableton Live -

20.52%

Logic Pro -

19.20%

Pro Tools -

16.13%

Cubase -

10.43%

FL Studio -

6.40%

Studio One -

5.71%

Reason -

4.98%

Reaper -

4.96%

Other -

4.28%

Sonar -

3.01%

GarageBand -

2.22%

Bitwig Studio -

1.22%

Digital Perfomer -

0.94%
The Most Popular DAW (You Voted For) Is…
Bear in mind that only one DAW could be chosen from our survey list. So many of us who use two or more DAWs were forced to choose their "primary" DAW. This means some DAWs like Bitwig Studio, Reason and Sonar might appear to be less popular than they are as they might be used as part of a production workflow that involves more than one DAW.
However this still makes for interesting reading, especially as most DAW developers will rarely, if ever, publish their number of sales and user numbers. Our results are shown as a percentage of all the survey responses.
And the winner? As you can see below, Ableton Live was the overall winner with over 20% which is incredible considering it was first released back in 2001. But as a company, Apple just eclipsed Ableton if you add Logic Pro and GarageBand together. Impressive considering neither are available for Windows.
And congratulations to all the top 5 (and all 12) for enabling us to record, arrange, compose, mix, master and produce audio and music. It's all about the music - how we get there, the software we use, can be an enjoyable part of the process.
Because we love you, here's an interesting infographic focusing on the top 5. You can download the PDF version here.
More Interesting Stats...
11% of Ableton Live users describe themselves as "professionals" compared to 21.1% of Logic Pro users and 36.3% of Pro Tools users.
14.7% Ableton Live users describe their level as "complete beginner" or "novice" compared to 7.9% of Logic Pro users, and just 5.9% of Pro Tools users!
The most popular DAWs amongst those who consider themselves "studio engineers" are:
P

ro

T

ools - 44.5%

L

ogic Pro - 15.7%

C

ubase - 9.6%

PreSonus

Studio one

-

7.5%

Ableton Live - 5%
What is the primary platform survey respondents use to make music?
Apple Mac: 52.85%

Windows PC: 45.8%

Are You A DAW Master?
Become a master of all functions in your DAW (popular, or not)! Check out our video courses in The Ask.Audio Academy here. Support your music making skills and take your production chops to the next level!