Working with color schemes in Adobe After Effects will never be the same again. Toby Pitman whiled away many an hour putting the Color Rules plugin by Digital Juice to the test.
Digital Juice are mainly known for their excellent stock graphic collections. Their Motion and Graphic Designer Toolkits are simply enormous and great value for money. Color Rules is Digital Juice's first step into the After Effects plugin world, and they've started on a good foot! So what is Color Rules all about?
If you've ever used Illustrator you'll probably be aware of the '˜Live Color' panel that was introduced in CS3 (now called Recolor Artwork) which allows you to recolor vector artwork layers based on various color harmony rules using a color wheel interface.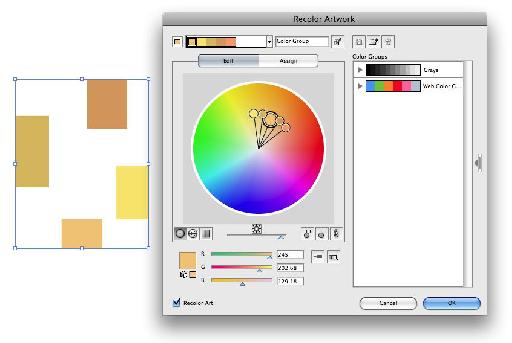 Recolor Artwork.
This is one mega powerful feature when it comes to color schemes and swatches in Illustrator and Digital Juice just brought it to After Effects!!
Color Rules allows you to quickly recolor any selected After Effect layers based on various color rules like Complementary, Analogous, Triadic and Monotone giving you a powerful way to choose various color schemes for your projects.
Just select the layers you want to apply Color Rules to.

Selecting layers.
Then launch the Color Rules control panel. This is found under the Windows menu not in Effect.

Launching the Color Rules Control Panel.
By choosing a harmony rule moving the points of the wheel you can create a quick palette of colors. Click the FX icon to apply the effect to the selected layers. This creates a Color Rules layer effect for each separate layer.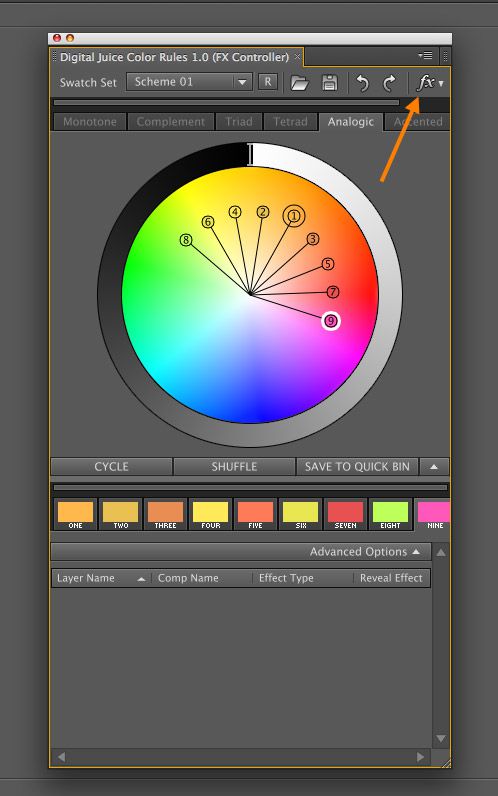 The Color Rules Window.
There are two options for coloring: 'Fill' and 'Colorize' (similar to the Hue and Saturation effect). 'Fill' is best for layers that use block colors like Shapes and Solids whereas 'Colorize' is best for images and footage that have detail.
A word of warning: you can't '˜Colorize' any layer that uses just solid black or white as they contain no '˜color' so you'll need to choose '˜Fill' for those layers from the effect panel on the layer.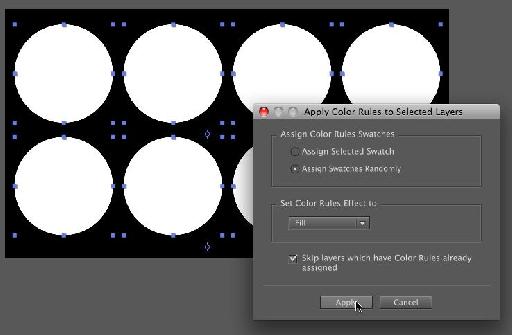 'Fill' is one of the coloring options.
Choose your coloring option and Voilà ! All your layers are re-colored.
You can change the rules and color at any time for layers that use this color '˜scheme' by moving the points on the wheel. You can also cycle the scheme through the layers and shuffle which swatch is the primary color giving you limitless options.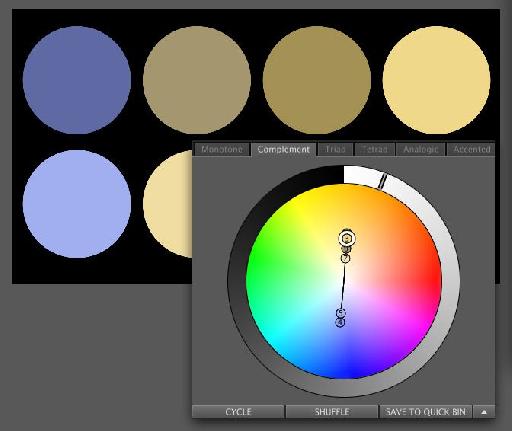 You can change the rules and color after the fact.
You can even assign different schemes to different layers by creating a new scheme and assigning it to any layer using the effects panel for that layer.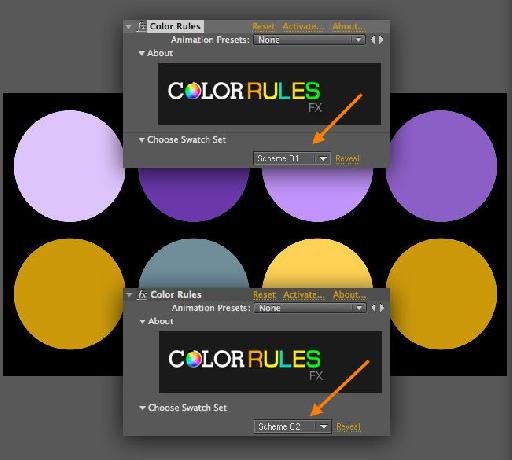 The palette schemes.
Color Rules also provides a massive set of pre-made swatches to get you up and running quickly. You can also save your own swatches, too.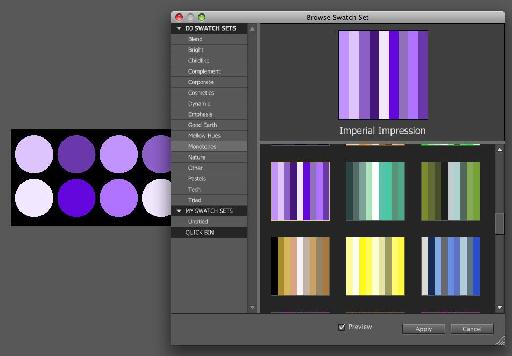 The swatches.
There are simply too many features to cover here as you can get pretty in-depth. This plugin is incredibly fun and useful to play with and if you're into color then it's a must have! I'm also hoping for some kind of integration with Adobe Kuler in the future which would be great!
As a timesaving plugin... I'm not so sure as you'll find yourself sitting there going, 'Oooohhh', 'Aaahhhh' and 'Mmmmmm' at all the fantastic possible outcomes for hours!!
Click here to find out more about Color Rules (only $69.95 at time of writing).