Adobe's After Effects is a uniquely powerful videographics suite. But it can be daunting if you're starting from scratch. Kevin P.McAuliffe is here with a new course to guide the way.
I'm very excited to be creating training for MacProVideo and Ask.Video on Adobe After Effects. One thing that I jokingly tell people all the time is that I've been using After Effects since version 3.1, and many people think that means from version CS3 (yes, that's going back to the Creative Suite, before the Creative Cloud), but it's actually been since April 1996 (man, that makes me feel old). That's right, over 20 years, and one thing that I like about After Effects is that no matter what new features are added, hardly any of the older features are taken away. They're just improved on and made better. So what does that mean for you, someone new to After Effects? Well let's find out!
Getting Started
One thing that makes working with the Creative Cloud unique is that you have access to all previous versions of the software, available for immediate download, right inside the application.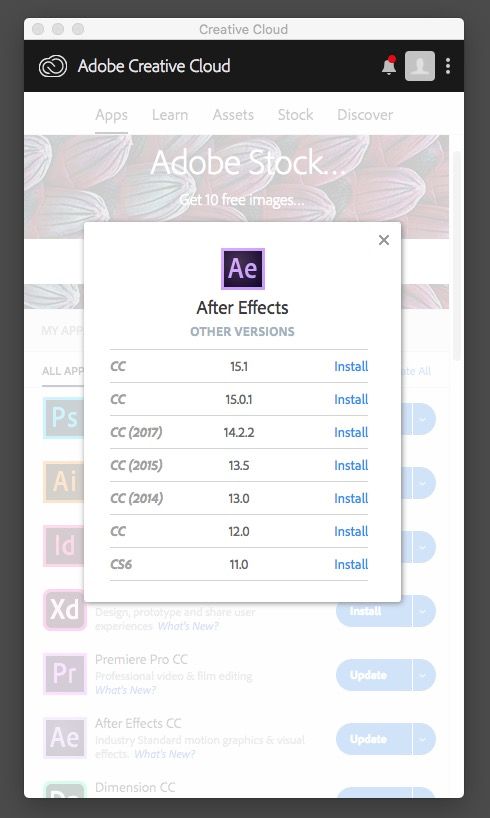 So what does that mean if you want to learn After Effects? Well, since almost all of the core features that have been in After Effects for a long time are still there, and all the concepts of how things are done haven't changed (even in the newest version) you can be on the current version of After Effects, or even on one from a few versions ago and still be able to follow along with all the training on MacProVideo. This is huge! Many people ask "why would I want to be on an older version? You should always update to the newest version any change you get, right?". I'll be honest, in many cases, I wait a good six months to update when a new version has come out, so this way I can avoid any new bugs that might have been introduced when all new versions of software are released.

I'm working on a few different AE training series that you'll be able to check out in the coming months. We're going in-depth in a multi-part series to learn the ins and outs of AE right from the beginning, as well as an "All you need to know in an hour" training course, a course with training specifically targeted at editors and techniques they will want to know in AE, and we're going to be doing one focusing on creating Hollywood Style titles in After Effects.

So even if you're not on the most recent version of After Effects, you'll definitely want to check out all the AE training on MacProVideo.com, there's tons of great information in there, to help you take your work to the next level!