An Easy Guide To Creating Charts, Diagrams and Infographics Using Apple Numbers & Keynote
Apple's iWork suite of applications comes with all Macs and iOS devices and even works with Windows via iCloud. Iain Anderson shows you how to use it to create charts, diagrams and more.
Adobe Illustrator is very good for all-purpose layout and design, but it has its weak spots. While there are charting tools, they're extremely limited, requiring a lot of manual work. More problematic is that while connecting two boxes with an arrow or line is easy, keeping them connected is quite a bit harder, and when you get into flowchart territory, it's simply untenable.
There are, of course, dedicated third party apps you could explore, but you may be surprised to discover just how powerful Apple's free Keynote and Numbers apps can be. (Note: Some of these options are also in Apple's Pages, but the other two apps are more convenient for charts and diagrams.
Numbers For Charts
Apple's version of Excel, simply called Numbers, is probably the least used app in the free productivity suite formerly known as iWork. Keynote sees plenty of work delivering presentations, and Pages is a great word processor (I'm using it to write this article) but most serious number crunchers are probably tied into a Windows/Excel corporate workflow.
That's a shame, because the charting support in Numbers is really very good, and crucially, its output can be printed at high resolution with very few problems. If you already have a spreadsheet in Excel format, it's easy to open it directly in Numbers. Once open, I've found the best workflow is to select the appropriate table cells, copy, then paste into a new table on a new sheet before creating a chart. There are many styles available in 2D and 3D, though for the cleanest vector output, stay with the 2D options.
You'll notice that charts exist in empty space, rather than on top of table cells, and this makes it simple to use the charts in a layout app like InDesign. Once a chart is selected, the inspector on the right contains all the options you need to change the appearance of the chart, though you may need to dig through a few tabs and drop-downs to find exactly the controls you need. Clicking and/or double-clicking repeatedly on parts of the chart is a good way to select specific items, and dragging colors directly to parts of the chart from the floating color picker is another nice trick.
Exporting and tweaking
When you've got it looking good, choose File > Export To > PDF, then save wherever you wish. If you're happy with the results, just place it in an InDesign layout, or open with Illustrator to tweak it further. While a PDF made in some other apps can be a bit of a nightmare to finesse in Illustrator, output from Apple's apps is pretty clean. Numbers makes 2D charts that are pure vector and are easy to recolor if desired, while 3D charts are high resolution bitmaps, good enough to print as-is. The same "export to PDF" workflow can be used for the other apps here, and you can of course export to regular image formats if you'd prefer.
Maybe Keynote Instead?
For some workflows, it can be easier to use Keynote instead of Numbers. Why? Largely for the free-form empty space, in which each slide has a consistent size. To produce a series of graphics, position each one on a slide of its own, in a fixed position, and placement in other apps will be predictable. In Numbers, you'd have to manage multiple sheets with variable scaling and positioning, but in Keynote, what you see is what you get. It's also (obviously) where you want your graphics to live if you're going to use them in a presentation.
You can copy and paste charts directly from Numbers, or you can create them from scratch here. A handy "Edit Chart Data" button lets you access the numbers when needed. A sneaky thing to remember is that if you're doing a live presentation or making a video, you can make use of interactive charts too.
Keynote For infographics
The term "infographic" can mean very different things to different audiences, so I'll keep this one vague. If you want to combine charts with graphics and text to make the data easier to understand, Keynote's a great place to be. Charts are easy to incorporate, text is straightforward to add and to format, and shapes of all kinds can be added from the toolbar button at the top. A recent update added hundreds of new vector icons, and they do a good job of conveying information without feeling like another dodgy clip art collection.
These shapes can be edited on the canvas (right-click > Make Editable) and custom shapes can also be drawn with the pen tool, available at the top right of the shapes drop-down panel. This tool behaves a little like the Curvature tool in recent versions of Illustrator, but you can right-click on any point and force it to act like a beziér point if you'd prefer.
In terms of appearance, any shape, object, or line can have any kind of fill, a variety of strokes, and a wide range of shadows. Select your item, then poke through the Inspector to find the appropriate options.
Keynote for Flowcharts and Diagrams
Straight and curved lines are easy to make, but if you select two objects first, you can choose to join them with a connection line. The Insert > Line submenu has three options, but you can customise the toolbar (right-click a blank part of the toolbar) to add a dedicated "Connect" button for the task too, and I'd definitely recommend it.
The most useful aspect to connection lines is that they stay connected when the boxes move, even if there are many lines connected to many different objects. You can switch between the different connection line types by double-clicking the center point of the line, and that point can also be dragged around.
Illustrator for something fancy?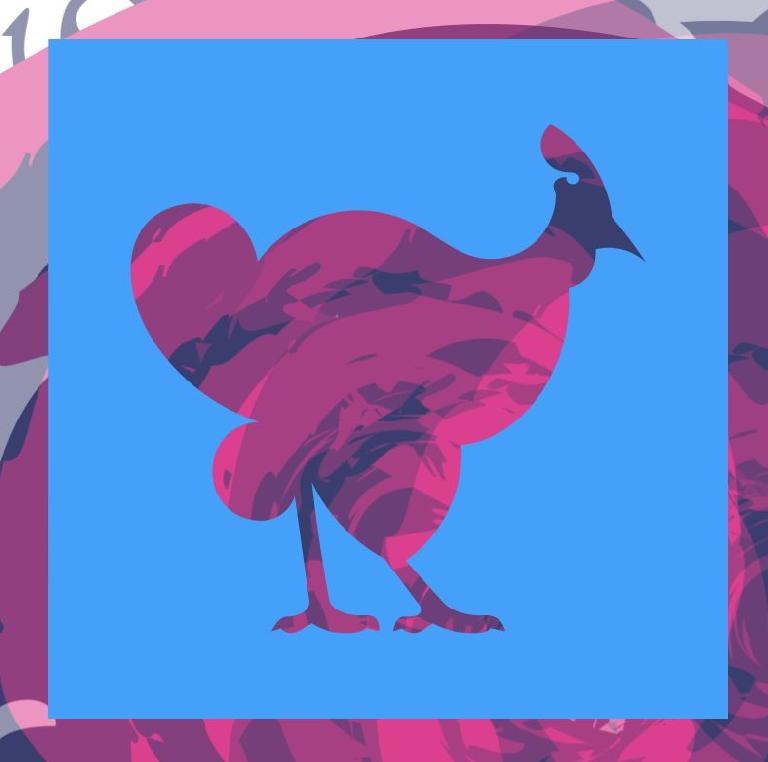 Background element from Illustrator, foreground created by editing a chicken and then punching it out of a square
Should you need to finesse your diagram in a way which only Illustrator can manage, you have a few options. To get data out of Keynote, export to PDF and open it there. But as Keynote is pretty good at receiving pasted vector data from Illustrator, you can make fancy art in Illustrator, then just paste it into Keynote directly.
Note that Keynote does have a basic set of pathfinder operations hidden in the Arrange tab, but they only appear when you have two or more objects selected.
On an iPad, iPhone, or… Windows?
One of the great strengths of Apple's ecosystem is that Keynote, Numbers and Pages work across multiple platforms. The interfaces and the feature sets do vary, but you'll find connection lines and rich diagram controls on the iOS versions of the apps. Charting controls are definitely more comprehensive on the Mac version of Numbers, but you can still get a lot done.
There's also a web version available at icloud.com, and it even works on Windows. Functionality wise, it's somewhere between the iOS and Mac versions: missing a few features, but with an interface that looks more Mac-like. Indeed, the powerful drag and drop support makes it feel more like a Mac app than a web app. It's pretty amazing that someone on Windows can drag an Excel document into a web browser, tweak a few options, then share out a clean PDF — but it works just fine.
The other amazing feature of iCloud is the collaboration — you can invite multiple people to edit a document at the same time, and you can work in whatever version of the app (iOS, web, Mac) you prefer. Next time you need to make a pretty chart for your PC-centric accounting division, why not invite them to an iCloud document?

Customize the toolbar in Keynote and add these three buttons to make life easier
Conclusion
Apple's productivity apps keep on getting better. Pages recently regained its ability to thread text boxes, the image adjustment and background removal tools have been good for years, and the online collaboration is very welcome. Diagramming and charting have been in these apps for a while, but the recent addition of a massive free shape library makes it worth taking another look. Adobe's design apps are great, and still an important part of most print workflows, but they can't do everything. Now, they don't have to try.