From FaceTime over cellular, enhanced Siri and ditching Google Maps, to Facebook integration, Passbook and VIP email addresses'¦ iOS 6 has something for everyone. Hollin Jones runs through the features
With Apple's iOS devices playing an increasingly important role both in our personal and professional lives, any major upgrade to the operating system is something to be viewed with keen interest. Since iOS 6 runs on all recent Apple portable devices, the vast majority of users will be able to install it, making sure of course that they have backed up thoroughly first. But what exactly is new, and how might it help you?
iOS 6 feels snappier in general operation, at least on my iPhone 4S and iPad 2. It will install on iPhones 3GS and later, iPad 2 and 3 and the iPod Touch 4th generation and newer, and the upgrade process is pretty smooth. It doesn't seem to weirdly erase all your third party apps either, as I had seen happen sometimes upgrading from iOS 4 to 5.
Maps
The really big news is Maps, where Apple has ditched arch-rival Google and developed its own mapping system, something that has evidently taken an awful lot of work. It's quite a significant change too, as the new maps feel very different and are used throughout the OS for various tasks, not just in the Maps app. Perhaps inevitably, there's not the level of functionality that Google's much more mature Maps have, but the app is good nonetheless and introduces things like turn by turn directions and 3D flyovers, though for the time being the latter is limited to a few larger American cities.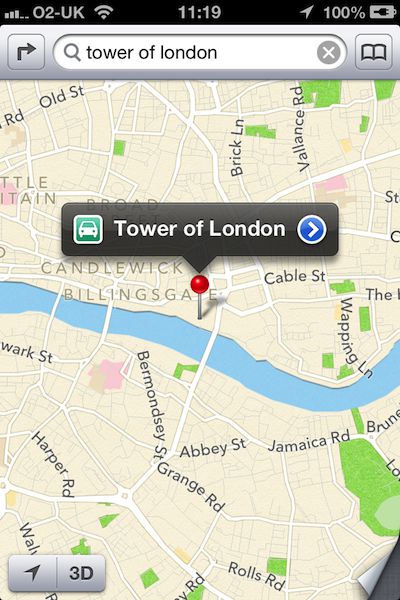 Maps are all new in iOS6 with Google out and Apple in. It's not'¦.quite the same yet.
Siri, Twitter & Facebook
Siri has been updated too though it's officially still in beta, and is now better able to deal with your queries. Again, its full functionality is reserved for the U.S, though this is something that will change in time. Facebook is more tightly integrated into the OS like Twitter already was, and evidently the two companies have been able to agree terms, something which they were not able to achieve for quite a while. The rather basic Photo Stream feature has been refined so that you can now share selected photos with selected people rather than having to share everything with everybody.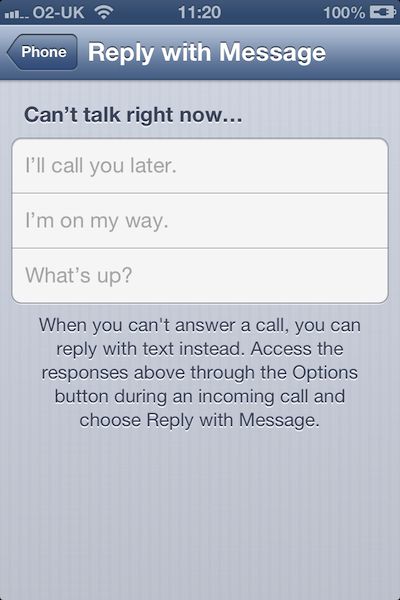 Pre-formatted text replies to calls for when you can't answer but don't want to seem rude.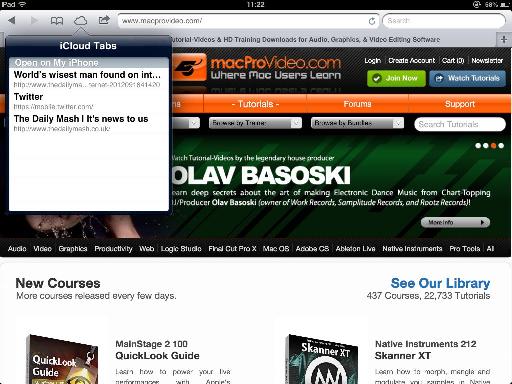 iCloud tabs show pages that are open on all other devices that are signed in using your Apple ID.
Do Not Disturb
Apple has avoided using NFC technology, opting instead for the Passbook app, which can store multiple tickets, vouchers and coupons using the increasingly ubiquitous QR codes. It's a good idea and one that will take off provided companies '" inevitably larger ones at first '" get involved in the scheme. FaceTime now works over cellular connections, though it will use your data plan of course, and you can now receive FaceTime calls on an iPad using your phone number. Speaking of phones, there's a nifty new feature to reply to calls with a pre-formatted text, and a great 'Do Not Disturb' feature that can stop all notifications and calls between specific times, except from people you specify. Mail and Safari get new features like VIP addresses and iCloud tabs, and the iPhone 4S and 5 get a new Panorama mode that works amazingly well.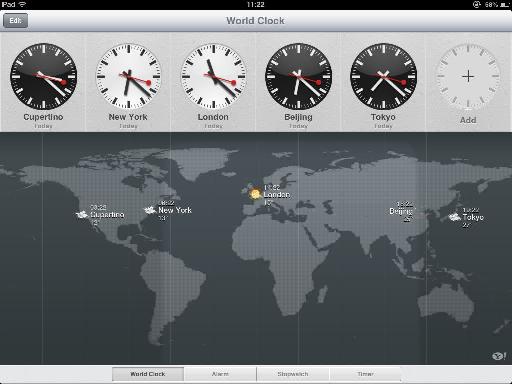 A new Clock app '" just because I think it looks great.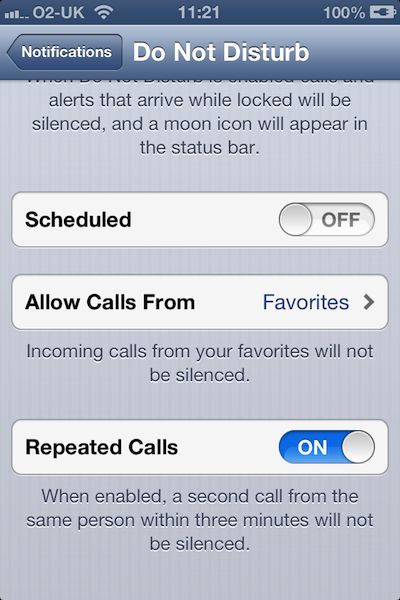 Do Not Disturb is a really useful new feature that you can tweak to suit your tastes'¦
iOS 6 Verdict
Overall then iOS 6 is all about refinement rather than revolution, but it's a really solid update and there's no reason not to download it. Support for the 3GS is great (there are millions still in use) and anyone with a 4S will get all the software features that an iPhone 5 user gets. It does feel fast too, and there are many smaller enhancements we haven't had time to mention. All in all, a great update.