Backing up your data is possibly the most important step when making music (or anything!) on your Mac. G.W. Childs turns his bad experiences into essential reading for all Logic Pro users.
Nothing is worse than having to go back to reproduce a song entirely because you lost the song project in a hard drive breakdown. I've experienced this, like many other computer based musicians, and I can tell you first hand: It hurts badly to lose an entire album's worth of project data.
This happened to me once. My band and I were just about to finish our second album. We got everything out to the producer, even drove out to California to work directly with the producer. After a few months of fine tuning, my backup drive that had everything on it failed. The album, for the most part, was entirely lost. I had to go back and try to reproduce hours of material within a very short amount of time.
In the end, I think the album came out better because of it. My memory of what I thought each song was supposed to sound like made the songs much smoother. However, the original recordings were much edgier... I made lemons out of lemonade... What can I say?
Technology Now - Auto Backup
DAWs have grown up with all of us musicians, and have incorporated backup features that greatly reduce the risk of you losing your precious files. Logic Pro, for example, has the Auto Backup function, found in General > Preferences.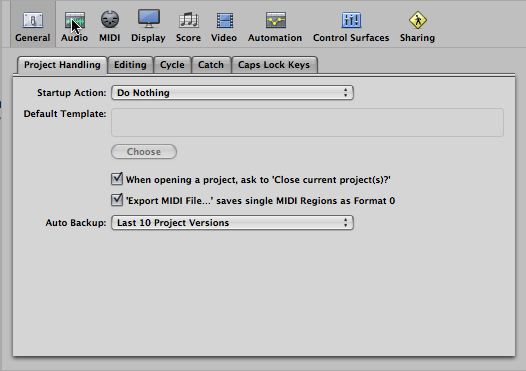 Logic Pro's Auto-Backup feature.
This is an extremely handy feature that makes regular backups of your project file within the project folder associated with your song. My auto backup is set for the default amount of 10 project versions. But, you can up the amount to up to 100. This can be very handy if you're one of those people that constantly modifies your songs, but would always like to go back and hear what you were doing an hour ago.
[Remember a backup of your Logic project file is only created when you save your project - Ed]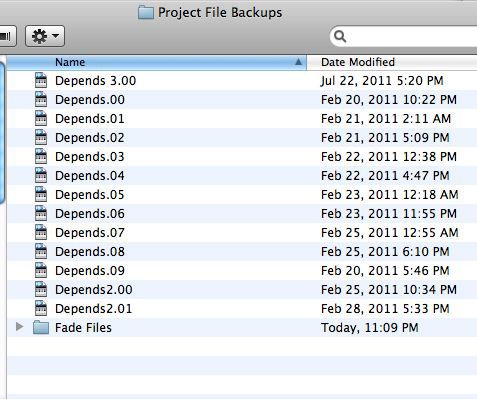 Where the project file backups reside.
The only downside of the Auto Backup function is that it only backs up the project file to your project folder. How is this a bad thing? Well, what if you lose the project folder?
Time Machine
A while back I was doing some house keeping on my system drive after a major Mac Pro Video series had finished up. Rendering videos takes up a lot of space!
During this time, I accidentally erased a song that I was getting ready to release as a free promo MP3 of my band to regenerate some interest (we haven't toured in years).
I was about to load up the project file to do a render and much to my dismay, the project file was no where to be found.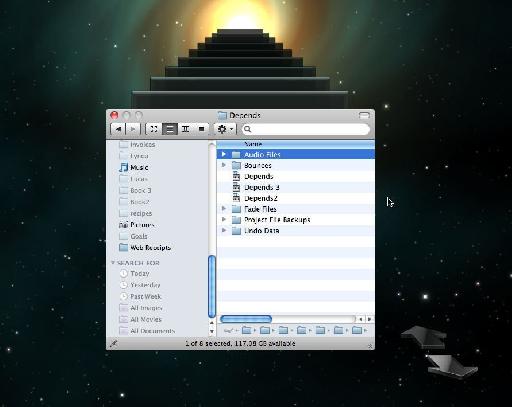 Time Machine to the rescue.
Thankfully, I had a Time Machine backup. I was able to go back to a week ago, before my flagrant spring cleaning, and get my project file back.
Conclusion
It's funny how many people still do not keep backups, or even pay attention to data on their computers. Computers are just as infallible as they were yesterday... Macs included. Setting up a Time Machine backup can take some time in the initial backup. After it's complete though, it's a minor backup from time to time. Don't let yourself be put in a position to have to recreate an album... Like me... Shudder.