If you're looking for excellent Thunderbolt 2 performance with estimated performance of over 1.3GB/s, then OWC's Thunderbay 4 (with SoftRAID) is worth checking out. Iain Anderson goes in fast.
First, there was the ThunderBay IV, a Thunderbolt 1 device that shipped without any software, leaving you to use the limited RAID options in Disk Utility. Some months later, it was succeeded by the ThunderBay 4 (note the switch away from Roman numerals) which upgraded to Thunderbolt 2 and added the option of SoftRAID, a software-based RAID solution that gives many more options than the built-in Disk Utility.
Now that I have both boxes sitting on my desk, and an iMac with Thunderbolt 2, what happens next?
The Story So Far
For some time now, I've been using a ThunderBay IV in RAID 0 for video data storage. Four 3TB Toshiba drives and the case itself have been problem-free so far, and because I've got everything backed up elsewhere, I haven't been too concerned about data loss. The media is on other drives, the project files are backed up to my system drive, and Time Machine makes a second copy of those too.
Still, if a drive was to fail, it would take some time to recover from. After all, RAID 0 just chops up the data into equal chunks across all the drives, and loss of any one drive means that all the data across all four drives is gone. Imagine an essay missing every fourth letter and you've got the picture.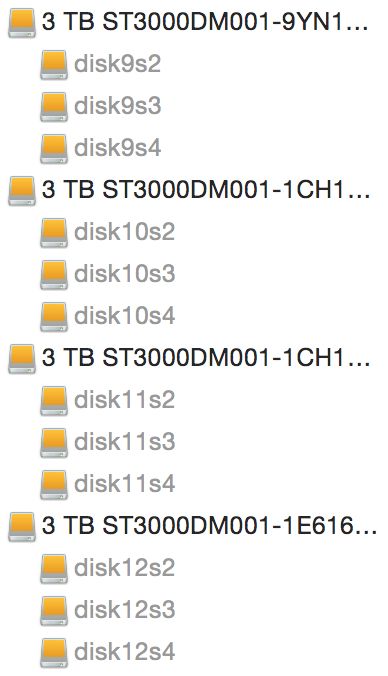 Split each drive up into 3 bits, then work some magic. Simple, right?
A RAID 5 system would solve this problem neatly, at the cost of a little speed and 1/4 of the storage space. Because RAID 5 distributes the data in a more clever way, any single drive can fail and the RAID will stay up.
The downside? Because each piece of data is written to two drives, it's slower than RAID 0's once-only-cross-your-fingers approach. You also lose the storage space of one drive in a four-drive RAID, meaning that I'll have 9TB instead of 12TB free.
Also, should a drive fail, performance will be somewhat degraded—and the RAID volume is now vulnerable to a second drive failure. You'll need to replace the faulty drive, then rebuild the RAID to add the new drive to the three good ones.
The Migration Process
If you're thinking about moving a whole lot of data, you've got to plan it pretty carefully. Everything should always exist in at least two places—meaning that you should do your best to keep two copies if you're going to wipe the original. Therefore, I'm going to duplicate everything from the old drive (TB1) to the new one (TB2) before reformatting it as RAID5.
1. Install the new drives (four older Seagate Barracuda 3TB drives) in the new ThunderBay 4. Wrinkle: two of these drives were pulled out of external USB casings. After removal, neither of the two were readable, and had to be reformatted. Odd.
2. Test their individual speed, before and after erasing. This gives us a baseline to judge these drives; they are all the same model, but they weren't purchased together and performance could vary.
Write/Read Speeds
Blank 1: 192/200
Blank 2: 170/170
Blank 3: before erasing, 123/124; after erasing, 172/173
Blank 4: before erasing, 169/161 (but quite variable); after erasing, 173/174
Blackmagic Disk Speed Test does not give exactly the same results each time, so these results can be seen as a rough average, with at least ±10% variation expected.
3. Format them together in an Apple RAID 0 configuration, then test the overall speed. This is a baseline for maximum performance without third-party software. Disk Utility under Yosemite or lower can handle this easily—head to the RAID tab, create a new RAID set, choose Striped, then drag your disks in and press Create.
Write/Read Speeds
655/656
These results are OK, but not going faster than a Thunderbolt 1 RAID. Spinning disks can only go so fast. Why go Thunderbolt 2 for spinning disks, then? Well, if all devices in your chain are Thunderbolt 2, you'll be able to use 4K external Thunderbolt displays at 60fps. Using a Thunderbolt 1 device steps the entire chain down and makes that impossible, and would likely also impact the speed of an all-SSD RAID. However, if you're just using spinning disks and don't have a 4K display, mix away. Even better, a Mac Pro has 3 separate Thunderbolt channels that can adapt independently, so simply keep Thunderbolt 1 devices on different channels to Thunderbolt 2 devices.
4. Erase that, then format them together in a SoftRAID RAID 0 configuration, then test the speed again. This is the maximum performance possible with the added benefits of SoftRAID.
Write/Read Speeds
669/659
The formatting process and the creation of a new RAID set was painless, but the speed is very similar to an Apple RAID 0. Let's go for the next option.
5. Erase that, then put them all together in a SoftRAID Raid 5 configuration, then finally test the speed again. This will be slower than the previous test, but RAID 5 is much safer than RAID 0.
Write/Read Speeds
474/496, but very variable — for a time I saw results in the 300MB/s range, and then over 500MB/s for a time. Old disks can be a little odd, I guess.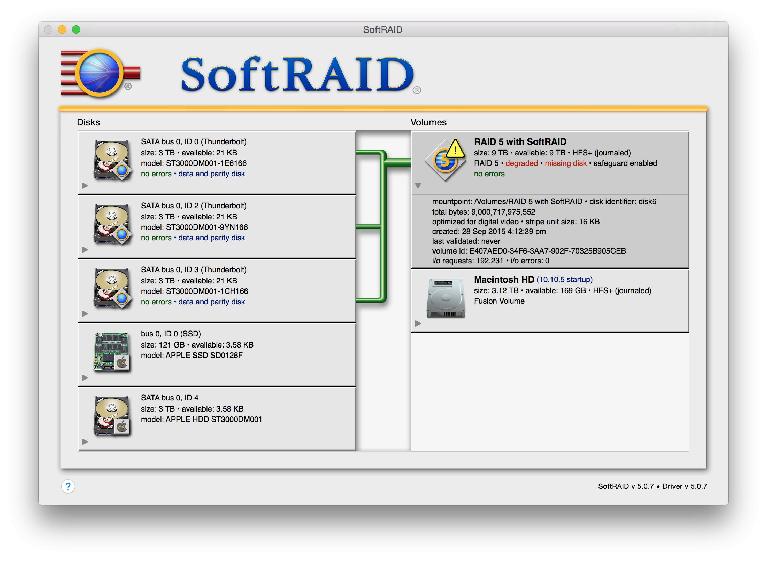 Here's what you'll see if a drive fails
6. Make sure RAID 5 works as it should
The real test here came when I unmounted and powered down the RAID, then pulled one of the drives and turned it back on, to simulate a drive failure. It still worked, at the same speed as before. At this point, the failure of a second disk would be catastrophic, but you'll have a clear warning and time to react.
Since I could plug the disk back in, I was able to rebuild the RAID quite quickly. Had the disk failed completely, I could also have recovered by adding a brand new disk and waiting for a longer rebuild. Still: it worked. If a drive fails, you won't lose all your data. Given that one of the drives in this RAID has done 12000+ hours already, I'd like to be prepared.
Oh, and how to find out which disk that is? You can request its light to blink. Both cute and useful.
7. Copy everything from the old RAID 0 to the new RAID 5.
This is a big copy. Sure, it's going from one RAID to another, but it will still take several hours to transfer a huge amount of data.
We're not done yet, but these next two steps are going to have to wait:
8. When the copy is verified as good, reformat the RAID 0 volume to RAID 5 with SoftRAID.
9. Finally, copy half the data back, then trash any duplicates on TB1.
Why can't I move over to SoftRAID right now? Well, there's a little problem.
A teeny tiny wrinkle
OS X El Capitan was released a few weeks ago, and while I won't be upgrading my main iMac immediately, I'd like to upgrade soon. But I can't: SoftRAID needs an update to work with El Capitan. SoftRAID support was polite, swift, and advised of an imminent free update —good news. Still, issues like this do highlight the importance of making sure your entire Mac ecosystem is ready before you push Update on a new version of OS X.
Also important: El Capitan comes with a new, simplified version of Disk Utility that no longer supports the creation of RAID volumes. You can still use existing RAID arrays, but to create new ones you'll have to get dirty with the command line, keep an older Yosemite boot drive around, or go for SoftRAID. It's always good to have a recovery disk handy, so go ahead and install Yosemite on a spare external drive, just in case.
Conclusion
SoftRAID does what it claims: it provides full-speed RAID 5 at or near the speed of hardware RAID. It's easy to use, capable, and is more flexible and easier to use than a hardware RAID. While it's a shame that OS X 10.11 support isn't there today, this problem is not unique to software: some hardware RAIDs have had issues with new versions of OS X in the past.
With Apple effectively ending support for their own RAID solution, SoftRAID is the best option you have for Mac software RAID of any kind. It's your call: cheaper hardware, more easily managed failure recovery and greater flexibility with SoftRAID, or a self-contained hardware RAID. But so far? The Thunderbay hardware has been reliable and fast, and SoftRAID gives it RAID 5. Recommended.