What is the Sonnet Echo Express Pro and how can it impact your studio workflow in a positive way? Logic Pro author and guru, Jay Asher, seeks the answer in this review.
One and a half years ago, frustrated with the lack of power my first generation 2.66 Quad Core Mac Pro was providing me with the very demanding sample libraries and virtual instruments I was attempting to run, I decided to build a slave PC, and it was a wise decision. For a third of the cost of a newer Mac Pro (app. $1600), I had a more powerful machine with an SSD running at SATA III speed to run my EastWest Hollywood series libraries in Vienna Ensemble Pro 5. (NOTE: I work part time as EastWest's Online Coordinator.)
This addition breathed new life into my Mac Logic Pro based rig, and I was pretty content. Then Apple released Mountain Lion and for the first time my venerable Mac Pro would not be upgradeable to the latest Mac OS!
The writing was on the wall. I make part of my living helping others with Logic Pro and being able to keep up was a necessity. Also, it seemed obvious to me that Apple was transitioning from FireWire to Thunderbolt and that was the path that I needed to head down. Then, as now, there were no Mac Pros with Thunderbolt so I was looking at 2 choices: an iMac Quad Core i7 or a Mac Mini Server Quad Core i7. While the iMac was clearly the more powerful machine and the better choice for a single computer rig, it was also about $1200 more for the one I would want and since I had the PC slave and 2 monitors that I was happy with, I opted for the Mac Mini.
Fine and dandy. Now however, I had some serious decisions to make as I had created some new problems for myself.
Hard drives: I had 4 internal drives in my Mac Pro, 2 FireWire drives and 1 USB drive. The Mac Mini, which came with 2 internal HDs, had 1 Thunderbolt port, 1 FireWire 800 port, and 4 USB 2 ports. (The recently announced Mac Mini has USB 3 ports).
No problem. I put 2 of the internal drives in FireWire cases and since I do not use a FireWire audio interface, I could successfully daisy chain the FireWire drives with no issues. In the future, I could buy a FireWire to Thunderbolt cable if necessary as well. That was easy enough!
PCI-e cards: This was not going to be so easily addressed. The Mac Mini (and the iMac) obviously has no PCIe slots. My audio interface is an RME HDSPe-AIO PCIe card and it is terrific for my purposes as it sounds great, delivers amongst the lowest latency of all audio interfaces, and has a rock solid driver. I could sell it and buy an RME USB interface but I would end up spending a fair amount of money and getting an audio interface that, while roughly comparable, probably still would deliver a little lower track count and latency. And as of yet, there were no really affordable high-quality Thunderbolt audio interfaces.
Also, what to do with my UAD-2 PCIe card? Again, I could sell it and buy a FireWire based UAD-2 Satellite, but I would end up spending a fair amount of money and getting an UAD-2 card that while roughly comparable, would deliver a lower plug-in count and could impede the performance of my FireWire drives.
Monitors: The Mac Mini has only 1 HDMI port for one of my displays but what about the second one? I could go from VGA to Thunderbolt but then I would need another Thunderbolt port. Perhaps a splitter?
The answer to both my PCIe and monitor issues turned out to be a one-stop solution, the Sonnet Echo Express Pro Thunderbolt Chassis.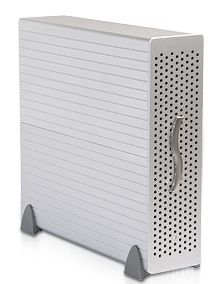 This chassis connects to the Mac Mini's Thunderbolt port and gives me two PCIe slots for my RME and UAD-2 cards and two Thunderbolt ports, allowing me to hook up my second monitor. All my problems solved for a list price (I paid a little less) of $799.
So I brought it home, installed the cards, hooked everything up and have now been using it for a few months.
The verdict? I made the right call. Is it a perfect solution? No. A couple of years down the line there will no doubt be high-quality affordable Thunderbolt audio interfaces, affordable Thunderbolt SSD drives, affordable Thunderbolt hubs and a Thunderbolt based UAD card, so one can argue that I have purchased a temporary solution and that is quite possibly true. But at this price point, if it buys me 2 years, I will considerate money well spent.
Any issues? A couple. I have no way to really test this but it seems to me that the RME provides a slightly, and I mean slightly, lower level of performance in the chassis than it did out of the chassis. Nothing earthshaking and I could be wrong about this as the virtual instruments and libraries I use are increasingly more demanding.
The second issue is that the thing is a little noisy. Sonnet Tech boasts that its variable speed fans 'operate slow and quiet with cooler cards, better cooling for hot cards'. I guess my two cards are 'hot' cards.
The best answer is to get it farther away, behind something that masks the noise and perhaps wrap something around it, in my case the styrofoam inserts that came with the packaging, without blocking the fan's vents. I don't really notice the noise until turn it off (and my PC slave) and think to myself, 'Wow, it sure got quiet in here'.
In summation, I recommend that you consider the Sonnet Echo Express Pro Thunderbolt Expansion Chassis if like me, you find yourself in a transition period where you want the latest OS and faster computers but do not want to totally change your present peripherals.
Discover more about the Sonnet - Echo Express Thunderbolt PCIe Expansion Chassis at here.