Whether you're a producer or a mixer, or a musical collaborator, getting organized in your DAW can save you hours of time and free up some creative headspace. Rich Tozzoli shares his 5 trusted tips.
As a producer/mixer, I get a lot of different session files sent to me. Some are nicely structured, but too many are all over the place. So here's five quick and simple tips from my experience that can not only keep things organized, but help you find them months or even years later if you need a recall.
Create a master project folder
On my main hard drive, I create a folder for each individual project. For example, if my hard drive is called RT MAIN DRIVE, and I'm doing a show for ESPN, I'll be able to click on RT MAIN DRIVE > ESPN and quickly find the project every time. I will often make that working folder Green (Control-click or right -click to label a file or folder on a Mac), so my eyes catch it immediately when opening each day's work. Easy to do and a no brainer for organization.
Create individual song folders
Within each master project, I will create a folder for each song. Again, this lets me keep thing separated and easily organized visually. I will often make each song a different color depending on how far along I am with it. Yellow means in progress, Red always means I'm done with it '" print it!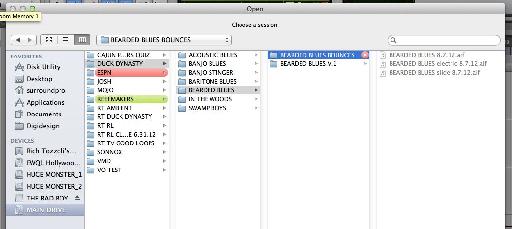 Create a Bounce or Print folder
It's important to keep track of your final mixes of each song. I create a folder called '˜Bounces' for each song (since I'm in Pro Tools and the mixes are referred to as bounces). So when I first go to '˜bounce to disk' on a project, I select Bounce, then '˜New Folder' in the bottom left. I label it '˜XXX Bounces' and then every time I create a bounce for that session, it goes into that folder. It's also important to put a version number on the bounce, any relevant info, and the date. For example, the song called 'Space Cakes V.2, vocal down -2 dB 10.20.12' '" means the title is Space Cakes, it's the second version, I lowered the vocal 2 dB, and it was done on October 12, 2012. That way, when I go to look for the different mixes, I'll always know exactly what they were, and where to find them (In the Bounce folder!).
Keep your loops and libraries on separate drives
I literally have thousands of loops, sound effects and samples. To keep track of them, I put them on different internal drives on my computer. This way, I know where they are at all times. It's common sense, but keep them off your main DAW working drive. Also, any loops or samples I use, I make sure to import them into the current working session. That way, they will always be in the audio files folder '" no matter where I travel with that session.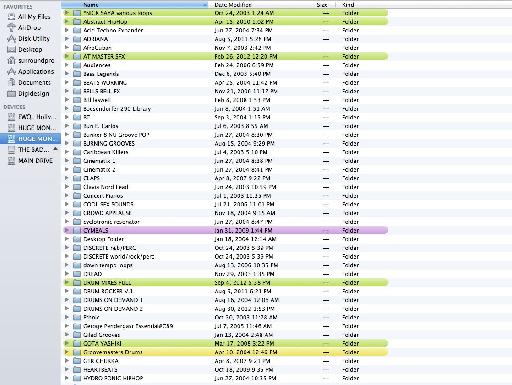 Backup, Backup, Backup
Back up to at least 2 extra drives: The old adage 'if you don't have it on 3 drives, you don't have it' is true. Make sure you back your project up nightly if possible. Even if you just drag it to an external FireWire drive, at least it's off the main computer. I back it up to a small pocket drive, and then to a main drive. The folders are labeled '˜Project XXX BU (backup)' and dated. I will even go as far as to place labels or tape on the main backup drive letting me know what's on there. Or you can take a screenshot of the contents and tape it directly to it. That way, you're not guessing what is on each of the drives. It's simple '" but it works.