New 8-inch Woofer Speaker Delivers Renowned ADAM Audio Quality and Reliability at a Value Price Point.
Berlin, Germany (June 1st, 2020) -- ADAM Audio is extremely pleased to announce that their highly-anticipated T8V studio monitor, is now available for purchase at retailers worldwide. The T8V is the latest addition to the company's award-winning T-Series line of professional studio monitors which offer renowned ADAM Audio performance, quality and reliability at a value price point. Featuring an 8-inch woofer paired with powerful amplification, the T8V's power and lower bass extension make it an ideal choice for project and home studios, clients who work in bass-heavy music genres such as hip hop, dance, ambient, dub and EDM, and those who work in non-electronic genres like funk, metal, blues and pop.


Like the full T Series line which delivers performance and specifications unprecedented in their class, the new T8V has a frequency response that reaches down 33 Hz and the ability to project an impressive SPL of 118 dB per pair. The extremely low bass extension of the T8Vs make these monitors an ideal choice to pair with the T10S T Series subwoofer.
The new T8V monitors have already received high praise from reviewers for their performance, clarity and price point, for example:
"Choosing a set of monitors that work for you is one of the most important music-making decisions you'll ever make. With the T8V, you'll get a high percentage of the top models' performance for a fraction of their cost. The T8Vs are good enough to perform as the main monitors in many recording setups; delectable detail and insight make the affordable T8Vs an ideal choice for those who desire a bass performance deeper than their pockets would normally allow." – Music Tech Magazine.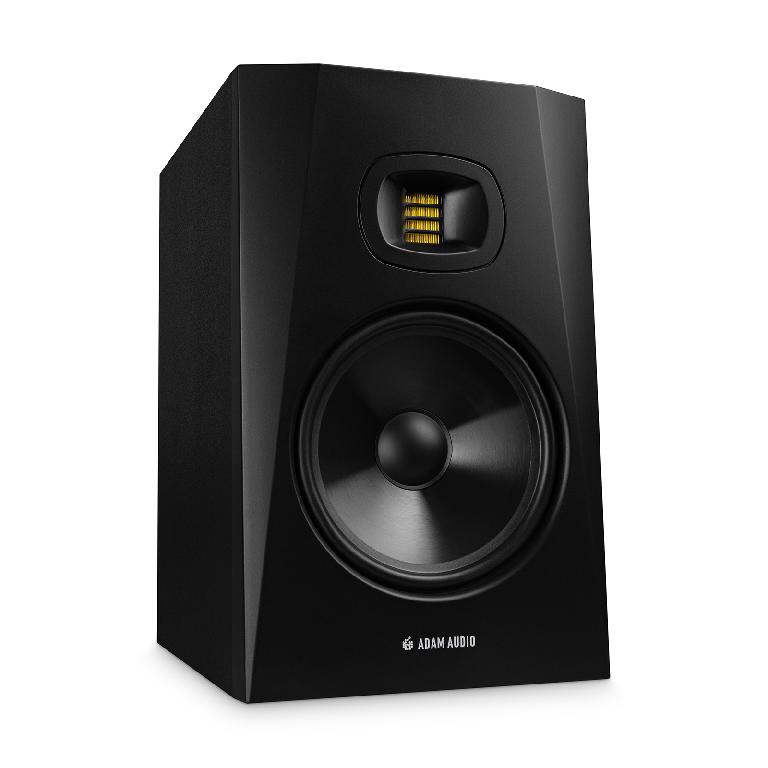 "Reviewing studio monitors is hard work at the best of times. The thing I like best is just how little fatigue that they cause, even after a long session, your ears never feel battered and the clarity is just superb. The sound is consistent and controlled throughout the whole frequency range. I love the clarity and definition that you get." – DJ CityTV.
ADAM Audio's acclaimed T-Series line of studio monitors was launched in 2018 with the T5V 5-inch woofer and T7V 7-inch woofer models, followed in 2019 by the T10S subwoofer. Just like the previous two monitors in the T-Series lineup, the T8V makes use of ADAM Audio technology developed for the company's high end flagship S series available at a very affordable price point.

The T Series U-ART tweeter (Unique Accelerated Ribbon Tweeter) is mated to a sophisticated waveguide with the same dispersion-control attributes as the HPS waveguide in the S Series. The Class D amplifiers for tweeter and woofer offer ample power for the 8-inch woofer, delivering 20 W and 70 W respectively and providing 118 dB max SPL per pair.
All T Series models feature a beveled cabinet design, rear-firing bass reflex port, built-in DSP-controlled driver crossovers and equalization, and multi-way analog connections; and are compatible with the ADAM Audio T10S subwoofer.

The new T8V comes with the company's exceptional five-year warranty for registered users and is available at retailers worldwide with an MSRP of $299 USD; SRP 299 € (incl. VAT.) , £259 incl VAT.
Web: https://www.adam-audio.com