This new MIDI controller from Bastl Instruments is available only as a DIY kit and, as its name suggests, has 60 independent and customisable controller pots and a whole lot more.
Bastl Instruments have told us the new 60Knobs was originally designed as a controller for LXR Drum machine, but thanks to the editor can control the DX7 via SysEx and more. Priced at €129 EUR (plus €29 EUR for the enclosure).
Here's a cool video and more details about this Bastl 60 knob DIY MIDI controller community collaboration:
60Knobs might look like a shuttle's control panel but in its core it is a MIDI controller, designed specifically for the Sonic Potion's LXR drum machine. On top of that it is capable of controlling any device with MIDI input and external parameter control possibility. Also it can handle some more tricky and less common control protocols such as NRPN or SysEx.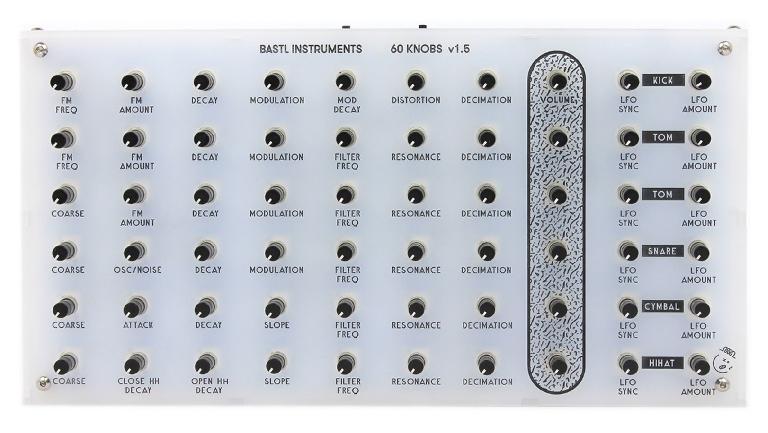 60Knobs is available only as a DIY kit, so you have to build it on your own using your very own hands and stuff. It comes with preflashed microcontroller containing the firmware with a factory preset for the LXR so you can start making dope beats right away.
FEATURES:
60 controller pots independently customizable through the editor;
MIDI messages supported: CC (Control Change), NRPN (Non-Registered Parameter Number), DX7 (Yamaha sysEx DX7);
Button for MIDI DUMP current value of each knob;
MIDI IN and OUT DIN connector;
5 user customizable presets;
Indication LED shows setting changes
FTDI connector for firmware flashing (hacker friendly!)