So you just know you've got the goods to make hits: you've got the ears, you know the trends, and you've got the nerve. Now you need the gear. Here's why you need an audio interface in your setup.
Presumably, you have your computer and have decided to on a program to create the music in, like Logic Pro, Cubase, Pro Tools, Reaper, Ableton Live, Digital Performer, Sonar etc. All of them will work with the built-in audio card, right? So why do you need an audio interface?
So what is an audio interface anyway? I find that a lot of aspiring young bedroom producers do not know. Typically, they consist of the following.
Ins and Outs, or I/O
Your microphone or electric guitar has got to plug in to something to get into your computer and the sound has to come back out to your speakers. Some have only one in and one stereo out while others may have as many as 16 ins and outs.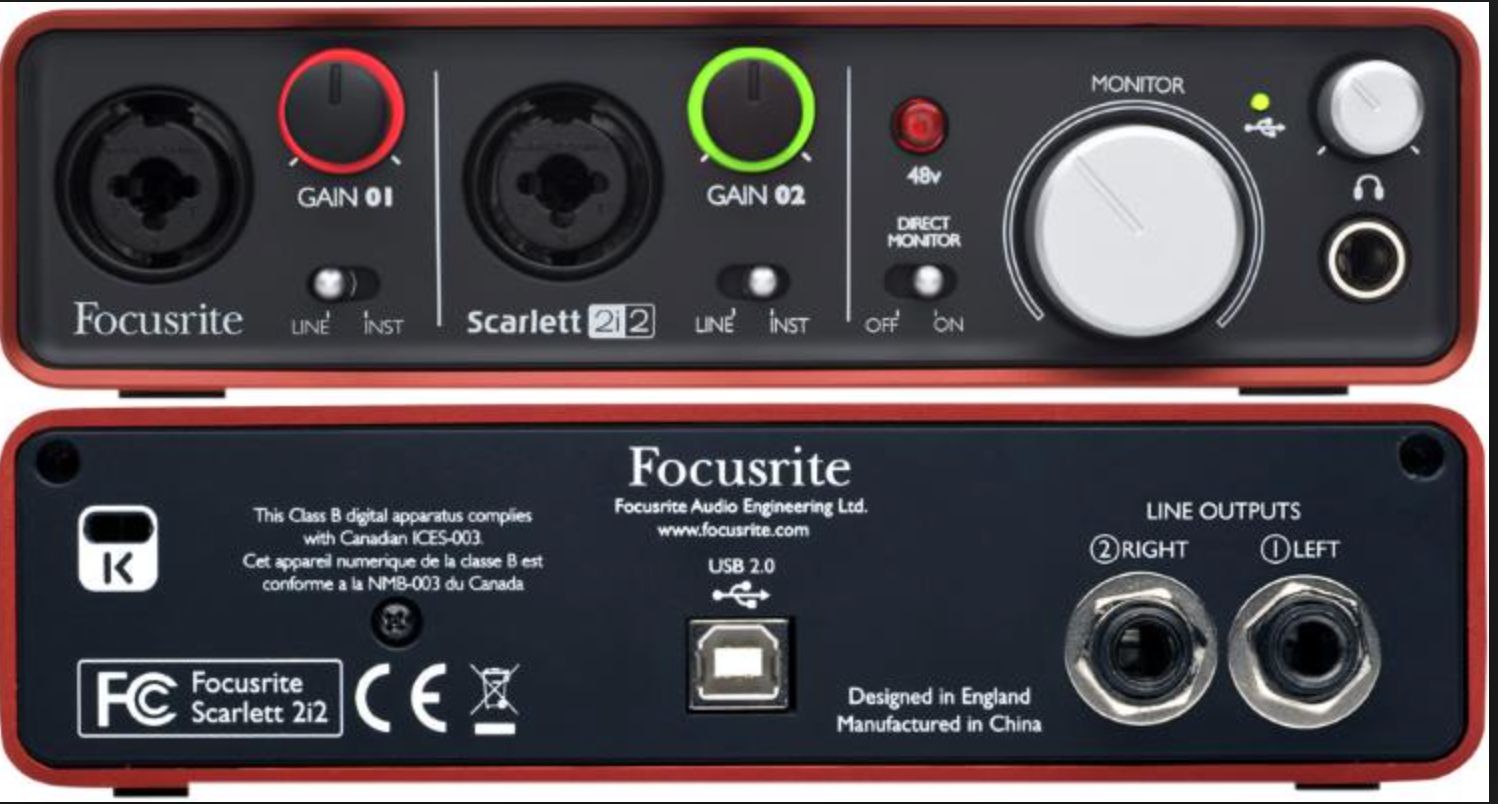 A/D and D/A converters
Your microphone is an analog device. It goes through a preamp to amplify its signal but then something has to convert it to digital so your DAW understands it. That is A/D. You mix out of your DAW to speakers or headphones that are analog. So you have to convert the digital information in your DAW to analog. That is D/A.
Microphone Preamps (Mic Pres)
No matter which one you use, your microphone does not put out enough signal for the DAW to usably record it, so it must go through a mic pre to boost the level.
Phantom Power
Dynamic microphone do not require as much boosting as condenser microphones, so phantom power is used with the latter.
MIDI Ports
These are to connect MIDI keyboards that do not connect through USB. A lot of audio interfaces no longer have them because USB based MIDI keyboards and controllers have become ubiquitous.
Headphone Amp
To listen through headphones.
So Again, Why Do I Need An Audio Interface?
The built-in audio on your computer generally will only have a stereo input and stereo output and a headphone jack. It is consumer grade quality and will not allow you to get the professional sounding results you want, nor will it have all the connectivity you will need. You probably will want XLR connections for your microphones, maybe a high-Z phone plug-in input for your guitar, etc. The headphone input will probably have more gain and sound clearer. "Podcaster" type mics have an audio built into them, converters, mic pre etc. Again, fine for podcasting but not the quality you want for your music productions. A good audio interface will have far better connectivity options and better converters with less jitter, noise and latency than your built in sound card.
OK, You Convinced Me. Now What Do I Buy?
Years ago, this was pretty simple. Your audio interface went into your computer in a PCI slot or connected through Firewire probably. If you wanted one without a lot of I/O that had decent converters and mic pres, you were going to have to spend a lot of dough. Nowadays, it is all about the features you need. Which connectivity, Thunderbolt, USB, or pci-e? There are now a great number of inexpensive choices for each, all with decently low latency.
What does a more expensive choice get me?
More I/O, If you want to record an entire drum kit, obviously you will need more inputs for more mics than just for recording your voice and guitar simultaneously.'¨
More mic pres. Again, how many things do you want to record discretely simultaneously?'¨
Better converters. But not necessarily a hearable difference. My present audio interface is relatively inexpensive and you would probably have to buy standalone converters to significantly improve on their quality in my opinion.'¨
Lower latency. But again, far less of an issue nowadays, particularly with Thunderbolt.
Do Your Homework
Before you pull out that credit card, read on the web about people's experiences with the audio interfaces you are considering. Are people happy with the sound? Are they finding the build quality and reliability to be up to snuff? Is the company one with a good track record of continuing to support their products? If the interface requires a driver, is it reliable and does it provide low latency at a usable buffer size?
The good news is that it is hard to go too far wrong these days. There has never been such a wealth of good sounding and reliable inexpensive audio interfaces.
Learn more about recording in the Ask Audio Academy
here.