New to the world of music production? Need a reminder of some of the foundations? This is a greta place to start! Jay Asher breaks down the concepts into easy to understand, bit-sized chunks.
As a Logic Certified Trainer, when I teach classes I pass out a sheet to the students to fill out so that I know their level of experience and understanding of terminology. In every class without exception, there is at least one student who is fuzzy on what the differences between audio and MIDI are. I think I have come up with an easy way to explain it. It goes like this:
Suppose you want to buy a house. Before that house was constructed, someone had to draw a blueprint, essentially instructions on how to build it, then assemble the materials, and then actually build it.
That is basically what audio is. Let us say we want to record a singer. We open the DAW of our choice with an audio track and whatever hardware/plug-ins we will use, hook up a mic and plug it into the mic pre of an audio interface, and record the singer.
When we have done this, in point of fact we have not really recorded into the DAW, we have used the DAW to help enable us to record a waveform to a hard drive. Once recorded, it is a real thing that exists apart from our DAW. If you wipe that DAW of your hard drive or even ALL your audio applications, unless you find that audio file on your hard drive and delete it, it will still be there and can be burned onto a CD, transferred to another drive or computer, and be played back sounding essentially the same.
The DAW gives us the ability to edit and manipulate the audio file, chop it into sections (called regions) by simply telling the DAW to 'look over there'.
In Pic 1, you can see a Logic Pro 9 project in which I have recorded a vocal and a piano. In Logic's Bin, you can see that it tells you where in fact the audio files actually reside.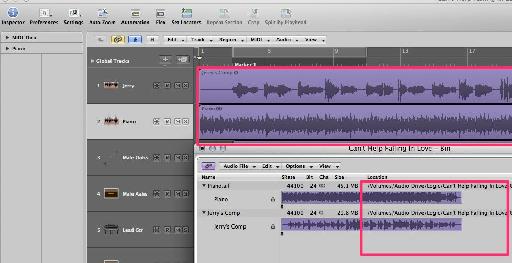 Pic 1
So, audio is a designed and built house.
Now we come to MIDI. MIDI stands for Musical Instrument Digital Interface. It is a set of standards that a group of makers of popular synthesizers agreed to in order to allow MIDI capable instruments to communicate and connect better to each other. You can learn more about its history here: http://en.wikipedia.org/wiki/MIDI
Returning to our house analogy, it is like the blueprint, merely a set of instructions sent to either a software instrument or hardware synth/tone module that is capable of receiving them and translating them into a sound.
In Pic 2, on track 3 I have loaded an acoustic guitar instrument into Logic's EXS24 sampler and recorded a MIDI region. You can see the 'instructions' in the Piano Roll and Event List editor.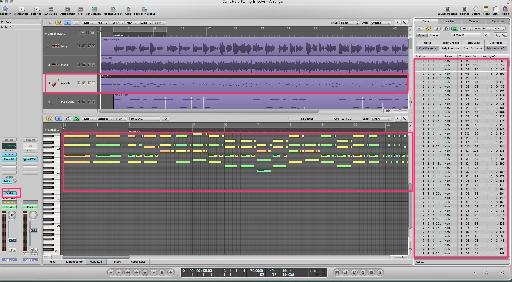 Pic 2
If I hit play, assuming it is a good quality sampled acoustic guitar and I have played it well, it will indeed sound like an acoustic guitar. But did I really record a guitar?
No, I did not! What I did was essentially tell the software instrument: 'Here is a note that we agree to call C3; hold it this long; play it this loud; add vibrato when I record a movement of the modwheel;' etc.
It has no idea it is a guitar and indeed if I take that same MIDI region and play it back on a track with a Fender Rhodes electric piano emulating software instrument, like Logic Pro's EVP88, my '˜acoustic guitar' will now sound like a Fender Rhodes. If I play it on track with a sampled string library, it will sound like strings.
And, if I delete that MIDI region without saving the Logic project, or exporting it as a standard MIDI file to a hard drive, it will indeed be gone forever, unlike the audio file.
It is NOT the built house, just the blueprint. Not a real recording, just a set of instructions.
NOTE: It used to be that one of the great advantages of MIDI vs audio was that it was far easier to change tempos and pitch with MIDI than recorded audio but with the tools modern DAWs now give us, this is far less so.
I hope this is helpful for those of you just beginning your journey of making music with Logic Pro, Ableton Live, ProTools, Cubase, or Digital Performer.
Have fun!