It's day 1 of NAMM 2020 and guess who's just plunged headfirst into modular synthesizers? Yes, it's Behringer and they've Brough the System 100 back to life with 11 new modules.
It's only the first day and already Behringer have somewhat stolen the show at NAMM 2020 with the announcement of the System 100 - Behringer Modular Synthesizer. It features 11 new eurorack-friendly synth modules faithfully recreating the circuitry from the original 1975 model.
System 100 features fat sounding oscillators and creamy filters. The modules include many patching capabilities and many of them have dual functions. There's even a sequencer.
This video gives a thorough first-look overview of the Behringer System 100 as well as a sound demo towwards the end...
These 11 modules could be combined all together for a super sounding synthesizer, or you could incorporate a couple of these with an existing semi-modular synth and build slowly from there.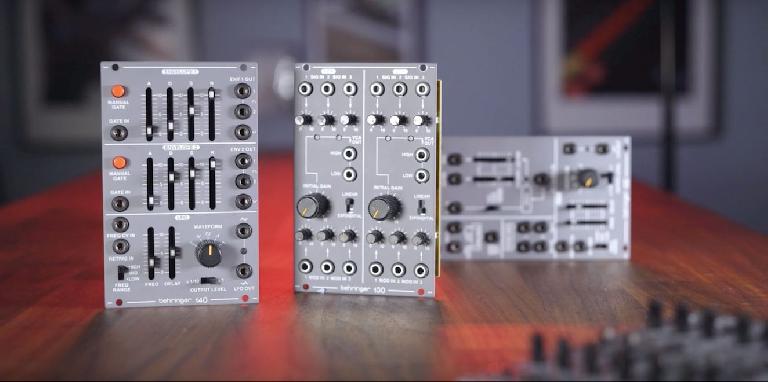 Here's what Behringer tells us about the new System 100.
If you're into super-fat bass sounds, in-your-face leads or flowing soundscapes, definitely check them out! All modules are incredibly feature rich, have tremendous patching capabilities and a lot of them come with dual function, like:
112 dual oscillator with 3 waveforms, PWM and two sync modes

121 dual filter with 3-channel mixer per filter

130 dual VCA, again with dual 3-channel mixers

140 dual envelope has 3 outputs per ADSR plus a built in LFO that can be triggered and phase synced

173 gates module comes even with four gates that can switch audio and 6 quad buffered multiples

297 has a dual portamento controller plus two independent CV mixers

150 brings a ring modulator, 2 noise generators, syncable LFO and a sample and hold generator

172 module delivers a 6-step phase-shifter, an analog delay, an LFO and a gate delay

305 is an output module a four-band parametric EQ, a 4-channel mixer, line and separate headphone output and even a tuning oscillator

182 there is a powerful analog sequencer with either dual 8 steps or 1-16 steps and tempo, portamento and gate time controls

110 is a complete synth voice with VCO, VCA and filter in a single module
Price: TBA
Available: Coming Soon