Trusted Moog expert, Jareth Lackey, is giving the BETA version of the Behringer minimoog clone a spin. Here's his first video. Spoiler alert: sound is killer.
UPDATE: SINCE PUBLISHING THIS ARTICLE WE'VE COME ACROSS 2 MORE AUDIO DEMOS FROM ANOTHER BETA TESTER. PLEASE SCROLL DOWN TO HEAR THESE TOO.
The $299 Behringer D, Minimoog Model D clone has certainly brought its fair share of discussion across the web. Some are furious reactions at the audacity of a company wanting to clone a classic synth and offer it cheaper. And some reactions are more level-headed and simply excited or curious to know how it actually sounds.
Well, here's the good news. Jareth Lackey is an official BETA tester for the Behringer D and he's promised to upload test videos demos of this new synth against his 1972 Minimoog.
Here is the first video:
Jareth has been playing around with the Behringer D and says, "Ok guys, now for something new! I'm a beta tester for the Behringer model D and let me just say that the sound is killer! I admit it that I was very skeptical when I heard about this unit but its amazing! there will definitely be more to follow soon including some in depth demos and comparison against my 1972 minimoog. Check out a little vide here I made https://www.instagram.com/p/BXELObsAugD/?taken-by=synthpro"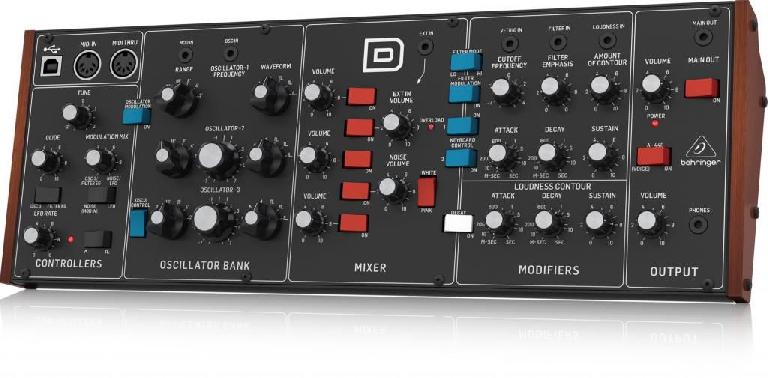 [courses_slider]
For $299, and eurorack compatible, we don't mind if the Behringer D isn't completely similar in sound to the original minimoog. But if it does indeed sound close, and perhaps has its own sonic characteristics, then behringer could indeed be on to a winner.
Additional Behringer D Beta Demos
UPDATE: SINCE PUBLISHING THIS ARTICLE WE'VE COME ACROSS SOME MORE AUDIO DEMOS FROM ANOTHER BETA TESTER.
Let's start with another video... this time from Mr FireChild. This track is made with sounds from the Behringer Model D only. Composed and produced by www.firechild.se
Arlan Oscar Schierbaum, on Gearslutz, posted this (processed) demo of the Behringer D a week ago:
Arlan describes himself and then his track in his Gearslutz post:
"I am a professional keyboard player & composer from the USA, with years of experience recording and performing with vintage keyboards. My credits can be found in numerous places online (Google, Discogs, All Music etc), and numerous videos of live and studio performances I have been a part of are on YouTube and elsewhere using parts of my name "Arlan", "Arlan Oscar", "Arlan Schierbaum" as search links.
"Recently, I was given to the task to evaluate a test unit for the upcoming release of Behringer's Model D Euro Rack synth.
"Although it is a prototype / test unit (with a few improvements still to be made) it sounds incredible and plays very well (via MIDI/USB).
"I have many years of personal experience playing, recording, and performing with numerous MiniMoog Model D synths, each one being different and unique, and bringing their own flavor to the music and recordings. I have played many types extensively: from the clear wheel (early version), to the cream wheel, and later slotted wheel MiniMoog, to the newly reissued MiniMoog Model D from 2016.
"From what I have learned directly from Behringer is that their Model D rack unit is a faithful reproduction of the MiniMoog Model D reissue, which is a reproduction of an early (cream wheel series) MiniMoog D ~ both obviously built with new parts. The "schematics and components are the same. There are always some minor differences because of tolerances and temperature drift"."
Here's details and technical info on the recording:
"The audio was recorded into my 2011 Mac Book Pro at 48k, 24 bit, on ProTools HD10, using an Apogee Duet 2 x 4 interface, with the Model D "high" output plugged directly into the 1/4 guitar input of the Duet breakout adpator. No eq plug-ins were used in ProTools (expect a little 30hz boost on the "synth bass" patch). A small amount of compression on each synth instrument was achieved with the popular "R Compressor" from "Waves" (unless otherwise noted). The delay used on the "square wave lead", and "funky filter sawtooth" patches is "DC Echoflex" by Plug and Mix, with a setting of 1/4 sync, and "ping pong" engaged. A Sonnex "Oxford Limiter" was used on the Master Fader during mixdown, and the final audio wav file was exported directly as a 44.1 - 256kbit/s mp3.
"All parts were played directly by hand (via Midi) from a Alesis Andromeda (MIDI only), triggering the Berhringer Model D Euro Rack (USB input), via a Mio 1 in 1 out USB to MIDI interface by iConnectivity with my Mac Book Pro. The parts were performed in real time with audio and MIDI recorded together, then some of the parts were quantized (MIDI), and used to re-trigger the Model D rack while adjustments could be made to the settings of each patch at that time. The MIDI / USB input to the Behringer Model D works so well (mod wheel included), that I was inspired adjust most of the sound patches after my initial performance while playing back the MIDI sequence file, and even doubled the square wave lead sound for a very nice stereo effect.
All sounds are from the Behringer Model D Euro Rack, except the drum loop that starts at bar 11 / 17 seconds (Addictive Drums "Dry Beat 10").
Parts are in order of appearance:
"Telephone" sound (square wave modulation) (2) separate passes - mixed in stereo

Kick Drum (Dyn3 Comp-Lim plug in)

Snare Drum (reversed 1X for intro)

Funky / Filter Sawtooth Rhythm / Lead part (with delay)

Square Wave Lead (recorded twice with MIDI playback / harmonized on intro)(with delay)

Synth Bass Sound (small amount of 40hz boost added)
Later Arlan posted a dry demo of the Behringer D in the same Gearslutz thread:
Behringer D Analog Monosynth Module Features:
3 punchy-sounding voltage-controlled oscillators
Classic 24dB voltage-controlled filter with resonance (Emphasis)
Filter selectable for lowpass or highpass
Noise generator (selectable between White and Pink Noise)
Overdrive circuit
USB-MIDI plus 5-pin DIN In and Thru
CV connectivity
Glide (portamento)
External audio input
Low-output and high-output 1/4" outs
Behringer's 3-year warranty
While the Behringer D was available to pre-order via Sweetwater, that appears to have ended now with no official word on why.
We'll bring you more videos, tests, demos and news on the Behringer D and other synths as we hear about them. And with the analog mono, minimoog-style synth war hotting up you may be interested in the Roland / Studio Electronics SE-02 which sounds great and includes a step sequencer. Watch our SE-02 demo and review here.