Put down the lego and that lame toy xylophone and welcome in a real synthesizer for pre-school level kids with pro features that might make it part of your studio setup.
Next time a loved one points at your rack of modular or non-modular hardware synths and uses the word "toys" to describe them, send them to this article. You want to see what a Fisher Price-style / My First Synth looks like in 2018? It's actually rather cool and an ingenious way to introduce the world of tiny people to synthesis. Furthermore it's a very capable and fun synthesizer.
We are speaking about Playtime Engineering's BlipBlox. But don't be put off by the plethora of primary colors, large buttons and dials and its plastic design. This synth debuting at NAMM 2018 packs a punch in terms of spec. You can connect a MIDI keyboard to control it, there's eight unique oscillator modulation schemes, a low pass filter, two envelope generators, two LFOs and much more besides.
This synth might be as much fun for the Mum and Dad as it is for the kids!
Here's some official info about it:
Blipblox - a synthesizer and beatbox designed to promote creativity and audio exploration. Its unique physical design is easy-to-use and safe for children as young as 3 years old. Its professional features and nearly endless ability to create new sounds make it fun and captivating for everyone!
The Blipblox is not your typical music toy. Instead of generic keyboard sounds, the Blipblox uses a proprietary algorithm that synthesizes completely unique waveforms. You don't just play notes on the Blipblox, you actually design your own soundwave.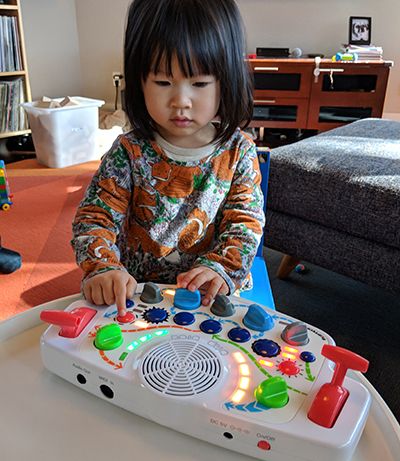 Kid-friendly & kid-safe
Colorful knobs & buttons are easy for little hands to twist & press.

Multi-color LED light show is synchronized to the music.

Durable plastic design is drop & splash resistant.

Algorithm & system flow learning provides STEM experience beyond music play.

"Active capture" knobs & buttons so little hands can't remove them.

Powered by batteries or AC adapter.
Professional features
MIDI input for an external keyboard or sequencer controller.
Eight unique oscillator modulation schemes.
One Low Pass Filter.
Two Envelope Generators.
Two LFOs.
3-in/3-out modulation matrix.
Performance Mode optimizes device display for music production.
Audio Output jack.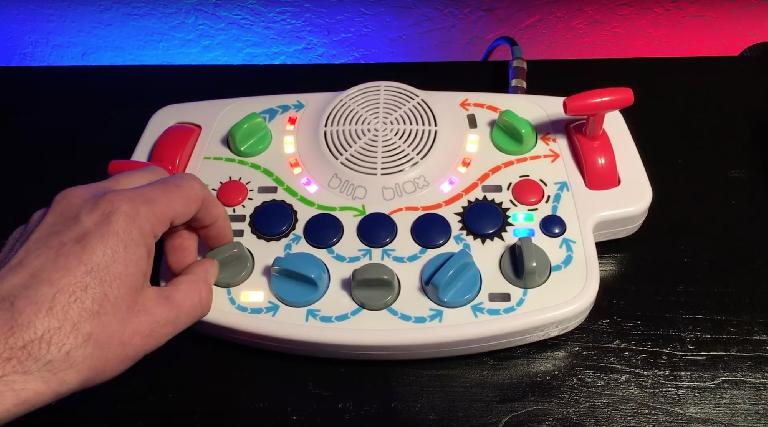 Synthesis for all
No music experience needed! Have fun just exploring the new sounds, or dig deeper to learn the signal path and master the synthesis engine.
Built-in sequencer comes loaded with hundreds of unique melodies to explore.
Integrated drum machine.
All of the fun of sound synthesis in a simplified, low-cost device.
And here's a video of the BlipBox in a studio session: