If you already own a Korg Monologue and would prefer it to be a desktop module (without keyboard) then you're going to love this solution courtesy of Instrument Stands.
Exactly how many keyboards do you need when you have multiple hardware synths? For many of us, especially those with small desks / studio space, the concept of desktop synths serves a purpose. More synths in a smaller space controlled by one or two MIDI keyboards. Job done.
And let's not forget those who have a preferred keyboard with key action which can be superior to those built-in keyboards on some synths...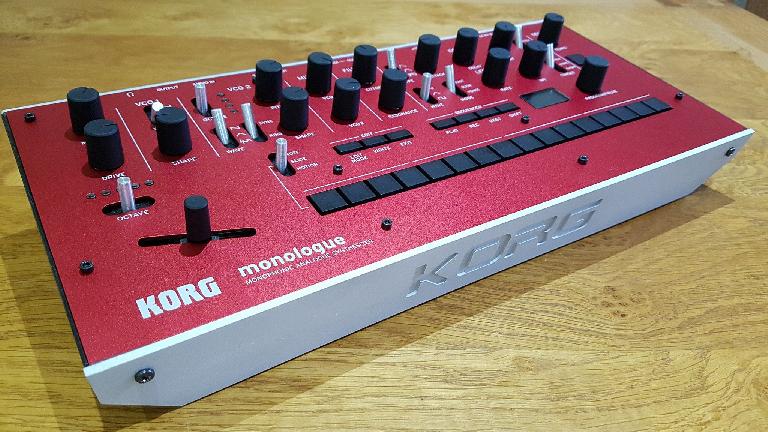 Haydn Hamilton –the man that is Instrument Stands– is famous for chopping off synth keyboards and adding metal front and back and side plates where needed. He often engraves the metal plate with the name of the synth... you know, lest you forget what you're looking at. You may recall our recent $6 mod for the Korg Minilogue which you might find of interest... or other mods by Haydn Hamilton for a variety of synths, for example the Monologue (in silver), The Roland TB-303 and TR-606, and a neat way to improve your Akai TimbreWolf...
Some in the synth community, including yours truly, find these modded synths (sounds better than castrated) pretty sexy and practical too. Others might wonder what went wrong in Haydn's childhood that causes him to take such pleasure in mutilating analog and digital synthesizers...
His latest incarnation / frankensynth (you choose) is one of our favorites to date. He's taken a Korg Monologue of the red variety and given it the chop. The results are really nice indeed, and we think look even better than the silver original. This particular red Monologue belongs to Spike the Percussionist. We assume he's pretty chuffed with the results.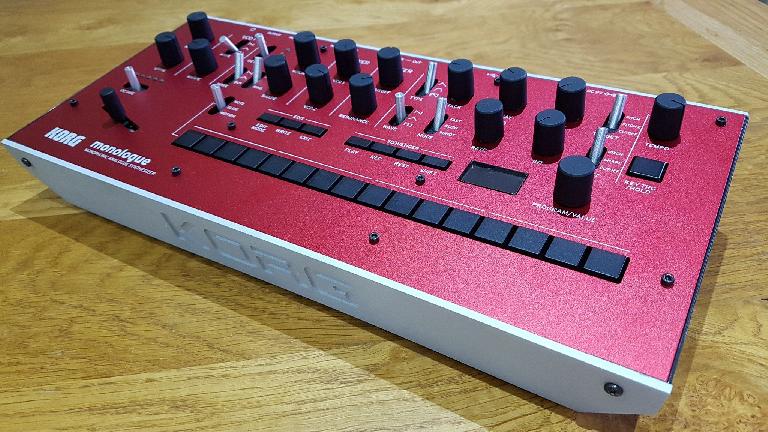 [courses_slider]
If you're interested in having Haydn chop yours off (the keyboard that is) you can always contact him and ask politely. He's really up for doing this to synths from your collection and Instrument Stands are fast becoming the destination for other like-minded synth freaks ;-)
[Via: Haydn Hamilton private message]
Watch our AskAudio Academy beginner and advanced video course on the Korg Minilogue here.