Denon DJ Brings Serato Experience To Prime 4 Standalone DJ Console & SC5000M Media Player
Serato DJ Pro integration turns the PRIME 4 into the ultimate controller for DJs who are either looking for a high-level 4 channel standalone DJ system, or a feature rich Serato controller, or both.
Cumberland RI, USA (October 31 , 2019)—Denon DJ has announced that it has released Serato controller-mode support for their PRIME 4 4-channel DJ console and also their motorized-platter SC5000M media player. For PRIME 4, this enables DJs to set aside their laptop and take compehensive touchscreen and hardware control of the world's most popular computer-based DJ software, Serato DJ Pro. The SC5000M motorized standalone media player brings legacy-vinyl based, hands-on control of Serato DJ Pro, again with touchscreen library navigation, deck selection and more.
With full flexibility between standalone performance, Serato controller mode and of course, WiFi streaming capabilities (coming soon), the PRIME 4 and SC5000M make a one-stop-shop, feature-rich DJ experience, unequalled by any other DJ technology available. For DJ gear choices, there really are no other alternatives that bring all these exciting performance elements in one box!
PRIME 4 X Serato DJ Pro Controller Mode Features
Sideline the laptop - browse, navigate and load with the HD touchscreen interface. PRIME 4's 10", HD multi-touch display becomes the DJ's window into Serato DJ Pro library navigation, browsing and 4-deck selection
Visualize and Control Multiple Serato DJ FX with 8 OLED Displays. Stack up to 3 instances of Serato DJ Pro's extensive FX selections plus visualize and adjust parameters with the hardware encoders and built-in displays
DVS Ready for Traditional Turntables with Serato Control Vinyl. Using Serato DJ's (optional) 'Club Kit', DJs and Turntablists get full, 12" vinyl control over their digital media
Expressive hardware control of Serato DJ's Mixer, Transport and Creative Performance features. Optimal, tactile and easy-access Serato control - from basic DJ playback and mixing, to sound-sculpting and beat-juggling
Touchable 'Dual-View' options for Serato Library and Decks. Flip PRIME 4's HD touchscreen to show 'Standard' (Serato library and full-sized Decks) or 'Expanded Library' view (Serato expanded library with Mini-Decks)
SoundSwitch Support within Serato DJ Pro via Expanded USB Hub capabilities of PRIME 4 Reclaim those critical USB ports and run mobile, club and event lightshows seamlessly within Serato DJ Pro, with SoundSwitch DMX interfaces
SC5000M X Serato DJ Pro Controller Mode Features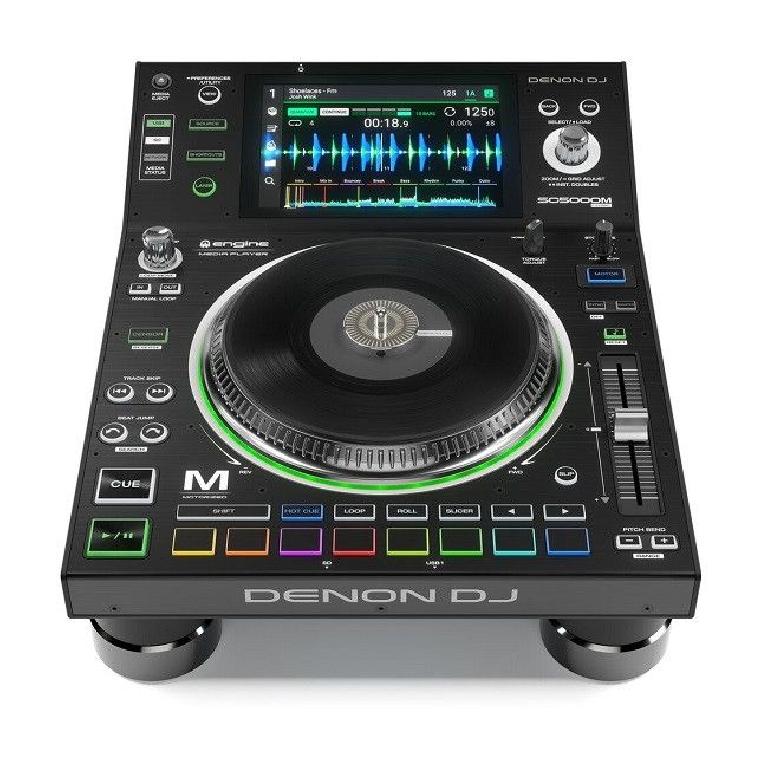 Sideline the laptop - browse, navigate and load with the HD touchscreen interface. The SC5000M 7", HD multi-touch display becomes the DJ's window into Serato DJ Pro library navigation, browsing and 4-deck selection
Touchable 'Library Areas' and 'Sorting' options for Serato DJ Pro Collections. Single finger-tap exploring of Serato Crates, Tracklists and Prepare folders, plus 'Sorting' options by Track, Artist, BPM, Key and Time categories
Ultra-High Resolution Platter 'Scratch' Response. The SC5000M's hi/lo torque brushless DC electric motor ensures lightning-fast response to Turntablist and DJ scratch techniques. Serato DJ Pro is controlled with the platter 7" vinyl providing 3,600 MIDI resolution ticks per single rotation