Doepfer Announces Dark Energy III, Monophonic, Analog Synth
Dark Energy III is a standalone, monophonic, analog synthesizer from Doepfer. And as its name suggests is the successor to the popular version 2 with improvements.
NAMM 2018 is upon us and Doepfer want us to celebrate with a new version of ther Dark Energy mono, stnadalone synthesizer. Dark Energy III has an improved VCO (no warm-up period, additional triangle waveform, wider frequency range), resettable LFOs, improved ADSR and a lot of internal access points for DIYers. The favored filter of the Dark Energy II has been unchanged.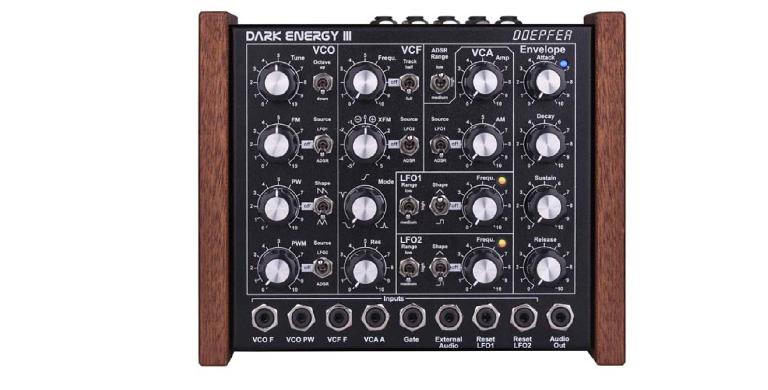 Here's the official details from Doepfer:
Dark Energy III is a monophonic stand-alone synthesizer with USB and Midi interface. The sound generation and all modulation sources are 100% analog, only the USB/Midi interface contains digital components. It is built into a rugged black metal case with wooden side plates. High quality potentiometers with metal shafts are used and each potentiometer is fixed to the case (no wobbly shafts and knobs):
VCO:
o Triangle based, 10 octaves frequency range
o Tune control and Octave switch – 1 / 0 / +1 octave
o FM input with selectable source (ADSR / off / LFO1)
o Manual PW control and PWM with selectable source (ADSR / off / LFO2) for rectangle wave o Waveform switch
o Additional external CV inputs for frequency and pulsewidth of the rectangle

VCF:
o 12dB Multimode VCF with continuous mode control (lowpass – notch – highpass - bandpass) o Manual Frequency control and FM with selectable source (ADSR / off / LFO2)
o Resonance control, up to self oscillation
o Additional external CV and external audio input

VCA:
o Linear control scale
o Manual Amplitude control and AM with selectable source (ADSR / off / LFO1) o Additional external CV input

Envelope:
o Improved ADSR type with 3-position range switch o Additional external gate input
o Control LED

LFO:
o Two resettable LFOs (external Reset inputs)
o manual frequency control and 3-position range switches o Waveform switches triangle/square
o LED controls

Lots of internal access points for DIY applications or modification of the socket functions (e.g. VCO outputs triangle, sawtooth, rectangle, hardsync, softsync, linear FM, VCF outputs L/H/B, ADSR output and A/D/S/R CV inputs, LFO outputs triangle and square).
Although there isn't a listed price on the Doepfer website for Dark Energy III, the previous DE II was €449. We'd expect this new synth to be approximately the same price.