Dreadbox & Polyend Medusa 1st-Look: Analog, Digital Hybrid Synthesizer & Controller
Take a first look at the new super synth and controller and sequencer from Dreadbox and Polyend. Medusa is a powerful 6-oscialltor hybrid analog/digital synth and MPE controller and sequencer in one.
Before Superbooth Polyend (SEQ, PERC) and Dreadbox (Abyss, Hades) gave the world a sneak peek of their new collaborative music machine, Medusa. This synth and controller fuses the best of Dreadbox's analog and digital synthesizer mastery with Polyend's sequencing and pad control know-how.
Here's a video from Superbooth18 of the Dreadbox & Polyend Medusa in action:
Better Together
There's a fascinating combination of skillsets that have gone into making one machine. Medusa isn't just a sequencer bolted on to a synthesizer, a lot more thought has gone into making the 64-pad Grid section MPE compatible so it is a musical controller as well as a sequencer. On the synthesizer side, Dreadbox have included 3 analog oscialltors, 3 digital oscillators, FM features, 5 independent DADSR envelopes, and 3 filter types.
Additionally, Medusa can be played as a monophonic or paraphonic synth with up to 6 oscillators as separate voices!
We're defintely happy that both companies collaborated and can't wait to get hands on with Medusa...
Here's the details you need to know about Medusa. (video to follow).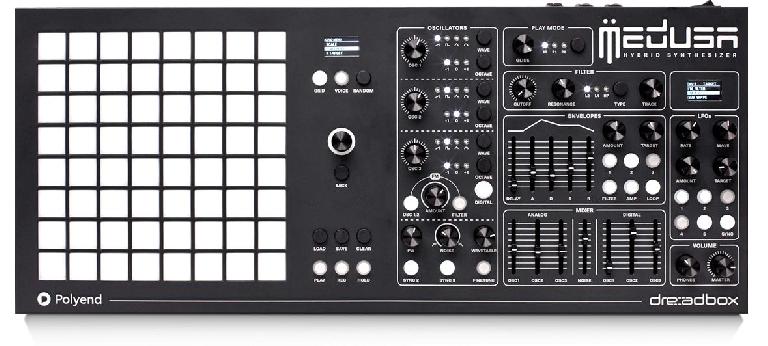 Medusa hybrid synthesizer is a fruit of the collaboration between Dreadbox and Polyend companies. It has emerged from both teams unusual approach to integrating analog and digital domains into a totally new quality. The innovative way of connecting a classic synthesis character with the digital versatility and unique musical controller brings out the best of these two worlds. Seems like a simple addition. But this fusion brings something that has never been available before.
Medusa hybrid synthesizer will be available during summer 2018 at 999€
The Grid
64 fully responsive and customizable, three-dimension expressive pads made of specially designed silicone.
Both a musical controller and sequencer fixed in one powerful Grid.
The Grid is storing 256 independent sequences and voice presets.
Sequence notes, parameter locks or even entire synth voice presets per step.
Choose any modulation parameter per pad for X and Y pressure axis.
Advanced voice and sequence randomizer onboard.
Three sequencing modes: step, live and incremental.
All necessary Grid information is given on a crispy OLED display. Customizable user menus.

The synthesizer
Three synchronizable analog oscillators with the choice of four classic wave types for each of them.
Three wavetable digital oscillators.
One 24dB classic Dreadbox analog filter with three different types (2pole LP, 4pole LP, HP).
Three different play modes: monophonic, paraphonic x3, paraphonic x6.
FM frequency modulation separately for oscillators and filter.
Noise generator with color shaping.
Second OLED screen to display all necessary synthesis data.
Five independent and adjustable low-frequency oscillators with an extensive pool of parameters to control.
Five independent, adjustable and loopable DADSR envelopes with a wide list of parameters to assign.
Seven mixer paths for independent analog and digital voices plus noise.
Fully implemented MIDI protocol with bi-directional USB and DIN input, output and through.
Headphone and main audio outputs with separate volume control.
Audio input lets you use the power of Medusa with external audio sources.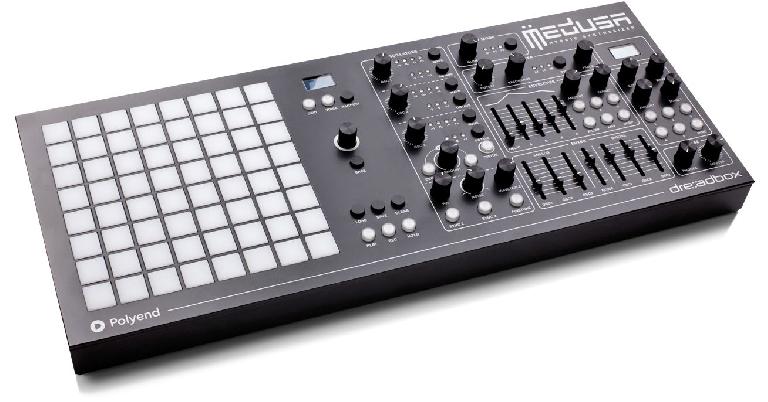 Medusa hybrid synthesizer materialized from the genuine passion and a positive relationship between Dreadbox and Polyend synthesized in the proper way. At first, there was a simple desire to add a sequencer and preset functionalities to the famous Dreadbox analog voices. But as the more you have, the more you want, this liaison grew up to something utterly unique and totally different than initially planned. It's all about revealing new quality and ideas in music.
Price: 999€
Available: Late Summer / September 2018