The cat was let out of the bag last week by a site that shall remain nameless. Today, however, Zeppelin Design have posted a first-look video demo of their theremin MIDI controller in action. Enjoy!
You may have read the premature news on another site about the new Altura Theremin MIDI controller from Zeppelin design Labs last week. Here comes the official news with a demo. Well if you're even a tiny bit interested we'd highly recommend checking out their first video demo of the Altura below.
In essence Altura is a theremin-style MIDI controller controlled by waving your hands above its sensors. It is incredibly affordable and is available ready-built ($129) or as a DIY kit ($49). The software controlling it is open source and Zeppelin design Labs invite you to hack it!
Check out how it performs and to get a glimpse of what it's capable of:
Here's some more details on the Altura direct from our friends at Zeppelin Design Labs:
Altura is a MIDI controller that emulates the Theremin, the classic early electronic musical instrument. As you move your hands in the air, the Altura transmits MIDI data to your synthesizer to control pitch, volume, velocity, bend, modulation, portamento and more! Use it to control any MIDI synthesizer, such as the Macchiato Mini Synth. Ready-to-play or build it yourself from a fun and easy DIY kit! Get a sleek black acrylic cabinet — kit or ready-to-use — or make your own cardstock cabinet using the provided template.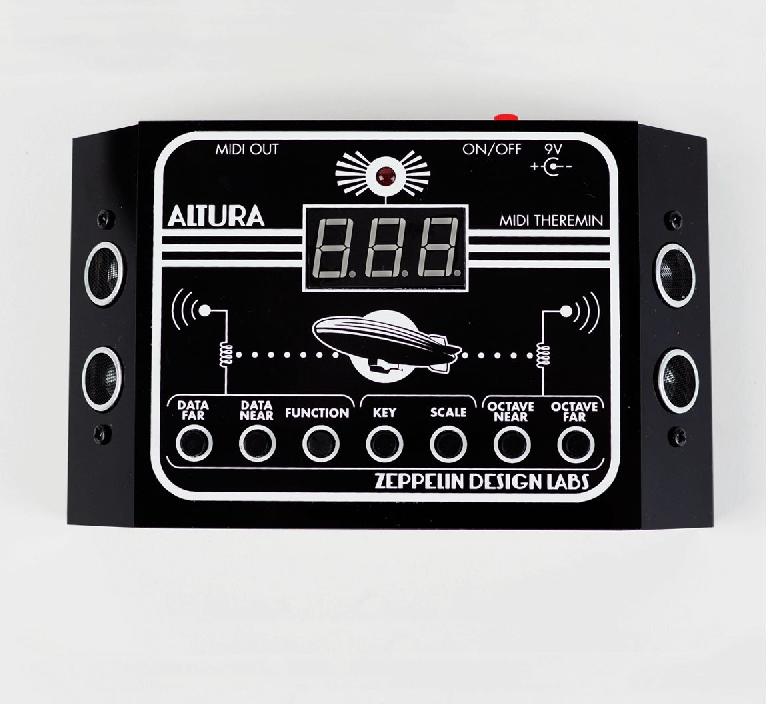 Some Altura Features:
The right sensor can be set to transmit MIDI note data over any range, from one to eight octaves, either ascending or descending, in any key in any of a dozen modes (scales)
The left sensor can transmit pitch bend, note velocity, channel volume, modulation, or portamento time (essential to emulate a theremin!)
In X-Y mode, both sensors transmit CC data over any range 0-127, to any two CC#'s.
Sold ready to use or as a DIY kit.
$49-$129
Hand made in Chicago
Here's what inside the DIY kit: