To make it as easy as possible to make professional recordings on your iPad, Focusrite have created the iTrack Dock Studio Pack. See what's included and check out the video demo below.
Focusrite tells us the iTrack Dock Studio Pack contains absolutely everything you need to plug straight into your favourite apps and record with legendary Focusrite sound:

iPad dock with two award-winning microphone preamps

Stunning condenser microphone

Professional quality headphones

High quality three metre XLR cable

Tape by Focusrite recording app

Class compliant USB cable

To find out what makes iTrack Dock ideal for recording with iPad, please click here now or take a look at this video of Gavin James using it in his home studio:
It's everything you need to combine the extraordinary audio quality of Focusrite with the simplicity of iPad.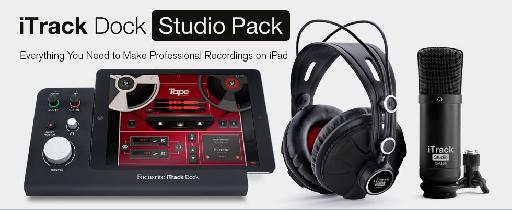 Read our review of the Focusrite iTrack Dock itself here.
More info on the iTrack Dock Studio Pack:
http://focusrite.com/ipad-audio-interfaces/itrack-dock-studio-pack