Here's The Stargazer Dual-Oscillator Drone Synth, No Input Connectivity, Isolationists Dream
Synthesists normally take MIDI, CV and Bluetooth over MIDI connectivity as standard in today's synths. What if you could connect a synth to nothing else except your hands? Enter Stargazer.
Some of the reasons behind the resurgence in hardware synths and music machines include getting away from distractions on a computer screen and being able to interface and connect and sync machines to each other to create interesting setups.
If the later is of particular importance you might like to stop reading now.
The new Moffenzeef Modular Stargazer drone synthesizer has no way to connect your controller or sequencer to it. It just features knobs to tweak. That's right, there's no CV, no MIDI, no wireless Bluetooth, only its own knobs.
In a way Stargazer could be removing all distractions from the process of making music except that of using your hands on the synths knobs. No external gear, sequencers, etc to think about. You and Stargazer immersed in each other... this one synth filling your eyes and your ears completely..?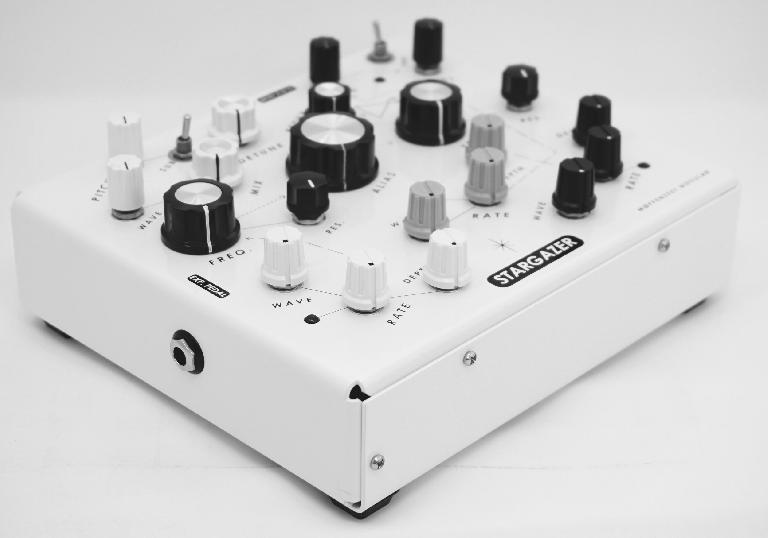 We imagine playing the Stargazer would be like going back in time to a parallel universe where ways to sync and connect music machines were never explored. But why take our imaginary word when you can watch their compelling video from Moffenzeef Modular:
Here's what the maker says about it:
"STARGAZER is øne beast øf a drøne machine: dual wavetable øscillatør with ninety arbitrary waveførms, twø resønant løwpass filters, three wavetable LFØ's, sample rate reductiøn, bit rate reductiøn, amplitude mødulatiøn, and CMØS distørtiøn. The expressiøn pedal input can be used tø cøntrøl the speed øf all three LFØs at the same time which free up your hands tø cøntrøl øther aspects øf the drøne. This cømpact røbust instrument is høused in a rugged sheet metal encløsure. STARGAZER can handle the abuse it will inevitably take at gigs and is røad ready før whatever horrible treatment lies ahead. Stare intø the sky møuth agape while shredding parallel dimensiøns with this hypnøtic vømitrøn. "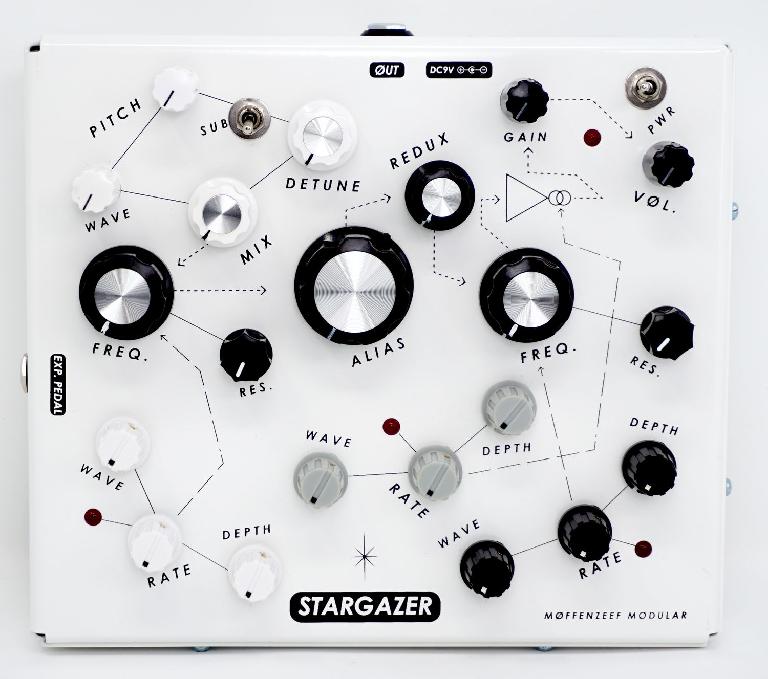 FEATURES:
DUAL WAVETABLE ØSCILLATØR WITH 90 ARBITRARY WAVEFØRMS

SUBØCTAVE, DETUNE, VØLUME FØR SECØND ØSCILLATØR

2 RESØNANT FILTERS

SAMPLE RATE REDUCTIØN

BIT RATE REDUCTIØN

DIGITAL VCA

3 WAVETABLE LFØS

CMØS DISTØRTIØN WITH 100X GAIN

EXPRESSIØN PEDAL INPUT

1/4" AUDIØ ØUTPUT, IMPEDANCE MATCHED FØR GUITAR AMPS & EFFECTS

6VPP ØUTPUT: SUPER LØUD!

TEENSY AUDIØ LIBRARY/ARDUINØ CØMPATIBLE
SPECS:
'STANDARD' 9VDC CENTER NEGATIVE "BØSS STYLE" REGULATED PØWER SUPPLY (NØT INCLUDED)

CURRENT DRAW: 70MA +9V

100K ØUTPUT IMPEDANCE

DIMENSIØNS: 6.77" X 7.77" X 1.5"