If you're attending MoogFest 2017 you can sign up to the 2-hour DIY workshop where you can build and own your own limited-edition, analog 8-step Moog drum machine... here's what it sounds like.
Earlier today Moog Music Inc. released a short video of their Drummer From Another Mother in action. It was the first test-run of this analog percussion synthesizer that can be made and owned by signing up to a VIP pass for the upcoming MoogFest.
We reported about this new 8-step analog drum synth back on 28 march 2017. You can read more about it here.
Following on from last year's Moogfest Brother From Another Mother, DFAM is going to be a limited edition synth. Here's what they say about it:
Test run of the Drummer-From-Another-Mother today in the #MoogFactory:
Sign up for the Engineer VIP Pass at Moogfest 2017 to build this percussion synthesizer with the Moog engineers who designed it and take home your very own limited-edition DFAM.
INFO--> https://www.moogmusic.com/ne…/moogfest-engineer-vip-workshop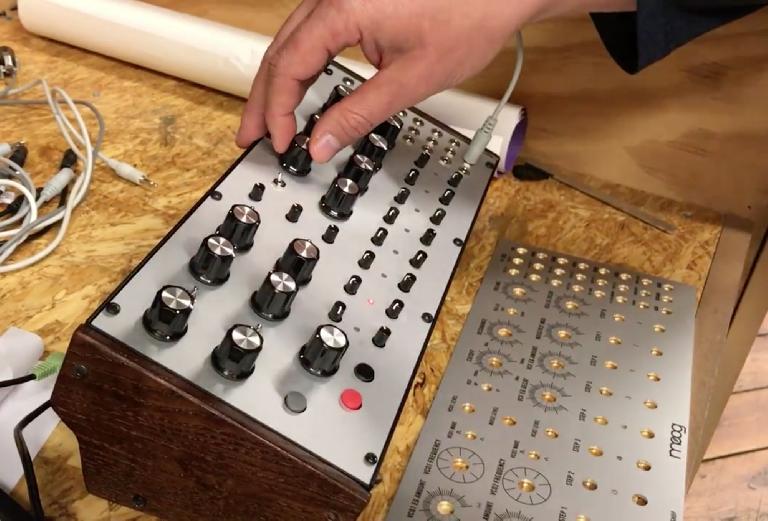 Here's some further details:
"(the) Workshop consists of two four-hour sessions (held over two days) led by Moog engineers, where participants learn the foundations of analog synthesis and are guided through the process of building their own unreleased Moog synthesizer/sequencers. The synthesizers built in the workshop will be part of a limited run of 100 units. No experience is necessary, but basic soldering knowledge is recommended.
"This year's workshop provides unique access to work alongside Moog Music engineers in the creation of an exclusive, unreleased, semi-modular, analog percussion synthesizer aka the Drummer from Another Mother. The (DFAM)voicing is designed to craft highly dynamic percussive sounds, pattern creation, and will allow for deep evolving timbral clangs."
Moog Music DFAM Features
[courses_slider]