High THYME: The Bastl Sequenceable Robot Operated Digital Tape Machine
Back in April 2017 at Superbooth we caught up with Bastl Instruments and were wowed by the Thyme effects sequencer machine. We're even more excited now that it's available for pre-order.
We are excited to finally announce that Thyme - the effects processor of our dreams - is now available to the world! We started working on the machine more than 3 years ago and we can proudly say it is our most ambitious project yet and sets new standards of quality and craziness. The wooden sides and matt black aluminum panels with laser engraved graphics are beautiful and durable. Our search for the perfect housing caused extensive delays but we can confidently say it was worth the wait! From the first announcement at Musik Messe 2015 we have reworked the hardware architecture from top to bottom to meet the high quality demands of today's musicians.
The Thyme is an effects processor that is best described as a sequenceable robot operated digital tape machine. With loads of parameters to tweak it invites users to explore a wide range of time based audio effects as well as the vast space in between their classical multi-effects categories (delay, phaser, reverb, chorus, pitch shifter, multi-tap delay, tape delay, tremolo, vibrato, compressor) and it's all in stereo! Each of the 9 different parameters (Tape Speed, Delay Coarse & Fine, Feedback, Filter, extra heads Spacing and Levels, Dry/Wet Mix and Volume) has a dedicated modulation source – called the Robot – which can be adjusted separately for left and right channels to create exciting new sound effects.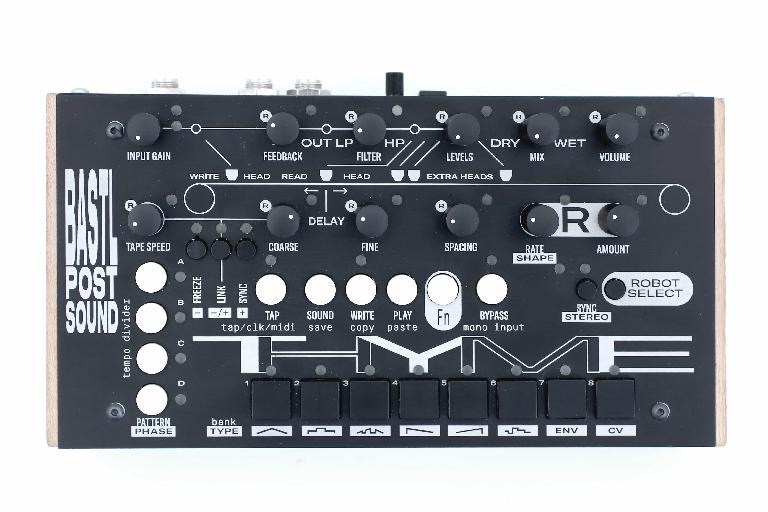 The Robot can function as a multi shaped LFO, an external CV source or an envelope follower which uses the external audio signal as a control source. On top of all that there are 8 buttons for selecting presets which can then be sequenced by a built in meta sequencer. The Robots, the sequencer and the Delay can be synchronised to external or internal clock. Thyme interfaces with MIDI, analog clock and CV, it has a switchable stereo/mono input, stereo output, adjustable headphone output and a footswitch jack.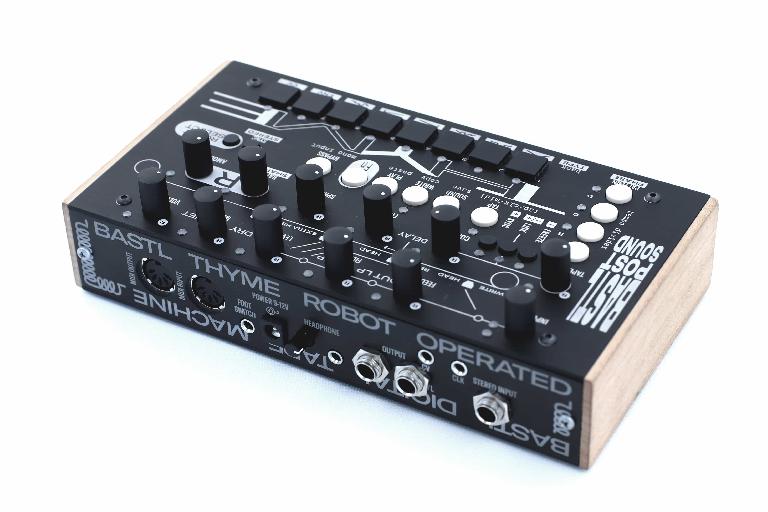 Bastl Thyme Features
analog Input Gain knob up to +20dB
9 parameters: Tape Speed, Delay Coarse & Fine, Feedback, Filter, extra heads Spacing and Levels, Dry Wet Mix and Volume
each parameter has a dedicated modulation source called the Robot
each Robot is a powerfull modulation source: LFO, envelope follower, external CV
freeze button reconfigures the signal flow to create tape loops
link button compensates the change in Delay time caused by adjusting the Tape Speed
tap tempo
internal or external clock for synchronising Delay, Robot or Sequencer
8 presets organized in 8 banks (64 presets)
32 step sequencer with 4 patterns for sequencing presets
switchable stereo/mono input
stereo output
stereo headphone output with volume knob
MIDI Input and Output
analog Clock Input
CV input 0-5V (volt per octave for Tape Speed and Delay Time)
footswitch jack for bypass
hi-fi audio quality
Price: 439 EUR excl. tax
Available: Pre-order now at select dealers and Bastl's own store noise.kitchen . The first batch is expected to ship in January 2018.