This hardware synthesizer has a unique analog signal path mixing east & west coast synthesis to produce the richest and most powerful analog sounds for your beats, soundscapes, soundtracks and songs.
With 22 days to go and almost 50% funded on Kickstarter the Implexus desktop hardware synthesizer is a bit different beast to most other synths on the market.
Majella Audio tells us this is a "no compromises" instrument, designed for live performance that interestingly combines "West – and East-coast synthesis techniques into a single form factor. The IMPLEXUS has a unique analog circuitry that uses waveshaping, folding and audio rate modulation to create an immense range of sounds!"
The Implexus isn't cheap, but it's a completely unique, new instrument built with really high quality components and designed with sound, quality and performance in mind. It's also refreshing to see an instrument created that is designed to be durable and have longevity.
A unit will set you back €1,299, just under £1,200 GBP. While not super cheap, this is a unique synthesizer and one worth checking out by everyone into West-Coast synths like Buchla synths.
The interface is designed to make it intuitive for all thanks to its one-knob, one function controls.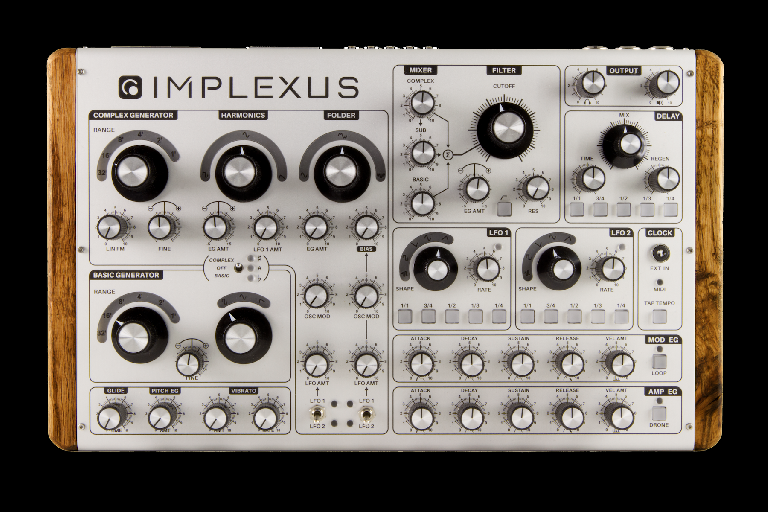 Implexus Key Features
Analog Complex VCO, Basic VCO and Sub-oscillator with dedicated VCO tuner
Unique analog signal path with unique VCO's, VCF and VCA
2x LFO with various waveforms and sync-able to clock and tap tempo
2x analog ADSR envelope with looping mode and independent velocity depth
Stereo delay with clock sync option in multiple divisions
Eurorack compatible patch bay and of course MIDI over DIN and USB
Stereo balanced outputs, stereo headphone output
Internal power supply, no adapters!
The philosophy behind the unique analog signal path of the Implexus is to create sound by adding harmonics instead of subtracting them. The unique sound comes from West-coast style synthesis techniques including:
Waveshaping: Voltage controlled waveform shaping by adding even/odd Harmonics
Wavefolding: Voltage controlled folding of the tops of a waveform
Bias: Voltage controlled asymmetrical analog clipping
Audiorate (cross) modulations: VCO FM, VCA AM, VCF FM, BIAS, FOLD and SHAPE
With the Implexus there comes a point that after hours of tweaking, you will be surprised to find out you haven't even touched the VCF yet.. But it is there in the more EAST-coast style techniques the Implexus offers, including:
Filter: Voltage controlled Lowpass / Hi-pass filter
Basic VCO: Saw/Sine/Square voltage controlled oscillator
Sub-Oscillator: Thick Square wave oscillator -1 octave
ADSR Envelopes: Looping ADSR envelopes with velocity amount controls
LFO's: Clock synced / tap tempo LFO's with multiple selectable waveforms
The Implexus also includes a tape-emulating style delay that can be clock synced and offers Tap Tempo!
Here's a video showing off the Implexus' complex generator:
For many more sound demos and details on this unique desktop synthesizer or to straight up reserve / pledge for a unit, visit:
https://www.kickstarter.com/projects/majella-audio/majella-audio-implexus#