It's super powerful. It's sexy. It's expensive. Is the now available Apple iMac Pro the best available Mac computer for your music studio setup? The benchmark stats with Logic Pro X suggest it is!
It's arrived. With a hefty price tag and enough processing power to make your laptop weep with envy Apple's iMac Pro is finally available. But for the Mac side of the music making world, is it worth it?
iMac Pro is a monster of a Mac. While we haven't had a chance to get hands on with a machine yet, the spec below and the benchmarks in Logic Pro X suggest this might be the most powerful Mac money can buy for your music studio setup.
How does it perform with Logic Pro X? According to these benchmarks from the Apple website, very very well indeed. If you have an iMac Pro coming in the post, please try it with massive sample libraries, hundreds of tracks, tons of effect plugins, and tell us if it even breaks into a sweat!
When compared against a 4-core iMac a 12-core Mac Pro performs 1.5x faster with offline bounces. The top of the range 18-core iMac Pro trounces it by performing 4.6x faster!
OK. How about testing how many instances of Sculpture can be run? A 10-core iMac Pro can run 8.3x as many as the 4-core iMac baseline... and the 18-core iMac Pro can handle 12.4x!!
We should mention Apple's test was using a prerelease version of Logic Pro X 10.3.3 (also released today) with a project consisting of 200 Sculpture synthesizer tracks. Individual tracks were enabled during playback until CPU became overloaded.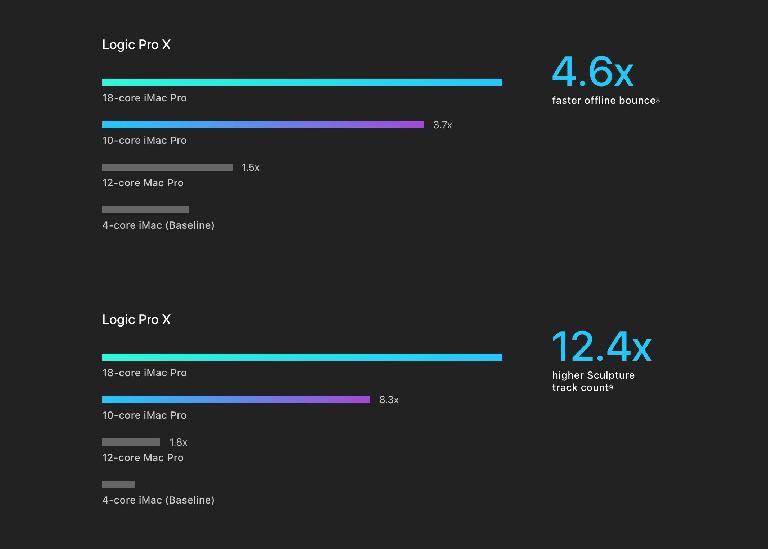 You may need to decide whether you really need something so powerful (and expensive). If you're speeding through your tracks nicely with a MacBook Pro or a traditional iMac or Mac Pro, the answer is probably a simple no. Or at least not yet. But, for anyone doing intensive orchestral work, scoring for TV or film or games, or running over a hundred tracks per project with some meaty virtual instruments then this might be the studio machine you've been waiting for.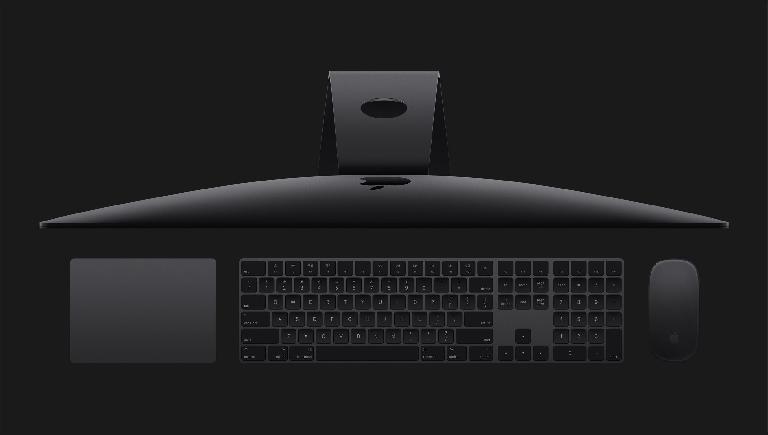 iMac Pro Spec
8-, 10-, or 18-core Xeon processor
Turbo Boost up to 4.5GHz
Up to 42MB cache
Retina 5K Display
Radeon Pro Vega
11 teraflops single precision GPU
22 teraflops half precision GPU
8GB or 16GB High Bandwidth GPU Memory
Up to 128GB RAM (2666MHz DDR4 ECC)
Up to 4TB SSD (3GB/s throughput)
Four USB-3 ports
Four Thunderbolt 3 (USB''C) ports
10Gb Ethernet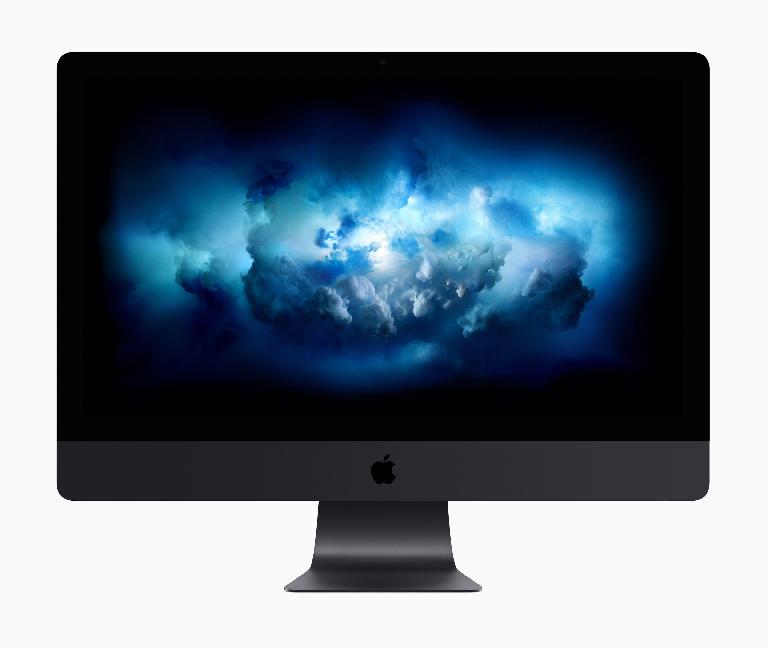 Another advantage with iMac Pro is you can connect two additional 5K monitors to it, great for multi-screen work. But of course with specs like the above you can imagine it doesn't come cheap. Prices start at $4,999 USD!
Until we have the opportunity to put an iMac Pro through its paces in the real-world with Logic Pro X or other DAWs we're not able to say whether this machine is worth the extra cost over a regular iMac or MacBook Pro for most producers. However, for serious Mac Pro power users, the iMac Pro definitely provides an interesting option for the studio.