A new 303 is exactly what Behringer have in store for us with their latest synthesizer. The TD-3 is an authentic clone with an incredibly low price that makes it a must buy regardless.
They've been teasing us with this announcement for a couple of weeks now. The TD-3 even got leaked by Thomann briefly today, so the acid cat, so to speak, is well and truly out of the bag.
Behringer have created their own version of the super popular and influential Roland TB-303. Theirs is called the TD-3. We're doing our best to get hands on with a unit as soon as possible... and we'll have a video review out for you when we can.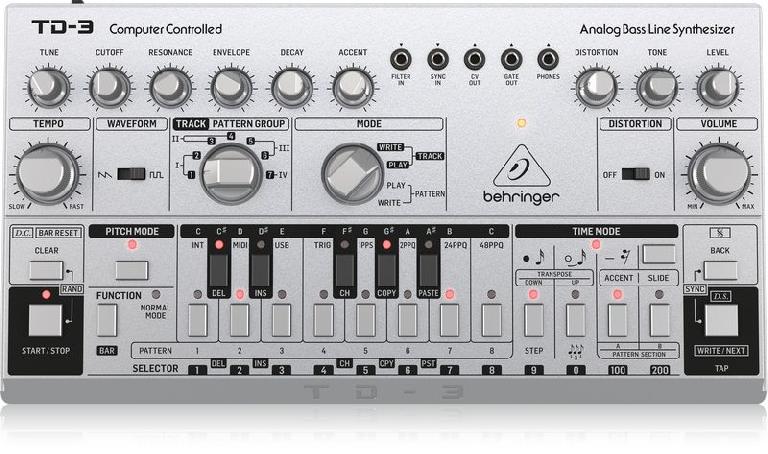 According to Gearslutz where images and spec has already been leaked, the BD-3 is a faithful recreation of the TB-303, albeit in a more compact form with a Boss DS-1 style distortion thrown in for good measure.
Behringer TD-3 Features Overview
Amazing Bass Line synthesizer with true analog circuitry for bass and groove sounds

Authentic reproduction of original circuitry with matched transistors

Pure analog signal path based on legendary VCO, VCF and VCA designs

Sawtooth and square waveform VCO with transistor wave-shaping circuitry

Amazing 4-pole low-pass resonant filter with cut-off, resonance, envelope, decay and accent controls

Easy-to-use 16-step sequencer with 7 tracks, each with 250 user patterns

Arpeggiator with wide patterns for great sound effects

Distortion circuitry modeled after the DS-1* adds insane spice and edge to your sounds

16-voice Poly Chain allows combining multiple synthesizers for up to 16 voice polyphony

11 controls and 28 switches to give you direct and real-time access to all important parameters

MIDI and USB implementation with MIDI channel and Voice Priority selection

3-Year Warranty Program*

Designed and engineered in Italy
We understand the Behringer TD-3 will be available for an incredibly appealing €149 EUR! More features and details to follow...
The official announcement from Behringer is due at around 5pm GMT today:
Price: €149
Available: TBC