Korg Bundles ARP ODYSSEY FS With SQ-1 Sequencer For Limited Time Only
When connected to the new full-size key ARP Odyssey analog synthesizer, the SQ-1 hardware sequencer looks like some kind of Star Wars droid. But don't let that put you off a very useful synth bundle.
It seems to makes complete sense to create a bundle for the Arp Odyssey FS and include a hardware sequencer. But for some reason the relative sizes of both these machines may make you do a double take. However, it's a powerful combination and here's more info about this limited-time offer Korg are calling the ARP Odyssey FSQ.
Melville, NY – January 18th, 2018 – Korg has announced a resurgence of the popular ARP ODYSSEY FS, this time as a limited-edition bundle that includes a Korg SQ-1. With perfectly replicated analog circuits and sound, and a full-size chassis to match the original, this limited-production product will be available in all three historic colors (white, black/gold and black/orange).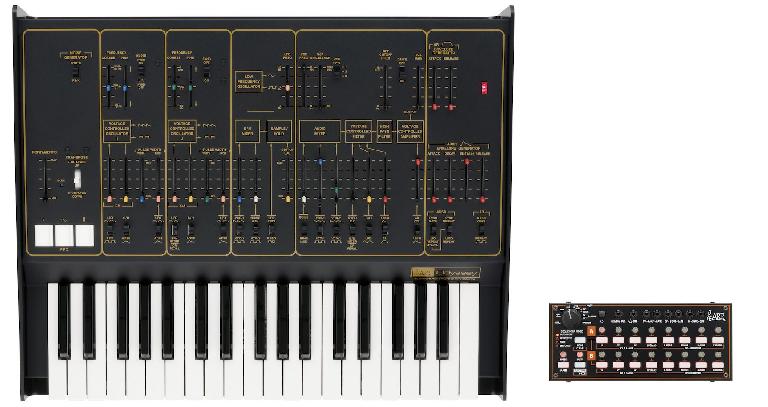 All models also include a limited-edition ARP color version with orange silk-screening on a black panel, as well as two mini-patch cables to make sequencing seamless and convenient. By connecting via CV/GATE, users who prefer analog sequencing can enjoy the infinite possibilities of ARP's legendary synthesis on a full-size unit.
Main Features of Arp Oyssey FSQ
Full-sized ARP ODYSSEY equipped with a full-size, 37 note keyboard.
Reproduction model assembled in Japan from an extremely limited number of stock components.
Available in all three generation color variants: Rev1, Rev2, and Rev3.
All three generation color variants contain all three original analog filter circuit revisions
Packaged together with a limited-edition ARP color version of the KORG SQ-1 step sequencer.
Like the ARP ODYSSEY series that relaunched the brand, and the modules to follow, the FS series offers the same three-filter configuration, USB and 5-pin MIDI and the classic rubber pitch and mod pads.