There's lots of people interested in the soon-to-be-released Behringer Neutron semi-modular analog synthezier for $299? Here's the latest video demo of their impressive new filter and drive in action.
With just a few weeks to go before the $299 Behringer Neutron semi-modular analog synthesizer begins shipping, we've got an "official" new video from the Behringer YouTube channel showcasing their unique filter and drive - and of course - what it sounds like.
We think this sounds pretty good indeed... but let your ears be the judge and check out this new video from Behringer:
The filter is a complete new design. Behringer calls it the Moffatt filter, named after design engineer Keith Moffatt at their Manchester Innovation center. Keith has been experimenting for years with new synth and in particular filter designs. The Moffatt filter is a great contribution to, and just one of the many innovative features you will find in the Neutron.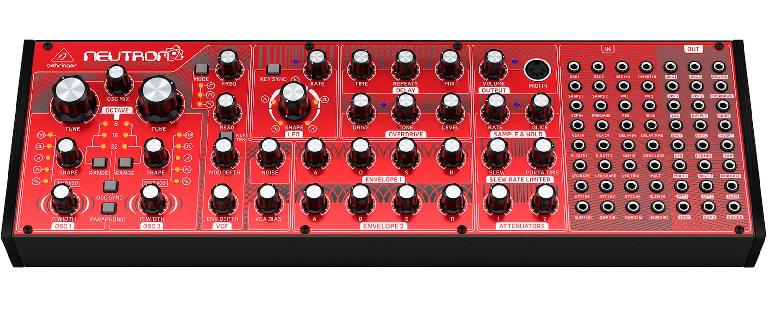 Behringer Neutron Features
Paraphonic synthesizer with authentic dual 3340 analog oscillators for insanely fat music creation
Pure analog signal path based on legendary VCO design to recreate classic sound performance
Semi-modular architecture with default routings requires no patching for immediate performance
Oscillator waveform control blends seamlessly between 5 shapes (tone mod, saw tooth, pulse, triangle, sine wave)
Individual pulse width / tone mod control provides ultimate sounds
Paraphonic mode allows both oscillators to be independently controlled
Flexible LFO with fi ve waveform shapes, MIDI clock sync, key sync and delay / fade in
Two analogue ADSR generators for modulation of VCF and VCA
Multiple stage analog delay based on legendary BBD (Bucket Brigade Delay) technology
Overdrive circuit adds rich analog warmth and edge to your sounds
Noise generator dramatically expands waveform generation
36 controls and 7 buttons give you direct and real time access to all parameters
Switchable, self-oscillating, multi-mode analog 12 dB/Oct VCF with dual output (e.g. LP+HP available on jacks) Utility functions including attenuators, multiples, slew rate limiter and summers for creative patching flexibility
32 in / 24 out jack matrix for an incredible amount of patching options
Patchable audio-rate sample and hold with glide for added creativity
Headphone output with dedicated level control
External audio input for processing external sound sources
Comprehensive USB/Midi implementation for connection to keyboard/sequencer
Designed and engineered in the U.K.