Evidently the maker of Dark Arcade, a four-voice hybrid synth, didn't get the memo about how paraphonic synths need to cost a lot more than $120...!
If you thought the Korg Volcas were cheap, or the recent Behringer Model D and Neutron were very affordable then you're going to get a kick out of this new synth. Not only is Dark Arcade hybrid digital and analog synthesizer a four-voice paraphonic synth... it's currently available to pre-order from as little as $120!
Dark Arcade, the brainchild of Stevey Yarusinsky, sports digital oscillators and an analog filter, amplifier, envelope generator and LFO. Here's some details about the synthesizer which is currently on Kickstarter with 54 days to go and over 7% funded.
Wait... what do we mean by paraphonic? Where a monophonic synth triggers all available oscialltors at the same time (one voice), a polyphonic synth can trigger multiple voices at the same time. Each voice has its own oscillator/(s), filter, envelope, amplifier, etc.
A paraphonic synthesizer sits inbetween the mono and poly machines. While a paraphonic synth can trigger each oscillator individually per note, the Amp, filter and envelopes are shared by all notes/voices.
Here's how the makers of Dark Arcade describe their new synthesizer:
"Dark Arcade is intended to be an entry level hardware synthesizer for musicians looking to branch out from software synthesizer based workflows, as well as a distinctive addition to any hardware synthesizer collection. Its hardware features microcontroller-produced digital oscillators, an analog OTA band-pass and low-pass filter, an analog OTA amplifier, an analog ADSR envelope generator, an analog LFO, and MIDI input and output. External audio can be processed by the filter and amplifier section and external CV signals can be used to control the filter cutoff and amplifier gain. In addition to the hardware features, the software extends the feature list to include 4 voices of paraphony, 8-bit Karplus Strong synthesis, waveform blending, and many more. Below is a song produced with Dark Arcade in which all sounds (minus drums) are generated by Dark Arcade and then mixed with some basic effects (delay, reverb, and compression)."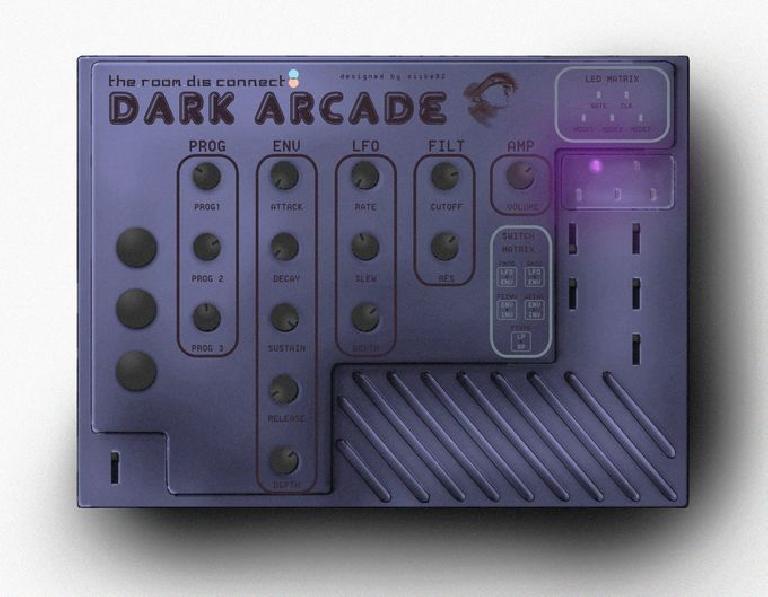 Dark Arcade Main Features
Digitally produced oscillators including sine, triangle, square, and sawtooth waves
4 voices of paraphony
OTA based analog filter including low-pass and band-pass output, cutoff control, and resonance control
OTA based analog amplifier
Analog ADSR envelope section with depth control
Analog LFO section with depth control and slew control
8-bit Karplus-Strong synthesis mode
MIDI input
MIDI output
External audio input jack for processing external audio with filter and amplifier
External CV input jack for modulating filter cutoff (+/-9V)
External CV input jack for modulating amplifier gain (+/-9V)
Inverse envelope output for filter and/or amplifier modulation
Switches for choosing filter/amplifier modulation sources
Suboscillator volume and waveform control in monophonic mode
Waveform blending control between two separate oscillators on monophonic mode and paraphonic mode
Waveform blending LFO control
Waveform blending envelope control
Portamento with glide speed control on monophonic mode
Portamento triggering control (on every note press or only when a previous note is held)
Bitcrushing on paraphonic mode and Karplus Strong mode
Watch the Dark Arcde features in action: