Pioneer DJ wants everyone to know about their new DJS-1000, a hardware stand alone sampler, sequencer and performance machine designed by DJs for DJs.
The new DJS-1000 is another example after the Toraiz AS-1 mono synth and Toraiz SP-16 sampler and sequencer how Pioneer DJ are looking to fuse live performance, production and DJing in single machines. This new sampler is aimed at the DJ crowd, perhaps more so than the Toraiz SP-16, and includes beat sync, live sampling, and a step sequencer.
Here's what Pioneer DJ tells us about the DJS-1000:
We've created a new stand-alone DJ sampler that enables you to create unique sounds and phrases using an intuitive DJ-friendly interface: the DJS-1000.
Many of today's professional DJs use electronic instruments and production gear in their live sets to help make their performances creative and unique. With an easy-to-use interface, 16 multicoloured step input keys, 16 multicoloured Performance Pads, a host of inputs and outputs, plus various other performance features, the DJS-1000 is the ideal musical instrument to take into the booth and propel your sets to the next level.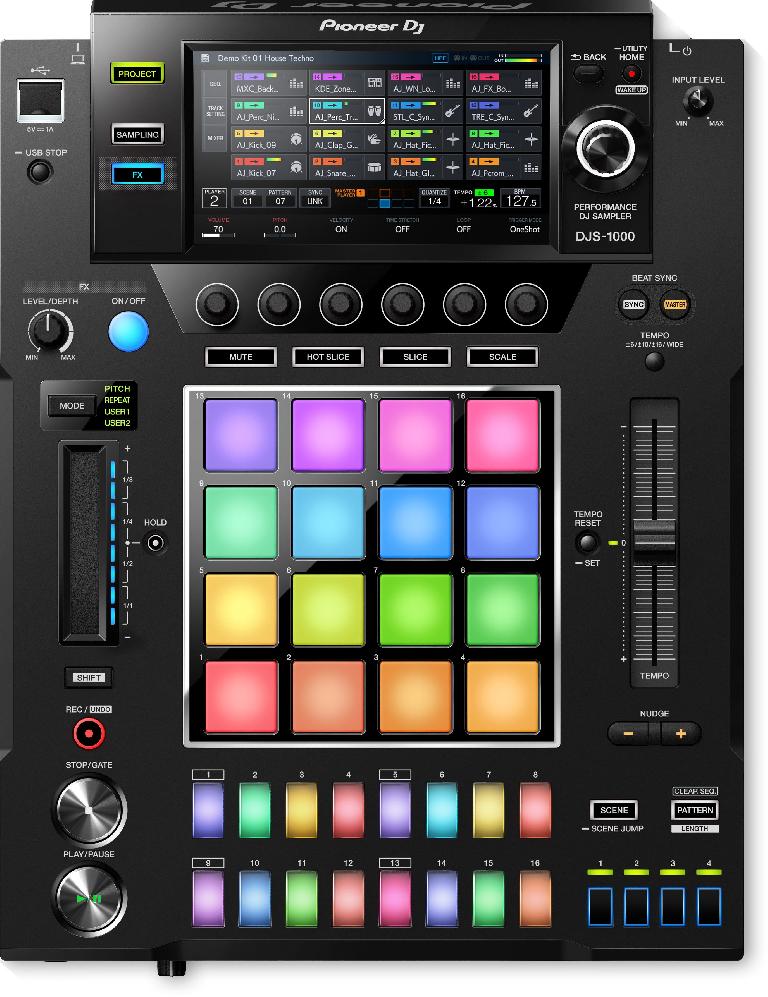 Add the DJS-1000 to your DJ set-up and you can intuitively create unique sounds and phrases in advance of your set, or on the fly, then sequence and loop them as you wish. Improvise a new groove by syncing and mixing with tracks playing on other equipment such as CDJs using the Beat Sync,1 tempo slider and nudge features. At a glance, the 7-inch full-colour touch screen gives you all the information you need to perform, thanks to easily recognisable sequence patterns and instrument icons assigned to the Performance Pads.

Other features installed on the DJS-1000 include Live Sampling, which enables you to easily sample input sounds and immediately use them as independent tracks or as FX to add to your mix.
The DJS-1000 will be available from mid-October 2017 at an SRP of €1299 including VAT.
KEY FEATURES OF THE DJS-1000
1. Intuitive user interface
Step sequencer
Easily create a new groove by tapping the 16 large, multicoloured step input keys. You can keep an eye on sequence information on each track thanks to the keys' changing colours.
Multicoloured Performance Pads
Use the 16 large rubber pads to trigger the tracks you've assigned samples and loops to. Each one is equipped with multicoloured illumination and highly accurate velocity detection, so you can increase or decrease volume with the amount of pressure you apply.
Touch strip
By simply touching the strip, you can quickly change the pitch when using the pitch bend feature, or play a drum roll by using the note repeat feature. Customise parameters for even more creative options.
2. 7-inch full-colour touch screen
Tap the LCD display to instantly access the screen of your choice:
•Home screen: View information on the sample assigned to each track thanks to the instrument icons and colours, which are linked to the pads
•Sequence screen: View the sequence pattern currently playing
•Mixer screen: Adjust the volume balance of each track
3. Accurate syncing with various external devices and systems
In addition to clock synchronisation with MIDI devices, the DJS-1000 includes the Beat Sync function, which can synchronise a performance by beat/bar with a track playing on a CDJ-2000NXS2 or XDJ-1000MK2 set-up using PRO DJ LINK. Use the tempo slider and the nudge buttons to quickly adjust tempo and beat position manually, just like you would on a turntable.
4. Powerful performance features
Live Sampling
Easily sample input sounds and immediately use them as individual tracks. The sampled sounds are automatically synchronised with the current sequence to play in a loop, so they can be dropped straight into a live remix. You can sample any input source, including audio from a turntable, via your mixer.
FX
Add various FX to tracks with ease, changing the tone on the fly. You can apply FX such as echo, reverb and filter to individual tracks, a group of tracks or all tracks.
5. Perfect fit in the DJ booth
The DJS-1000 is designed to fit perfectly alongside the CDJ-2000NXS2 and DJM-900NXS2, creating effortless unity in the DJ booth.
6. Other features
• Support for USB devices – manage your projects and samples easily
• Over 2,500 on-board Loopmasters samples – start performing with the DJS-1000 straight out of the box
• Support for DJS-TSP Project Creator2 – easily create projects and SCENE3 files on a PC/Mac
• Support for project files created on the TORAIZ SP-16