This forthcoming Apple Watch app looks like it could be just the ticket for synth heads... so what's the deal with controlling synths from your wrist?
Ever since the Apple Watch came out we have been waiting for really compelling apps that served musicians to appear for the platform. In truth, it's only with the release of the Series 4 last year that the watch got powerful enough, and the screen large enough, to start to make this a reality. Developers have been pretty slow on the uptake but now finally it looks like the watch is popular enough that they are beginning to take notice - some interesting stuff has started to come out. And we have to say, MidiWrist by Geert Bevin (behind recent Moog iOS synth apps) looks like a pretty cool addition to the Watch app family.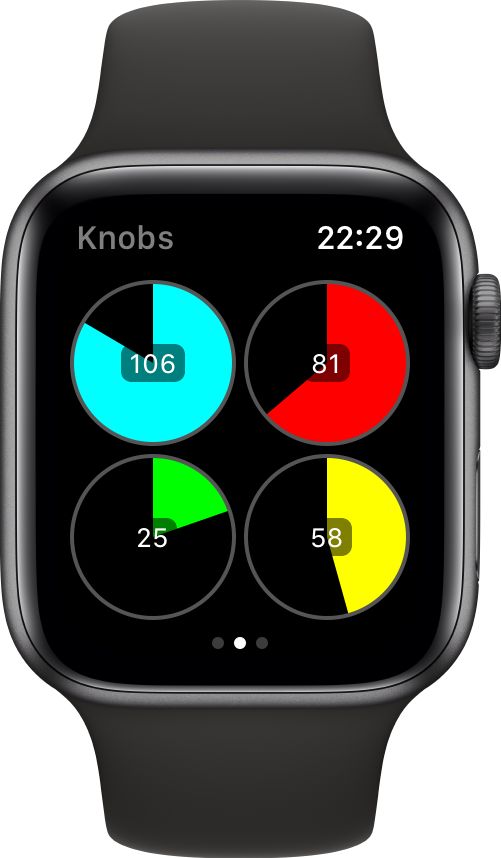 MidiWrist turns your Apple Watch into a wireless MIDI controller. The tactile feel of the digital crown combined with haptic feedback gives you control over any MIDI synthesizer by touching your wrist, even when you're not looking.

MidiWrist makes no sound on its own and requires an Apple Watch to function. For best performance, an Apple Watch Series 4 or later is recommended.

Any CoreMIDI application or device can be controlled by MidiWrist. This includes Virtual MIDI, Network MIDI, Bluetooth MIDI and Physical MIDI Devices through a supported MIDI hardware interface.
Features
Four knobs can be controlled with the digital crown
Knobs can be controlled individually or simultaneously
Knobs can be linked to preserve their offsets
Four buttons can be toggled by tapping the Watch
Program changes through the digital crown or by tapping the Watch
Optional haptic feedback for all Watch interactions
Optional value display on the Watch
Configurable colors for all knobs and buttons
Configurable MIDI channels and CC numbers
Save your configurations to documents for easy retrieval
Advertise as a Bluetooth MIDI device
Connect to other Bluetooth MIDI devices
Monitor the last MIDI values on the iPhone
Low latency and fast response