MixFader Portable DJ Controller Kickstarter Funded Early, Still Time to Get Yours
The funding goal has been met for DJIT's MixFader: a portable, wireless, hardware DJ fader for the discerning tablet and smart phone DJ. But there's still good reason to support this Djing device.
We covered this wireless DJ crossfader by Edjing back in March 2015. And we're happy to report that since then, MixFader has been funded to the tune of €95,174 Euros. The goal was €50,000, so with 14 days to go the people of Kickstarter have spoken and put their money on mixing and scratching using a physical controller for tablet DJing apps.
So, what's the news? Well, there's still time for you to pledge and get one of the first batch of MixFader's when they are available. Also, reaching the €100,000 mark will unlock all mixing and scratching functionalities in their DJ app, edjing & edjing Pro for iOS and Android.
Here's some press info from the good folks at DJIT from May, talking about MixFader'¦ and scroll down for some videos too.
Mixfader, the first connected object for aspiring DJs, comes to Kickstarter
Paris, May 27th, 2015 '" Two months ago, DJIT presented Mixfader, its first connected object, at the SXSW Festival, by means of a first prototype and a demonstration video. The announcement created buzz, with more than 1.8 million video views in less than a week, media interest in more than 30 countries and thousands of positive feedback reports. Following this enthusiastic response, DJIT decided to launch a crowdfunding campaign on Kickstarter.com to collect 50 000$. The purpose of this fund-raising is to fast-track Mixfader onto the market for the end of 2015 and to increase production to meet the demand generated by this announcement.
This Kickstarter campaign will be launched on 27 May, the official launch date of Kickstarter France. Mixfader has been selected as one of the most innovative projects by the Kickstarter US team. For the occasion, in exchange for their contribution, all internet users will benefit from very attractive returns. For example, discounts of up to $80 on the purchase price of Mixfader, as compared to the price to the public. You will have to be quick, however, as the best returns are limited in number and won't last long.
In support of the Kickstarter campaign, DJIT will unveil a second video revealing its par- tnership with two-time DJ world champions, 9 O'Clock. In this video, the group of three DJs reproduces using Mixfader their live performance that established them as world champions in 2014. 9 O'Clock have been involved in the development of Mixfader since the design stage of this product, which is the most innovative for years in the DJ mixer industry.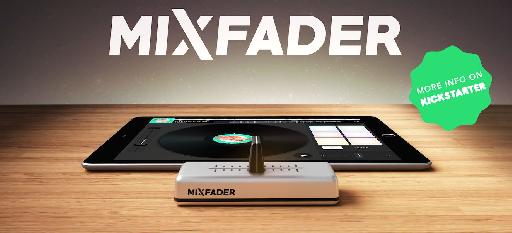 The MixFader!
The French group 9 O'Clock are today's direct successors of Birdy Nam Nam and C2C, and representatives of the new generation of the French Touch movement. Twenty years on, they revive the work of great artists such as Daft Punk then DJs such as Justice.
About DJIT
DJIT '" designer and producer of Mixfader '" designs, develops and markets music mobile applications. Ranked among the ten biggest software publishers in the world, in this category, DJIT records more than 45 million downloads in 182 countries. Specialized in DJ solutions, the start-up company is behind edjing, the world's n°1 DJ application, and edjing Pro, the new reference for music mixing applications on both smartphone and tablet. With the arrival of Mixfader, the company's first connected object, with launch date end 2015, DJIT broadens its range of solutions to make music mixing more accessible and help anyone to improve their practical skills, whatever their level '" beginner, intermediary or professional. This strategy of diversification into connected objects confirms DJIT's ambition to position itself as a leading player in the industry of DJ mixing and music in general.