Following on from a hugely successful crowd-funding campaign (almost 300% funded!) Modal's new 32-oscillator portable poly powerhouse synth is available to pre-order.
Without going into too much detail right now and before we get into the actual press release from Modal, I had a chance yesterday to get hands on with a prototype of the Modal Skulpt. In Cafe Kino in Bristol's Stokes Croft Liam and Luke from Modal let me try out the swish black model of Skulpt.
It's safe to say I was thoroughly impressed and left reeling at the sonic possibilities. There's a lot going on in this really nicely constructed, portable polyphonic synthesizer. There are going to be improvements too which is ominous for the compeition, especially at the ridiculously affordable sub $300 / £250 price point.
It's no surprise this excellent machine smashed past its IndieGoGo goal by almost 300%. This is a synth that should apeal to beginners and advanced synth players in equal measure. I'll write up some more of my impressions and include a video (sadly without audio from Skulpt itself) in a few days.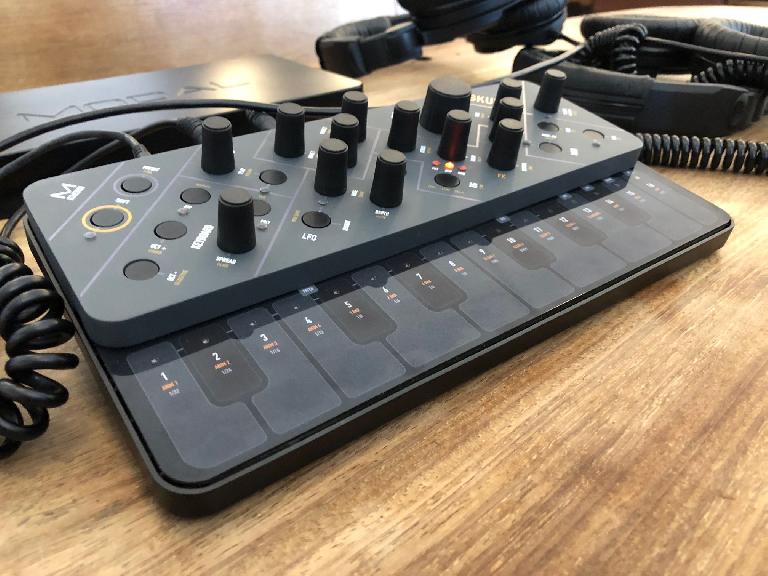 For now, feast yourself on the press release and some video demos which only just begin to do it justice.
Skulpt Pre-Order On IndieGoGo InDemand
Modal's Kickstarter campaign for our new SKULPT portable polyphonic synthesiser came to an end, after 30 days, with an amazing 297% funding!
We're overwhelmed by the number of people emailing us asking "where can I get my SKULPT now the Kickstarter has ended???"
Kickstarter campaigns are time limited and do not provide a mechanism for continuing to place pre-orders after a campaign has ended, but Indiegogo provides their InDemand service and so that's where you can now find SKULPT.
With the two stretch goals from the Kickstarter campaign now INCLUDED for all pre-orders, Modal SKULPT comes with the protective lid AND choice of black or white finish.
Skulpt Feature Overview
4 voice – 32 oscillator virtual analogue synthesiser
8 oscillators per voice with 2 selectable morphable waveforms
Mixer stage for osc levels along with FM, PWM, tuning and Ring Modulation options
Monophonic, Duophonic and Polyphonic modes available
Multi option Unison / spread to detune the 32 oscillators for a huge sound
8 slot modulation matrix with 8 sources and 37 destinations
3 x envelope generators for Filter, Amplitude and Modulation
2 x audio rate LFOs, one global and one polyphonic
Realtime sequencer that will record up to 128 notes and up to 4 parameters
Fully featured arpeggiator with division, direction, octave, swing and sustain controls
Resonant filter that can be morphed from low pass, through band pass, to high pass
Delay and distortion (waveshaping overdrive, not bitcrushing) effects
Optional MIDI clock sync for LFOs and Delay
128 patch and 64 sequence storage locations
16 key touch MIDI keyboard
MIDI DIN In and Out – Analogue clock sync In and Out connections
Class compliant MIDI provided over USB connection to host computer or tablet
Headphone and line output
Powered by USB or 6 x AA batteries
Optional software editor available for macOS, Windows, iOS and Android
Portable and compact design
Includes protective lid, which fits underneath to provide a raised working surface if desired
Available in either white or black finish
Dimensions: 255mm x 135m x 68mm (10"x5 1/2"x 3")
In case you missed it, here are some of the most recent sound demos we uploaded - hope you enjoy them.