Modul, Web-Based MIDI Sequencer, Controls Your Synths & Drum Machines For $1 A Month
Imagine being able to sequence your hardware synthesizers and drum machines using a browser-based sequencer from any device that supports Chrome... that's what Modul does.
The time of web-based music synths, samplers, sequencers and DAWs is upon us. There have been a few notable web-based apps for musicians and producers of late, including BandLab, Acid Machine, a TR-909 emulation, WebModular and Viktor NV-1 worth checking out.
Now, we've got a tool that lives in your browser designed to be the beating heart of your MIDI-enabled synthesizer and drum machine setup, Modul. It's a polyrhythmic web-based MIDI step sequencer that works in Google Chrome.
While all the other above mentioned music making tools live in your browser too, they don't currently feature an effective (any) way to be funded in a way similar to how downloadable software or mobile apps can be. Gibbon Digital, the company behind Modul, have come up with an ingenious solution to enable their step sequencer software to remain accessible all while still generating some income and, we suppose, enabling the developers to spend time and energy on continuing to develop it. Using Patreon, Gibbon Digital are charging just $1 per new feature - or $1 a month. We'll have to wait to see exactly if this takes off or not.
Here's more info about Modul:
Modul plays well with MIDI capable devices. Think of it as a brain dedicated to control your synthesizers, drum machines and samplers all at once. Because Modul is web-based, it runs on any device with Chrome support. The current version of Modul is for desktop use primarily. You can use Modul on your smartphone or tablet using Chrome and native apps are coming soon for iOS and Android.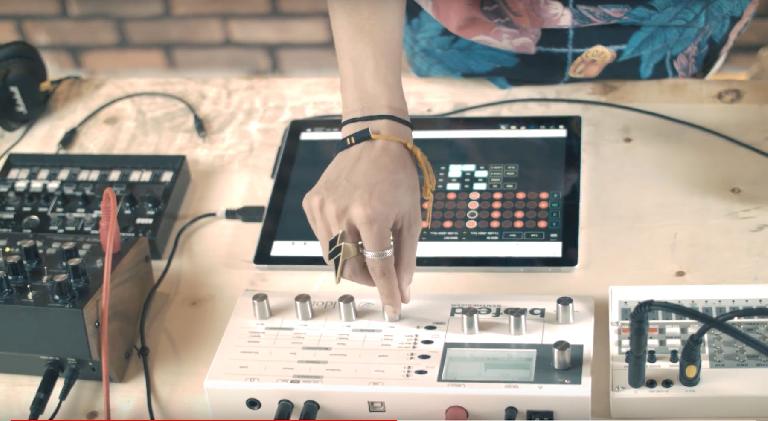 Modul Features
Web-based, runs in Chrome

Send MIDI note or CC values per step

Set MIDI channel per step and per track

Mute tracks

Adjust the number of steps per track (great for polyrhythm)

Send MIDI clock

Load/Save session
What's Coming
Here are some of the features we plan to include in future versions.
Arranger mode

CHRD steps

Sync in

Native mobile apps for iOS and Android

Sharing Modul sessions with other users
Access to Modul is currently available through Patreon, starting at 1$/month. Visit https://www.patreon.com/modul to get started.
Important: you need a MIDI interface to use Modul. If you don't have a MIDI interface yet, take a look at the T4, a class compliant USB MIDI interface that will work with your smartphone, tablet and desktop computer as well.
Price: $1 / month (via Patreon)
Join thousands of other producers and improve your music hardware and software production skills and techniques in the Ask.Audio Academy from just $9 a month! >>>
https://ask.audio/ad-free-sale