If you, like us, were hoping the recent DIY DFAM analog drum synth from Moog Music was going to be made available for everyone to buy... you're in luck. It's here. It sounds gorgeous and looks great!
As any self-respecting synth owner knows, it's easy to fall in love with the the right synthesizer. Moog synths are amongst top of the most attractive synth list not just for their looks, but of course their sound too. And we dare you to watch the video featuring sounds from the new DFAM (Drummer From Another Mother) below and not fall head over heels...
But wait... technically speaking the Moog DFAM isn't strictly new or unexpected. Back at Moogfest 2017 the DFAM was available to make as a DIY project. Evidently it proved so popular it has been released to the world... and rightly so!
And here's the official press release. And we should mention before you get into the spec the Moog DFAM is retailing for aprox. $599 USD / £570 GBP.
January 11, 2018, Asheville, NC -- Today Moog Music introduces the Drummer From Another Mother (DFAM), the first addition to the Mother eco-system of semi-modular analog synthesizers. DFAM is an original electronic instrument for the exploration of new concepts in rhythm and resonance.
Drummer From Another Mother (DFAM) is a highly-interactive, Semi-Modular Analog Percussion Synthesizer and a vibrant deviation from the traditional drum machine--presenting an expressive hands-on approach to percussive pattern creation.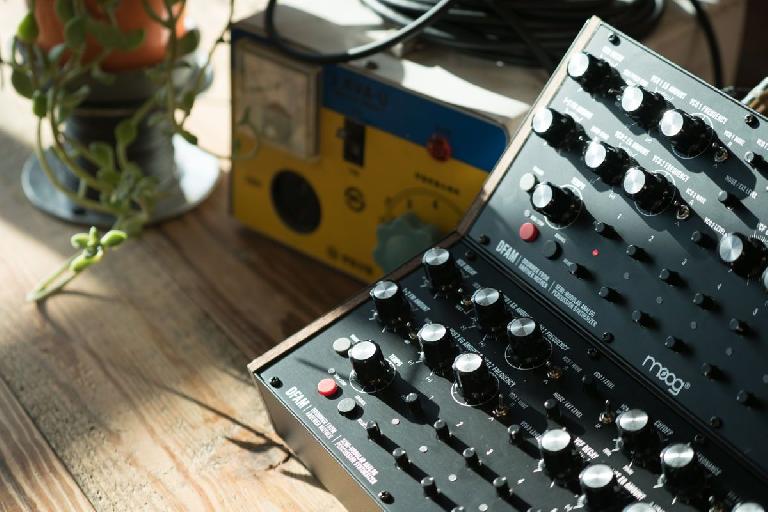 DFAM's fully analog circuitry behaves much like a living organism, reacting in different ways to input from different individuals. Moog Music enlisted three artists to demonstrate the sounds of the new instrument: DJ Haram, Stud1nt, and Umfang--all members of NY's Discwoman collective. Watch as they explore the new Semi-Modular Analog Percussion Synthesizer from their own personal creative spaces: Video Here **NEEDS LINK.
DFAM is the first addition to the Mother ecosystem of electronic instruments and each DFAM includes a package of patch cables, inviting interconnectivity via the synthesizer's 24-point modular patchbay. Create new sounds or bizarre behaviors, synchronize an unlimited number of DFAM and Mother-32 synthesizers together, or fully integrate this analog instrument into a modular Eurorack production environment.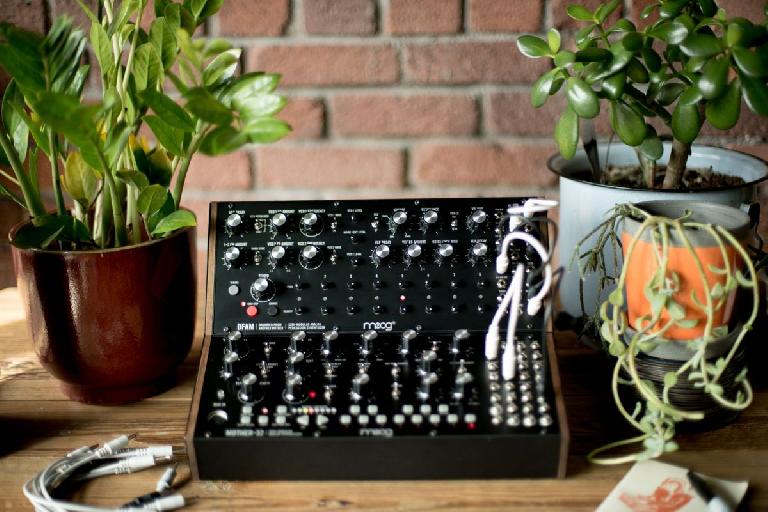 Each DFAM is lovingly designed, assembled, calibrated and tested in Asheville, NC by the employee-owners at Moog Music and has already begun shipping from the Moog Factory to Authorized Moog Music Dealers worldwide.
Starting next week, from Jan 15- Jan 24, Moog will offer free hour-long DFAMworkshops facilitated by Alissa DeRubeis and Felisha Ledesma of S1 Synth Library to the west coast subscribers of the Moog Music Newsletter.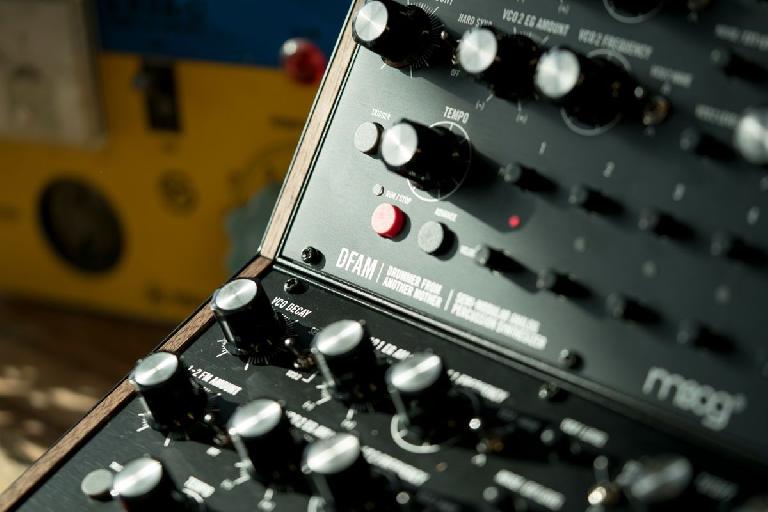 Right now, the DFAM synthesizer is part of an interactive interspecies installation at the Cactus Store in Echo Park. Entitled BioRhythmia, the installation uses electromyography sensors to measure the electric energies of a 30 year old cactus. The plant's energies are converted into analog control voltages (CV), enabling the cactus (a mutant species originally from Bali, but now extinct in the wild) to "play" the synthesizer. Different conditions, different times of day, even different experiences with human passer-bys can affect what the cactus decides to play.
Moog DFAM Spec
SOUND ENGINE:

Analog

ANALOG SEQUENCER:

8-Steps With Pitch and Velocity Per-Step

SEQUENCER PANEL CONTROLS

: Tempo, Run/Stop, Trigger, Advance

SOUND SOURCES:

2 Oscillators With Square and Triangle Waveforms, 1 White Noise Generator, 1 External Audio Input

FREQUENCY CONTROL:

+/- 5 Octaves (10 Octave Range)

MIXER:

Level controls for Oscillator 1, Oscillator 2 and White Noise/External Audio Input

FILTER:

20Hz-20KHz Switchable Low Pass / High Pass 4-Pole Transistor Ladder Filter

ENVELOPES:

VCO EG w/ Voltage Controlled Decay and Bipolar Amount Control, VCF EG w/ Voltage Controlled Decay and Bipolar Amount Control, VCA EG w/ Voltage Controlled Decay and Selectable Fast/Slow Attack Time

PATCHBAY:

24x 3.5mm Jacks

PATCHBAY INPUTS:

Trigger, VCA CV, Velocity, VCA Decay, External Audio, VCF Decay, Noise Level, VCO Decay, VCF Mod, VCO 1 CV, 1→2 FM Amount, VCO 2 CV, Tempo, Run/Stop, Advance/Clock.

PATCHBAY OUTPUTS:

VCA, VCA EG, VCF EG, VCO EG, VCO 1, VCO 2, Trigger, Velocity, Pitch.

AUDIO OUTPUT:

¼" TS Line / ¼" TRS Headphones (Shared Output Jack)

INCLUDED POWER SUPPLY:

100-240VAC; 50-60Hz, +12VDC 1200mA

POWER CONSUMPTION:

3.0W

EURORACK CURRENT DRAW:

230mA (+12V – from 10-pin header)

EURORACK MOUNTING DIMENSIONS:

60HP (1"/26mm Module Depth)

WEIGHT:

3.5lbs

DIMENSIONS:

12.57"W x 4.21"H (with knobs) x 5.24"D