The new Komplete Kontrol M32 and Komplete Audio 1 and 2 open up access to NI's hardware and software worlds at the lowest prices ever. Plus they're the most portable NI hardware to date.
Following on from its biggest single product release ever back in late 2018, NI has surprised us with yet more announcements at NAMM 2019 - this time introducing new compact and highly affordable new hardware models for musicians on the move and those on a budget. The Komplete Kontrol M32 is an ultra-portable MIDI keyboard and controller for the Komplete Kontrol software environment, and the Audio 1 and 2 interfaces bring high quality recording to a new, lower price point. Ask.Audio was lucky enough to get a sneak preview of the new gear at the company's London offices recently.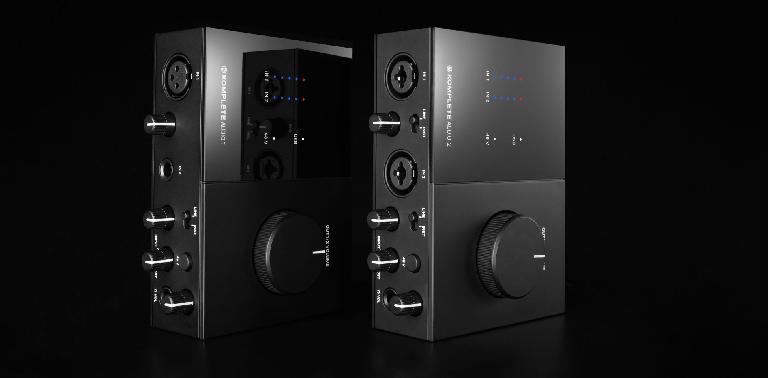 These new hardware models go hand in hand with updates to the Komplete Kontrol software. Coming in February, KOMPLETE KONTROL 2.1 introduces Sounds.com integration and a built-in sample player, allowing producers to easily integrate their Collections into any DAW-based workflow. This update further consolidates KOMPLETE KONTROL as a powerful browsing hub, now integrating hardware, software, instruments, effects, loops, and samples. Previously exclusive to owners of KOMPLETE KONTROL hardware, users of any MIDI controller can now get hands on with their instruments, effects, and samples via a simple, one-time macro mapping that brings full control of everything in the NKS universe to any setup.
Komplete Kontrol M32
For producers, the release includes new hardware and software in the KOMPLETE range. A new 32-key portable keyboard, KOMPLETE KONTROL M32, is designed to provide the same hands-on workflow and comprehensive Digital Audio Workstation (DAW) integration as the S-Series and A-Series controllers, but with a smaller footprint and a lower price point. Available in March, the M32 comes with everything a new producer needs to sketch out, tweak, and finalize a track. The package includes MASCHINE Essentials, Ableton Live 10 Lite, NI's acclaimed MONARK synthesizer, and more.
Komplete Audio 1 And 2
KOMPLETE AUDIO 1 and 2 are the first two offerings in a new range of slick, easy-to-use audio interfaces. Both are available from March 19, and offer pristine sound quality with different in/out connection options.
The interfaces include a generous software package, featuring synths, effects, MASCHINE Essentials, and Ableton Live 10 Lite – again providing everything a producer needs to create full tracks from start to finish. KOMPLETE AUDIO 1 and 2 will also be welcomed by a wide community of singer-songwriters, YouTubers, podcasters, and gamers looking for great sound.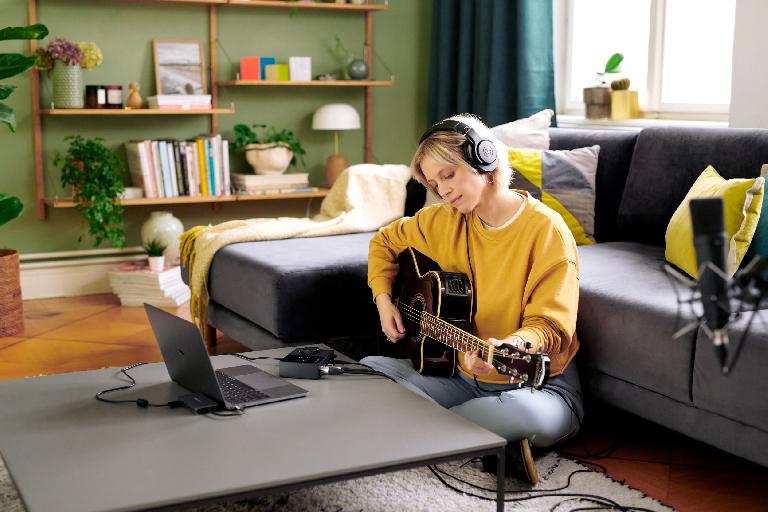 KOMPLETE KONTROL 2.1
Also updated is the software that lives between your hardware and DAW - an intuitive tool that organizes NKS instruments, effects, presets, controller mappings, and now loops and samples. With the latest update, KOMPLETE KONTROL software becomes free for everyone with KOMPLETE START. Also included is a new built-in sampler, support for any MIDI-capable controller, and one-click sync for Sounds.com Collections.
Pricing And Availability
KOMPLETE KONTROL M32 - Available March 6, 2019
129 USD, 119 EUR, 14800 JPY, 99 GBP, 189 AUD, 169 CAD, 899 CYN.
KOMPLETE AUDIO - Available March 19, 2019
KOMPLETE AUDIO 1: 109 USD, 99 EUR, 12,800 JPY, 79 GBP, 139 CAD, 799 CYN, 149 AUD
KOMPLETE AUDIO 2: 139 USD, 129 EUR, 16,800 JPY, 109 GBP, 179 CAD, 999 CYN, 209 AUD