M-Audio have engineered a complete redesign of their Oxygen series of controllers, adding velocity-sensitive trigger pads and a comprehensive software suite for music production.
Cumberland, RI, USA '" October 8, 2014. M-Audio (m-audio.com), synonymous with innovative keyboard technology, announces the availability of their newly updated MIDI keyboard controller line, Oxygen series. The Oxygen series expand on playability and include a wide array of sounds with two virtual instruments for players, songwriters, and producers.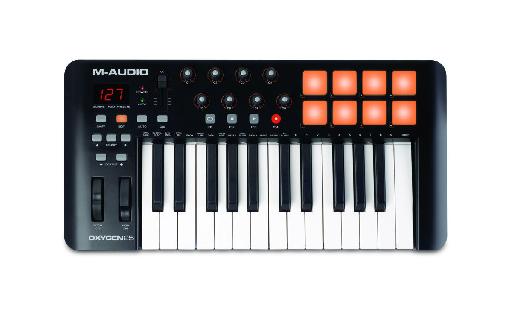 M-Audio Oxygen 25.
Available in 25-, 49-, and 61-key models, the Oxygen series build upon a legacy of innovative workflow and playability with its expansive MIDI control surface for the modern studio setup. Each model comes equipped with a number of faders, buttons, knobs, pitch & mod wheels, transport controls, and velocity-sensitive trigger pads. With Directlink, these controls will automatically map to popular DAW's such as Ableton Live, Apple GarageBand, Apple Logic, Pro Tools, and Steinberg Cubase.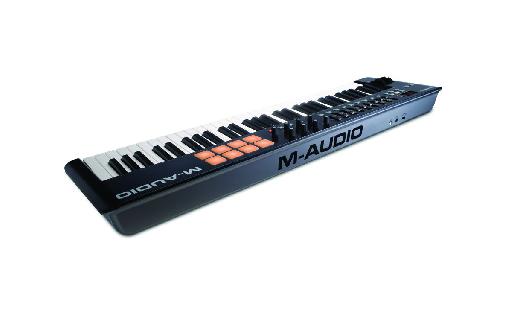 Here's what the back of the M-Audio Oxygen 61 looks like.
The Oxygen series include a comprehensive software package with a sonic palette to suit a variety of music styles. Ableton Live Lite provides a DAW platform to work out of the box along with its own host of sample content. Also included is Twist, a powerful spectral morphing synthesizer by SONiVOX. Xpand!2 by AIR Music Technology, is a multitimbral all-in-one workstation that lets you create a multitude of combinations of 4 active layers for a unique sound set.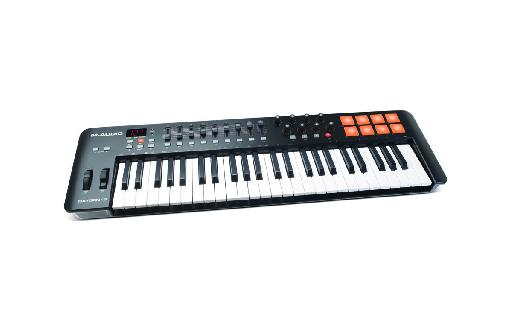 The 49 key version of the new M-Audio Oxygen series.
'These new keyboards are now a complete solution for creating music,' commented J.C. Sutherland, M-Audio Product Manager. 'Adding trigger pads and the included software package, users now have everything they need to get their music creation started, out-of-the-box.'
Oxygen Series Highlights:
25, 49, or 61 full-size, synth-action velocity-sensitive keys

8 velocity-sensitive trigger pads for beat production, clip launching, and more

8 assignable knobs for manipulating virtual instruments and plugins

9 assignable faders (Oxygen 49, Oxygen 61) lets you mix your productions with ease

Transport buttons let you control your DAW without reaching for the mouse

Directlink automatically maps to popular DAWs: Ableton Live, Pro Tools, Logic, Cubase, and more

LCD screen provides instant parameter feedback

USB-powered, plug-and-play support, and USB-MIDI connectivity

Sustain pedal input for further creative control

Includes Ableton Live Lite for immediate music creation

Includes SONiVOX Twist, a powerful spectral morphing synthesizer

Includes AIR Music Technology Xpand!2, a multitimbral all-in-one workstation

Works with Apple's iPad Camera Connection Kit (sold separately) for use with iOS devices

The Oxygen 25, Oxygen 49, and Oxygen 61 keyboard controllers are available at the following street prices: Oxygen 25 ($119 USD), Oxygen 49 ($169 USD), and Oxygen 61 ($229 USD). For more information or to find a dealer, visit www.m-audio.com.