It might feel like it's already been out since April... but the Novation Circuit Mono Station paraphonic analog synthesizer is now officially available worldwide!
Announced at Superbooth 2017 in Berlin, the Circuit Mono Station looks like the slightly plump lovechild of a Novation Circuit sequencer and the synth sound engine of Bass Station II.
Since April we've had a chance to get close and intimate with the Circuit Mono Station as you can see from our in-depth Circuit Mono Station review and of course, you may have caught our not-to-be-missed Masterclass with Chris Calcutt fom Novation purely on the Circuit Mono Station in the AskAudio Academy (free to watch).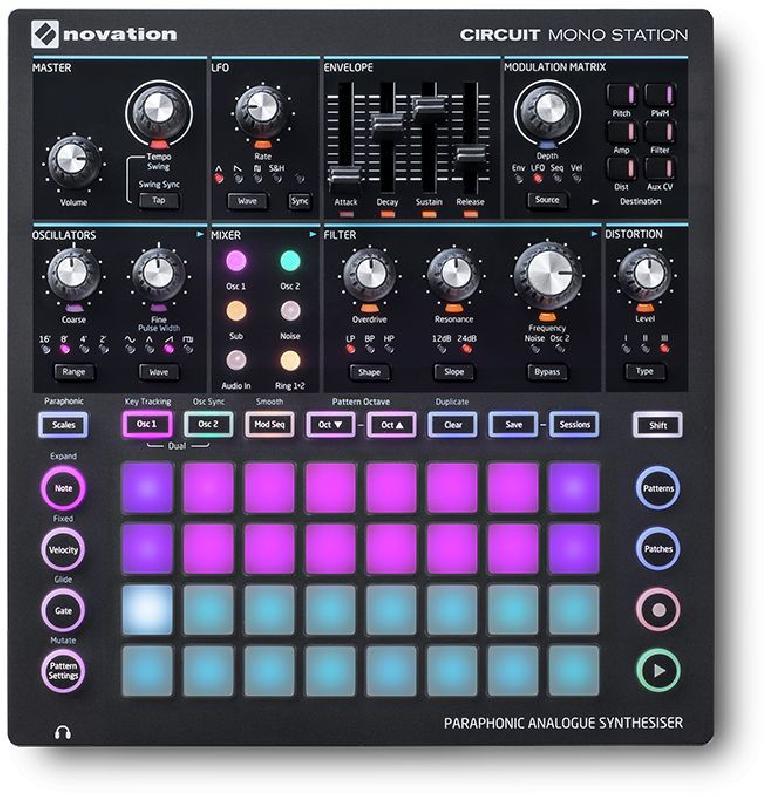 Now that Novation have begun shipping their new paraphonic analogue synthesiser with three sequencer tracks you too can get to know it better.
Main Features:
Individually control oscillators:

Two oscillators with individual control of sync and tuning parameters

Get the frequency band you want:

High-pass, low-pass and band-pass filters with slopes of 12dB and 24dB.

Three distortion modes:

Classic Bass Station, new fuzz or a mixture of both.

Monophonic and paraphonic:

Monophonic and paraphonic modes with individual glide control.

Adaptable modulation system:

Four-by-eight modulation matrix that enables complex alteration and routing.

Patches at your fingertips:

Load and save up to 64 patches on the device.

Three sequencer tracks:

Two oscillator sequencers and one modulation sequencer.

Connect to hardware and software:

CV, Gate and modulation outputs for controlling separate hardware. Connect and sync to your music software and MIDI-compatible hardware. Modulate, evolve and process your source through the audio input.

Store unlimited sounds:

Backup patches and sessions with Components.