A single piece of paper can be folded into innumerable shapes. In the same way, a single Nozori platform can morph into multiple eurorack modules.
Encouraged by the public success of the OCS-2 and MMO-3, Nozoïd dust off eurorack systems with its new concept : nozori. This platform allows users to easily switch from one module to another, with the same hardware. Changing modules is as simple as changing jumper position!
A kickstarter campaign has just been started to finance the production of this hardware - a good opportunity to be the first to get one at a lower price.
The nozori concept consists of using the same hardware for multiple modules. This hardware is based on a powerful digital core that allows huge versatility. Potentiometers, inputs or outputs can adapt to many module designs: from standard modules like VCO, VCF, LFO to outstanding functionality never seen before. This solves two problems of the eurorack world: the price and the size of a system.
You can unleash your experimentation process without spending much on new modules: one hardware unit allows more experimentation since you can try many different modules. You may have a module that you did not use anymore. With a nozori, this will never happen: when your rack evolves, you only need to change few jumpers to find the perfect module for the situation.
2 hardware units are available: the Nozori 68 with 6 potentiometers, 4 CV in, 2 audio IN and 2 audio OUT, and the Nozori 84 with 8 potentiometers, 2 audio IN and 2 audio OUT.
These two platforms allow an extensive range of modules. The available list is impressive: shape morphing VCO, morphing VCF, FM or other sound generators, sequencers, shape morphing LFO, chaotic CV generators, sound effects. A total of 40 modules have already been developed.
We spoke to Cyrille Henry, the man behind Nozoid (and Nozori). Here's what he told us about this rather revolutionary concept for the eurorack modular world:
"I was inspired by the art of origami: a wonderful world can emerge from a simple piece of paper. I hope the nozori modules will be a similar source of inspiration for musicians. The Nozori concept allows more complexity and diversity for small, and less expensive system. I hope it will allow more people to dive into eurorack." When pushed Cyrille relented and admitted that he sees Nozori as "One hardware to rule them all!" However, not everyone shares his enthusiasm or vision. He says, "after 1 year developing the nozori module in my garage, my wife still thinks I'm trying to tune the lawn mower!"
OK... back to the press release now!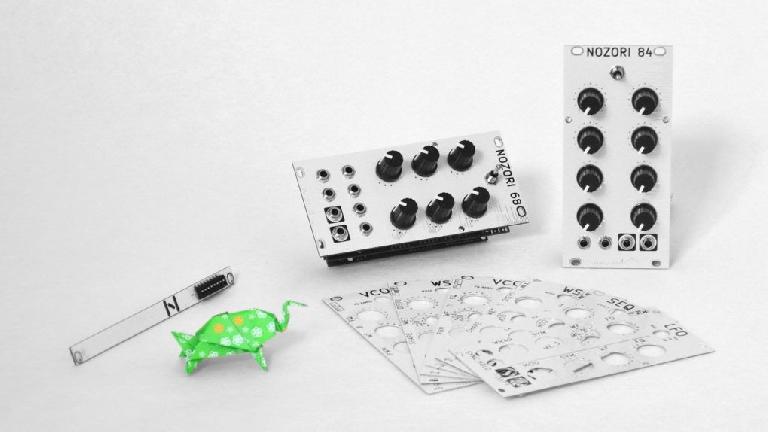 A simple 5 module rack offers more than 3 million module combinations. Nozori unleashes creativity at a small cost!
Nozori modules can be used with their reversible white / black panels. Their elegant design will perfectly fit in your rack. An extension pack is also available. It includes optional front plates that can be added to show the control parameters of a specific module. This pack also exposes the jumpers on the front panel to let you swap module within seconds.
The nozori website contains more information, including video demonstration of all modules. http://nozoid.com/nozori
Here are the full specifications :
12U eurorack module
POTENTIOMETERS : 12-bits at about 18KHz sampling rate
AUDIO IN : 24-bits at 96KHz, DC Compatible, from +/- 5V (clip between +/- 6 to 7V)
AUDIO OUT : 24-bits at 96KHz, DC Compatible, delivers +/- 5V (can go up to +/- 7V)
AUDIO IN/OUT latency : 0.17 ms
CV IN : 12-bits at about 18KHz sampling rate, from +/- 5V (clip at +/- 5.3V)
Power consumption : +12V : 150mA; -12V : 10mA
32 bits ARM Cortex M3 @ 84MHz
260g
Low profile (only 27mm deep)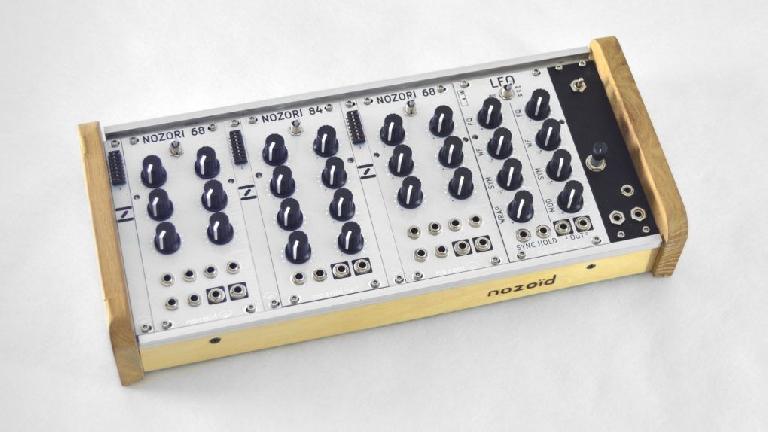 Nozoïd is known for the OCS-2 and the MMO-3 : 2 semi modular synthesizer that pack tons of control into a very small form factor. Both synths have very good feedback from their user communities, including Jean-Michel Jarre, Richard Devine, and Bogdan Raczynski.