With Musikemesse 2016 just round the corner here's the latest offering from Pioneer DJ. The new DM-40 active monitors and designed for the DJ/producer who want a tight bass kick you'll feel.
Here's what Pioneer DJ tell us about their latest desktop monitor speakers:
Create a versatile home set-up with the DM-40 active speakers – the desktop monitors that produce a rich, balanced sound fit for DJing, producing and general playback. We've packed the compact DM-40s with high-quality speaker technology from Pioneer's pro-audio sub-brand TAD[i] and our S-DJ X Series of pro-DJ monitors, including a front-loaded bass reflex system to deliver a tight bass kick you'll feel. Soft dome tweeters with DECO[ii] convex diffusers produce a 3D stereo sound and a wide sweet spot; so you'll enjoy a clear, energetic sound whether you're sitting to produce, standing to DJ or listening to music from your smartphone.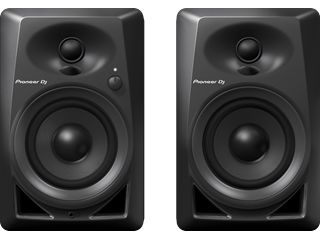 The DM-40 active monitor speakers are available from June 2016 at an SRP of €169 (per pair), including VAT.
Watch the DM-40 introduction video to see how DECO technology can create a 3D sound in your set-up:
KEY FEATURES OF THE DM-40 SPEAKERS
4-inch fibreglass woofer

¾-inch soft dome tweeters with convex diffusers for a wide sweet spot

Front-loaded bass reflex system with grooves for an uninterrupted, rich bass

Class AB amps

Curved front edges reduce resonance

Volume control dial is on the front panel for ease of use

RCA and stereo mini jack inputs

Headphones output
[i] Technical Audio Devices Laboratories (TAD Labs) is a Pioneer sub-brand preferred by professional studios since 1978
[ii] Diffusion Effectual Convexity by Olson (DECO) is a TAD proprietary technology for improved directionality
Web: http://www.pioneerdj.com/en/product/monitor-speakers/dm-40/black/overview/