Until the iMac Pro is released at the end of the year, the 2017 iMac is still the fastest Mac you can buy for most kinds of uses. Iain Anderson puts this 5K monster through its paces.
At the Apple event in June this year, the iMac, iPad Pro, and MacBook Pro were all updated, and the iMac Pro was previewed. While the MacBook Pro was a simple speed bump, the iMac saw a few more changes: to its ports, to its GPU, and to pretty much everything in the upcoming iMac Pro. But is it enough to warrant an upgrade now, or should you wait? Let's break it all down.
First impressions
This year's iMac looks the same as the last few iterations from the front, though the ports on the back are new, the display has been upgraded, and the keyboard has been updated. The 2014 iMac that I came from didn't include a wide-gamut P3 display, and while the 2015 iMac did, the 2017 iMac has P3 and is noticeably brighter too. Apple claims a 43% improvement, but you may find it to be too much when turned all the way up.
Two new ports
At the back, it's almost the same story as the last two iMacs, except that the two Thunderbolt 2 ports have been replaced with Thunderbolt 3/USB-C. If you use external Thunderbolt hardware (such as a RAID) you'll need at least one Thunderbolt 3 to Thunderbolt 2 adapter from Apple.
More than one device? Well, if your devices include more than one port, you can daisy chain, connecting one TB1/2 device to another using the old Thunderbolt cables. A neat trick that isn't widely known is that you can use a Mini-Displayport adapter to connect an old external monitor — but only via an external Thunderbolt device.
If you're not using Thunderbolt, then some (very) cheap USB-C adapters will give you a total of up to six USB ports. As all the new keyboards are wireless, you can save an extra USB port, and be able to work from across the room.
The new Magic Keyboard
Finally, a numeric keypad on a wireless keyboard from Apple — a great idea, and not just for the extra numbers. The seven extra F-keys (F13 through F19) are fantastic for custom keyboard shortcuts in FCP X and other system-wide apps like Screenflow, and on this version, they're all taller and easier to press.
For designers, it's really important: in Adobe InDesign, you need the number pad's numbers to add shortcuts to Paragraph, Character or Object styles. Sure, this is a design oversight that Adobe should fix, but for now, you need that number pad to work quickly. And yes, the one-key forward delete/Home/End/Page Up/Page Down are all very handy for text and video editing.
Finally, though, Apple have revised the appearance of the Control and Option keys, and now show both their symbols and names on the keys themselves. Crucially, "alt" is no longer displayed on the Option key on the UK keyboard. On previous UK keyboards, the Option symbol, "alt" and no other words were shown on the Option key, and the UK Mac community largely called it the Alt-key. There's even a band called "Alt-J", and you can read more about the history of the Mac keyboard here.
Before now, keyboards in the rest of the English-speaking world didn't include the symbols on the Control or Option keys. With just the words on the keys, we knew what the keys were called, but not everyone could connect the keys to the symbols shown in the menus. Putting both the words and the symbols on these keys helps everyone to call the keys by the right names, and learn shortcut keys for menu items. It's just a shame it took this long.
Unfortunately, Apple didn't standardise the Shift key, which has only a symbol in the UK or a word in other English-speaking countries. Still, it feels great to type on, battery life is good, recharging (via Lightning) is quick, and it's great to see Apple directly meeting the needs of professional users.
Speed
Yes, it's faster than the last model, and faster still than the one before that I'm moving from — around 20% on average. The SSDs are incredibly fast today, but the hybrid Fusion Drive has improved in the latest version too. As with any other upgrade, the longer it's been between updates, the more you'll notice the difference.
A common synthetic benchmark for FCP X is BruceX, and it really pushes the GPU. While my old 2014 iMac managed to complete it in 29 seconds, my 2017 iMac took just 20 seconds, and you'd expect the monster new Radeon Pro 580 (with 8GB of VRAM) to do well. Finally, it's a desktop-class GPU in an iMac, and Final Cut Pro X really benefits, with various tests coming in 40-75% faster than the 2015 model. (Kudos to Max Yuryev for extensive benchmarking here.
In day-to-day use, the iMac certainly feels snappier, with very quick realtime performance on 4K compressed footage — more effects with fewer slowdowns. But depending on what you do, the improved CPU and GPU power may not be that noticeable, because it depends how much you're pushing your Mac. Simple exports from FCP X were already very fast, and a few seconds saved on a 30 second export won't make a huge difference. Larger, more complex workflows will benefit more.
The speed boost can also depend on where the bottlenecks are in your workflow. A slow disk will limit how quickly output files can be written, a slow network can make uploads take forever, and slow software just won't benefit to the same degree as software that uses as much as it can get.
Both FCP X and the new version of DaVinci Resolve benefit hugely from this new iMac, but Adobe Premiere really doesn't improve much at all. That's a huge disappointment, and if you're a Premiere user, I'd recommend looking to shift to either of those apps first if you're looking for a big speed improvement.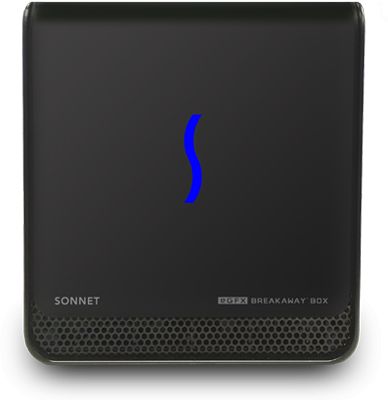 Sonnet sell this eGFX Breakaway Box at http://www.sonnettech.com/product/egfx-breakaway-box.html now, and Apple sell a variant to developers
External graphics
If you're using apps like Blender that prefer Nvidia cards for CUDA acceleration (rather than Apple's preferred OpenCL/Metal) then you might be disappointed that Apple has stuck with AMD. But don't worry — this is the first iMac that's properly future proofed with regard to graphics. As of High Sierra, coming out later this year, you'll be able to use external graphics cards in external Thunderbolt 3 enclosures, and Nvidia have drivers available now.
The dream of using a laptop while on the road but coming home and plugging it in to create a gaming monster is almost here, and it's also going to be key for performance-hungry users who want the best GPU available for their desktops. The performance junkies at Bare Feats have tested how much an eGPU (or two) can improve some apps, and the results in Blender and Resolve are pretty staggering.
So what about the iMac Pro?
This super-beast was announced but will not be available until December. If you can wait, you'll get a server-class processor with 8 to 18 cores, a Radeon Vega GPU, four TB3 ports, up to 128GB of RAM, an insanely fast SSD at 3GB/s, 10Gb Ethernet, and a UHS-II SD card reader. Oh, and it's dark grey.
For high-end users, that networking boost alone is a huge deal, and the improved CPU and GPU are an obvious improvement too. But still, you could add an external GPU and a $30 UHS-II reader to any other Mac for less money, and due to the new cooling system, the RAM is not user-accessible. Next year's promised new Mac Pro will offer something even more upgradeable too. Still, if money's no problem, grab it.
Conclusion
If you're on a 2015 iMac, you'll see modest gains from upgrading to a newer one. The pace of change has slowed in recent years, and Intel's chips just aren't getting that much faster. From anything older, the change will be more obvious, faster in every way, especially if you go for the top-spec model tested here. As a standalone machine, it's terrific. The GPU is fast and can be augmented, you can't buy a better display, and the new keyboard is lovely. On many tests it's the fastest Mac there's ever been, so it'll satisfy the majority of users, but the most demanding users should go for an iMac Pro or Mac Pro when they become available. A final, long-standing tip: for the best deal, buy your RAM from a third party and install it yourself.

As Tested: iMac (Retina 5K, 27-inch, 2017), 4.2 GHz Intel Core i7, Radeon Pro 580 8192 MB
Price: US $2,629/ UK £2,549 (inc. VAT) / AU $3,969 (inc. GST)
Pro:
- Desktop-class GPU, finally
- Full-size wireless keyboard with the right labels, finally
- Fastest Mac you can buy for many uses
- Display is still best in class

Con:
- Intel isn't increasing CPU speed quickly enough
- A faster SD reader shouldn't have been held back for the iMac Pro
- RAM upgrades are still overpriced