Getting good sound to go with your picture can mean bolting together lots of gear. But a new combined grip and mic system from Sevenoak is looking to change that, and at a surprisingly low price.
Here's a common problem: your high-end smartphone, DSLR or camcorder can take great video but its audio capabilities leave something to be desired. Third party mics are available and many are great but they don't integrate easily with grips and stands, which you'll also be using if you are doing any kind of serious filming. All too often you end up with a bolted-together rig which works but can be unwieldy.
Step forward Sevenoak with its new MicRig, an integrated grip and stereo mic combo currently on Kickstarter that aims to solve this problem. It differs from other gear like IK's iKlip AV (smartphones only, no native mic) and bespoke camera cages (usually no electronics built-in at all) in that you just add the camera to complete the core package. Additional gear is available from the company including lights and wireless lavaliers for a more complete rig, but the core unit is the MicRig itself.
Look and feel
The grip is well built but very lightweight, which is an important factor when you're going to be holding this thing for hours on end. The body sits proud of the floor on two rubberised feet and there's a fully adjustable screw for connecting most types of camera or smaller camcorders. Helpfully this slides not just back and forward but also has multiple sideways avenues, since many DSLRs have off-centre mounting threads, so you can keep the camera properly centred. The MicRig itself can also be mounted on a tripod or monopod for more stable shots.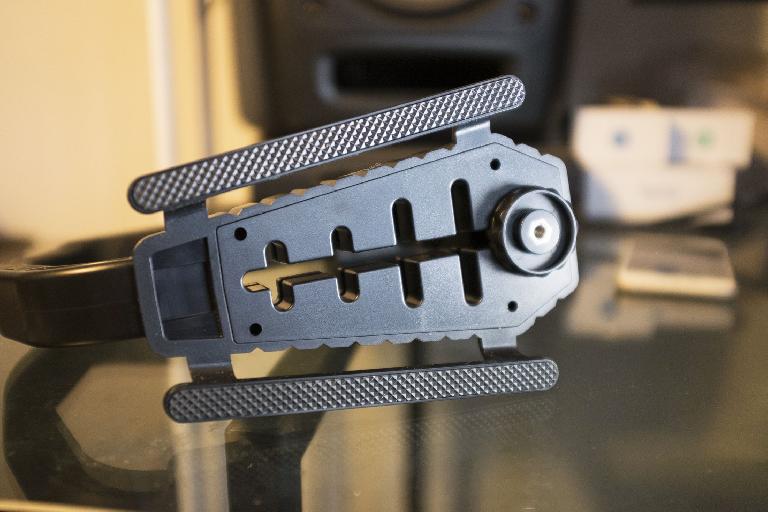 A smartphone mounting bracket is also supplied and this is adjustable to fit your phone. Up above, the microphone is mounted at the front of the handle and is powered by one AA battery. It's a stereo condenser with a response of 35-20,000Hz and a decent sensitivity as well as a +10db boost switch and a lo cut switch.
Two cables are provided for connecting the mic to your camera or phone, and the sound is recorded via the camera's mic input which is usually part of the headphone port. The mic itself also has an accessory mount for connecting other accessories like lights, screens or even other mics.
Results
The results from MicRig were very good, capturing far more detailed and clearer sound than any built-in camera mic will manage. For the price you're getting a good, flexible grip and a quality mic that performs well in many situations. Buying a separate grip and mic of similar quality would easily cost double the price of MicRig, and the handle being over the top of the camera means it's great for low shots and capturing movement.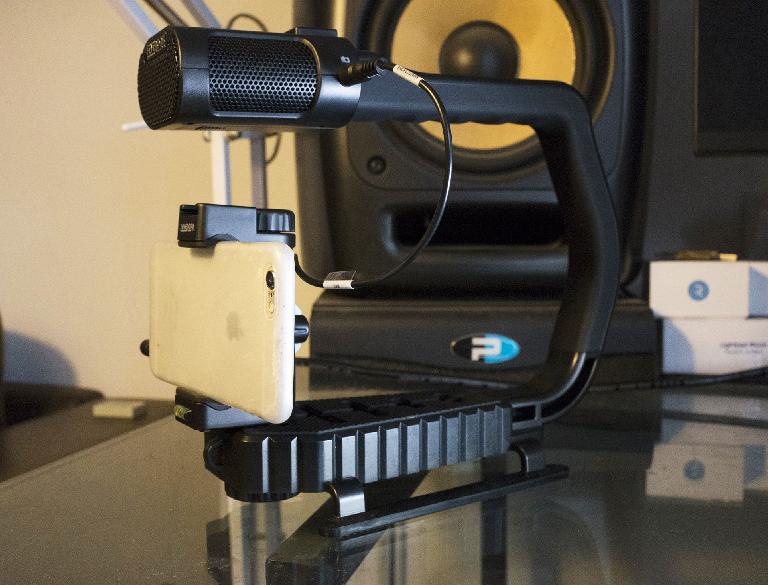 Are there omissions? At the price it's hard to pick faults really, though the lack of any kind of audio monitoring output is a shame and means you're not 100% sure exactly what you're picking up until you have shot a bit of test footage and played it back. Connecting bolt-on lavalier mics requires a separate audio mixer too, which is straying back towards the kind of rig the company claims is unweildy. In fairness, pro video / audio rigs aren't simple pieces of equipment and MicRig is a good and very affordable alternative for those wanting to shoot quality sound alongside their images.