With the latest generation of Maschine hardware, NI has made great strides in enhancing and streamlining the capabilities and power of the system. Hollin Jones dives deep into the new features'¦
When a company makes a wide range of tech products, they usually have to focus development on a few of them at a time, since the R&D required is considerable. But what then happens is that things they've figured out or developed for one product line can be incorporated into others as part of future upgrades. Apple does this all the time: you'll see something like Touch ID for example start off in iPhones then come to the iPad and eventually also the Mac. Native Instruments - a company that is in some ways like the Apple of music technology - is relentlessly innovative and with the third generation of its Maschine hardware, has pulled together tech developed for some of its other models and combined it with a bunch of brand new stuff that only exists in Maschine.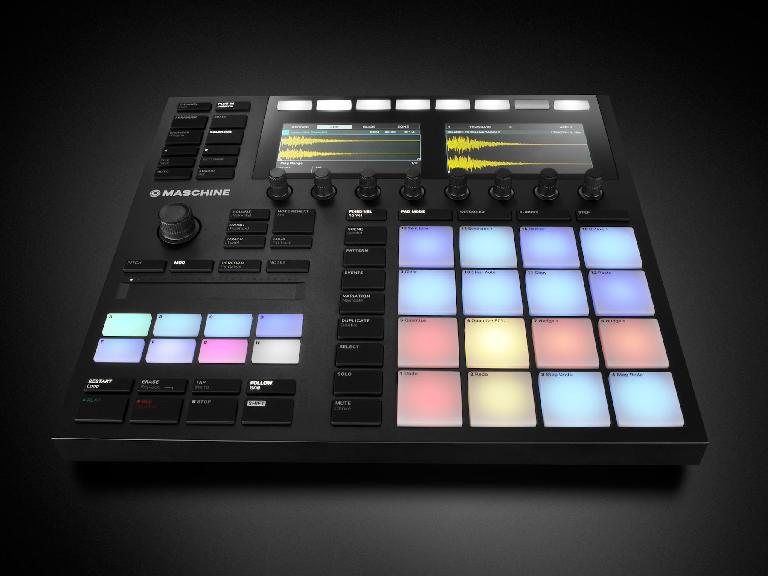 I was lucky enough to have a hands-on demo of Maschine MkIII at NI's London headquarters and was honestly blown away by the sheer number of advancements they have made. It's truly a generational leap - far greater than the differences between the MkI and MkII hardware. For new users the offer is very appealing but I can also see owners of older Maschine hardware seriously considering the upgrade as well. Let's dive into what's new.
All In One
The basic form factor is broadly similar though the unit is now a little heavier and feels more solid. The slight increase in weight is due to the fact that it now incorporates an audio interface, meaning it's a more all-round solution now. Sending audio, MIDI and power over a single USB cable is a remarkable achievement for a unit with as much functionality as this, and it's something that NI worked hard to achieve. USB doesn't carry a huge amount of power so running all the lights, backlit screens and the audio interface off it is remarkable. If you use the included PSU, the backlights get brighter but that's the only real difference.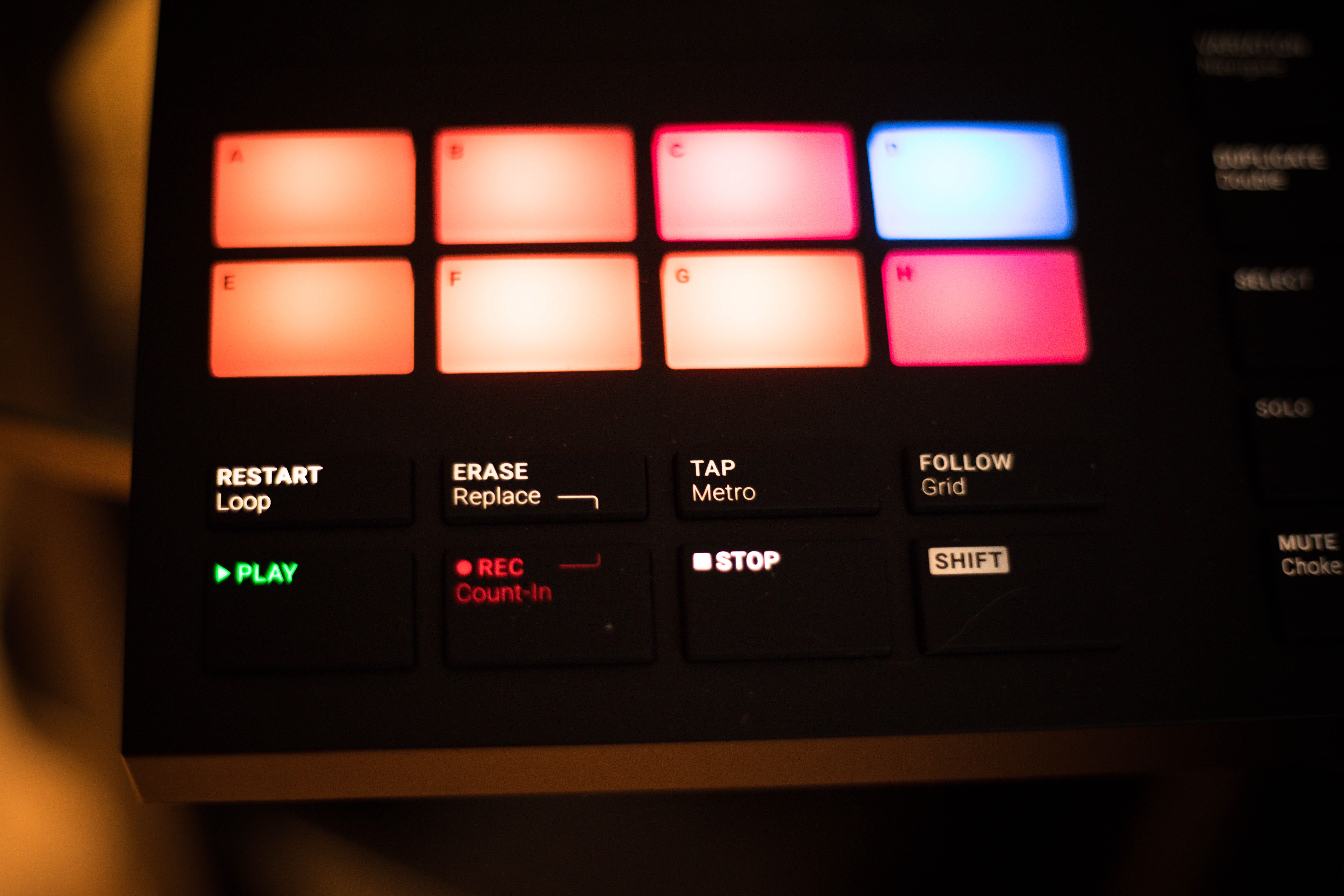 Speaking of the audio interface, this runs at 96 kHz / 24-bit and has 2 x ¼" TRS line outputs, 2 x ¼" TRS line inputs, a ¼" dynamic mic input, stereo headphone output, 1 x MIDI In, 1 x MIDI out and 1 footswitch input for sustain or expression. So as well as sampling directly into the Maschine software you can use the hardware for speaker or headphone monitoring as well as a general recording and MIDI interface. If I was being really picky I'd ideally want the headphone port on the front edge and maybe an XLR for the mic, but these are doubtless ergonomic decisions, and not deal breakers at all.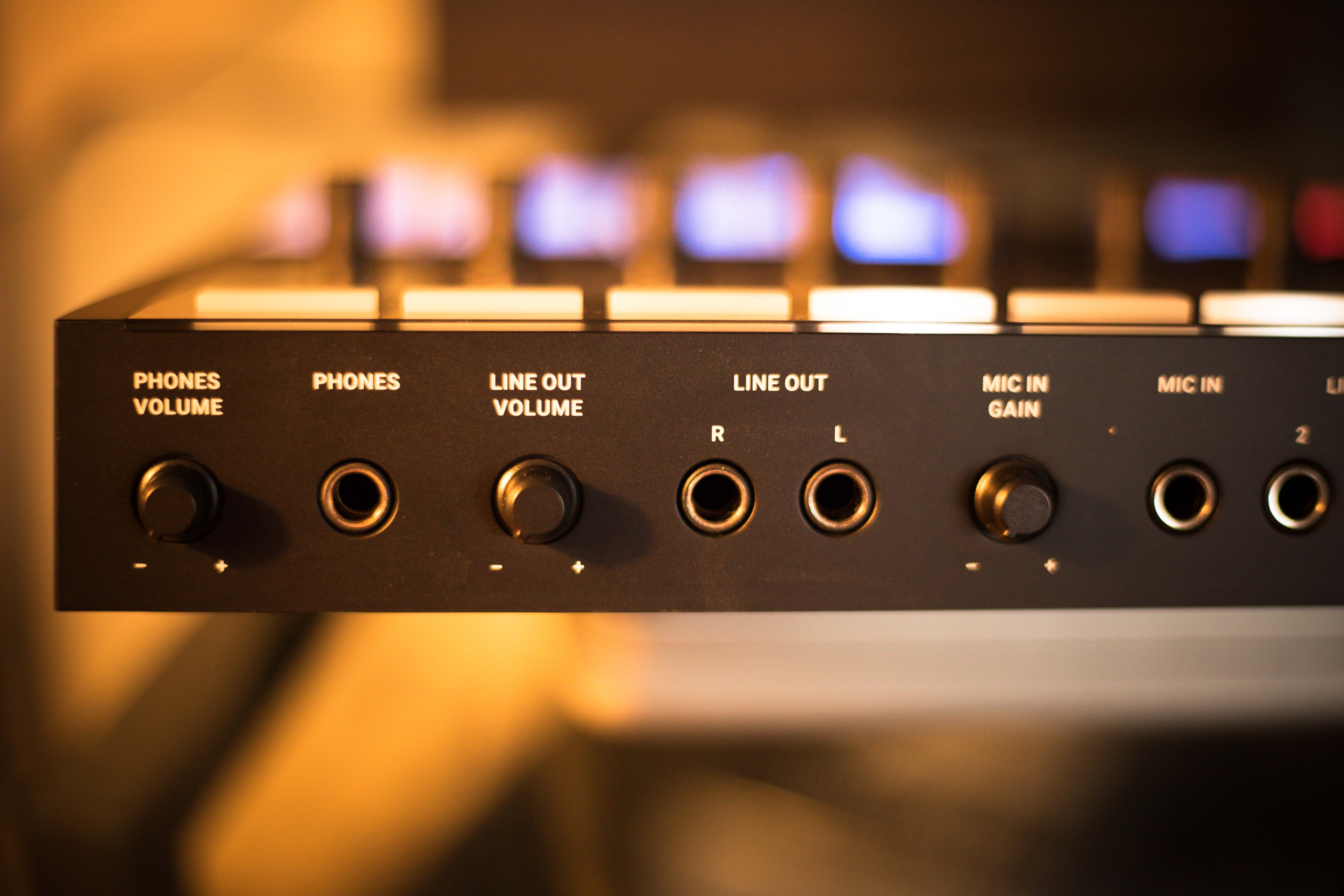 Love The Layout
The main playing surface has also had a radical redesign. The most obvious new element is the two large colour screens that provide detailed visual feedback and allow very hands-on navigation of libraries, plug-ins, effects, settings, mixing and almost anything else you an imagine. The buttons above the screens are contextual, as are the touch-sensitive knobs below. In any given mode, they vary their function which means much less shift-clicking to access different tools. Also new is a four-way encoder, an enhanced jog shuttle dial that also allows four-way clicks to greatly enhance its utility. Between these input methods it's easier than ever to almost never touch your computer: even actions like saving patches and undo are available from the hardware.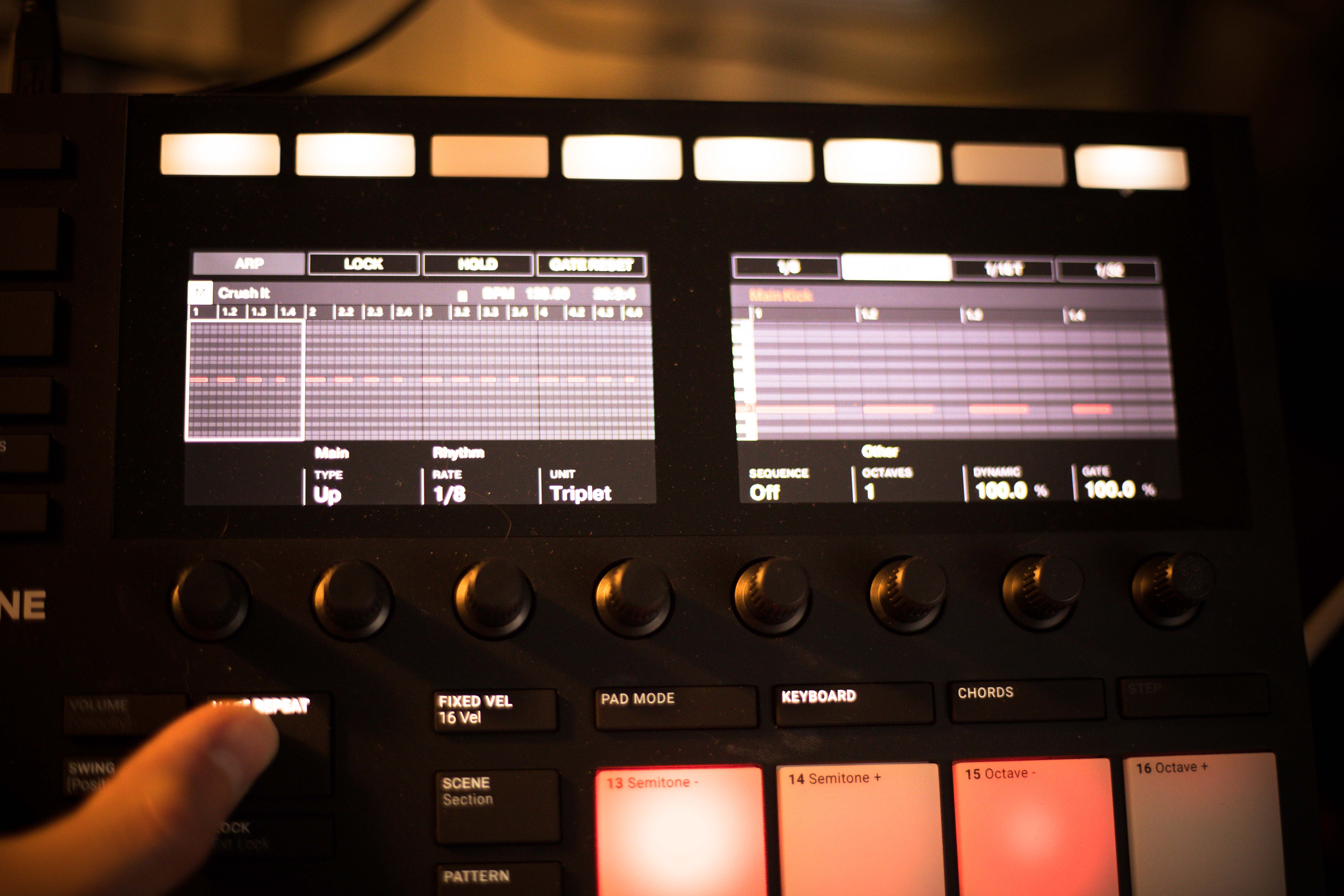 The pads have got bigger but maintained the same centre-to-centre distance so won't confuse existing users. They're exceptionally expressive to play and NI has done a lot of work on improving the finger drumming experience. They feel more responsive than ever to velocity, and there's also a fixed velocity button for more constant response when triggering samples. The Note Repeat button is now larger and makes incorporating quick rolls into live performance much easier.
Multi Modes
The Pad Input mode buttons are located above the pads and make it a breeze to switch between drum, keyboard, chord and step modes. The experience of flipping between modes feels much smoother and more natural now, and the fact you're using the same pads for completely different kinds of input doesn't really register. The MkIII has inherited a Smart Strip and in addition to being great for live effect manipulation this can also be used to strum notes and chords. Hold down any combination of notes, and running a finger across the strip will strum those notes. This is a small but really clever addition, going beyond what you'd expect to be able to do with pad-based input.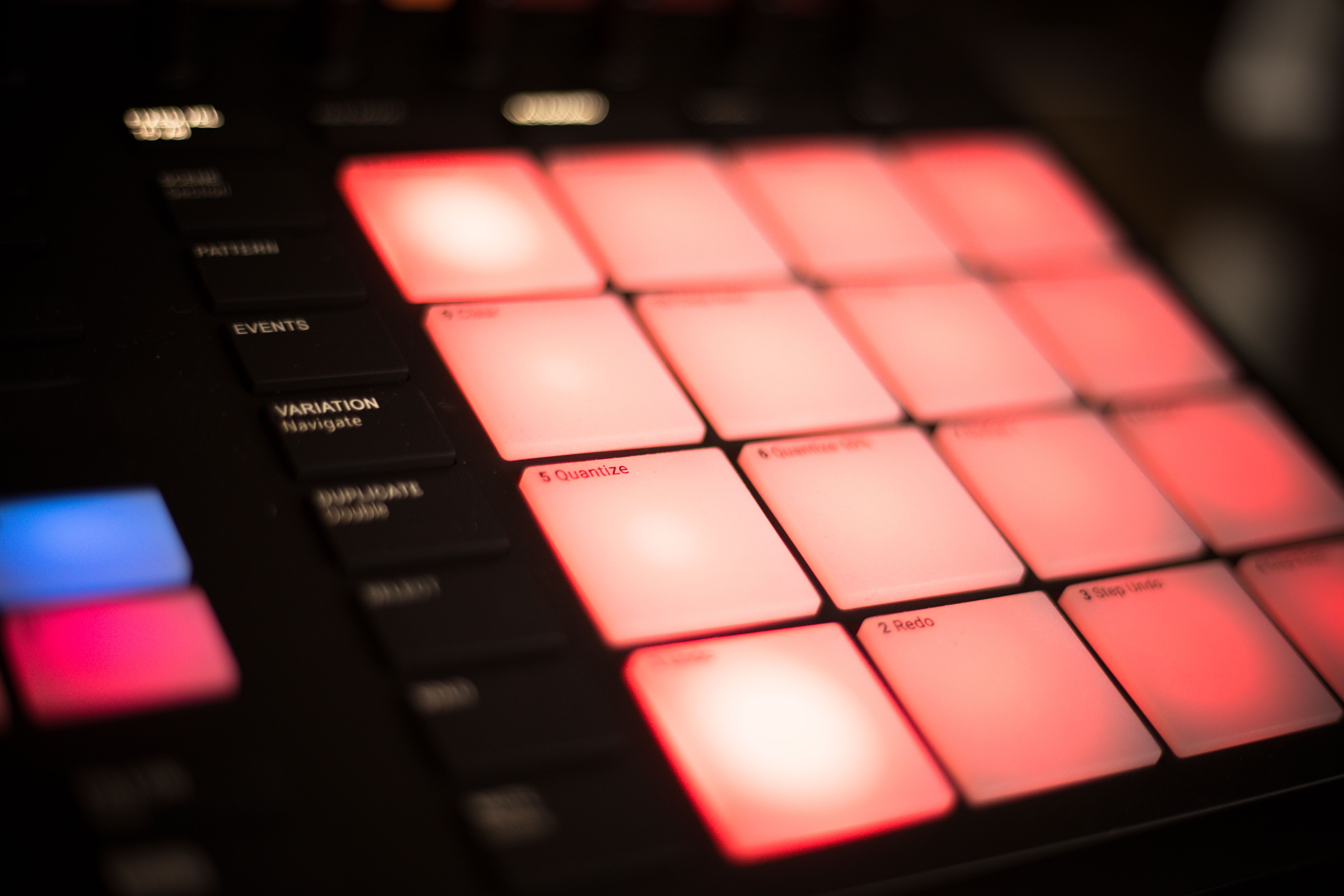 Another inherited feature, this time from Maschine JAM, is the Lock button that lets you take parameter snapshots, make tweaks and then zap back to the original state, or indeed morph between various states. It's really cool for live performance. Of course you still get the 8GB Maschine sound library with bundled instruments and effects, the 25GB Komplete Select library, full support for plug-ins and 25 dedicated effects, so as a package it's enough to get you well up and running.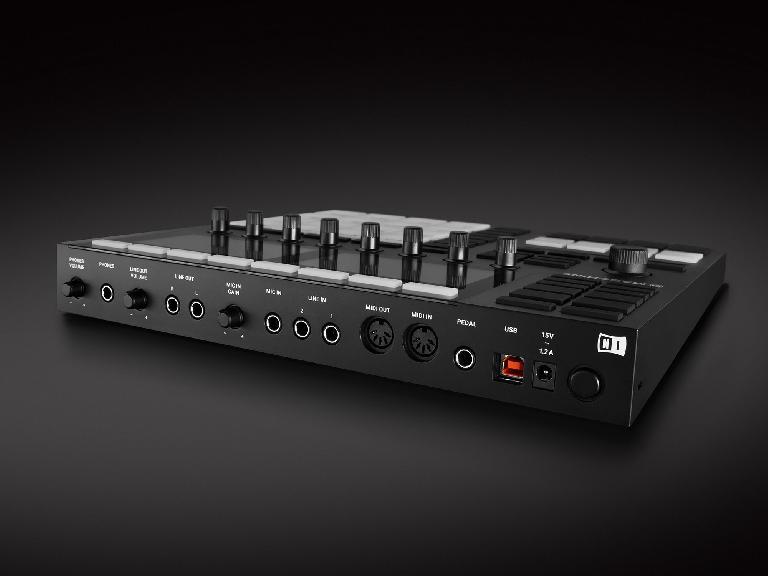 There have been changes to the layout elsewhere too: a redesigned front panel has allowed NI to place many of the most commonly used controls and parameters front and centre, often given their own button instead of requiring a shift+press. There's more advanced DAW control and integration with the latest Maschine software also means buttons like Macro, Browser / plug-in and Arranger are particularly useful. It feels like instead of having to adapt the software to be usable by an older generation of hardware, now they can expand the software to really take advantage of the new hardware interface.
Conclusion
Maschine MkIII is a fantastic controller and performance instrument. Some have expressed dismay at the fact NI has chosen not to make it entirely self-contained with onboard DSP, leaving the computer out altogether. While I can't tell you the grounds for that decision, I do know that the company's whole ethos has been and continues to be rooted in native processing, on a computer. I don't see that changing any time soon, and there are other people making standalone solutions if that's what you really want.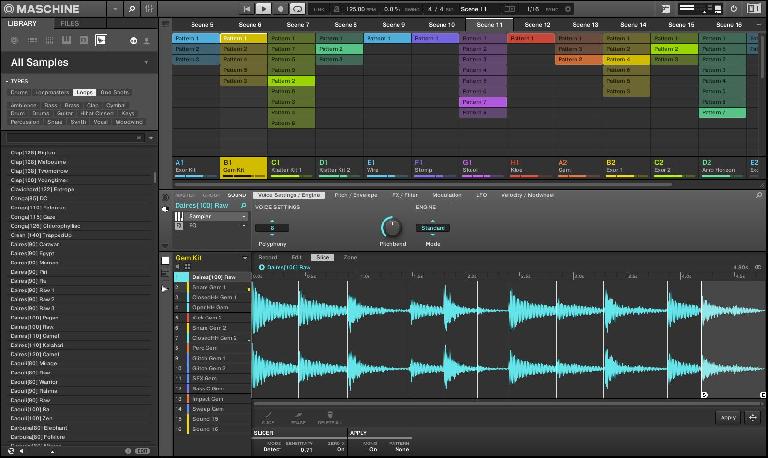 What they have done here is taken great steps towards streamlining the whole Maschine experience. There's a single cable for everything, and the onboard studio-grade audio and MIDI interface means one less box and several fewer wires to carry around. The ability to drive all the lights, electronics and a loud headphone stage over USB is particularly impressive.
In terms of playability this is unquestionably amongst the most performer-friendly controllers around. The new pads are incredibly responsive, the touch strip, pad mode switcher, note repeat and other easily accessible controls make live performance both powerful and fun. You can do many more tasks like browsing, mixing, saving and so on directly from the hardware, like you can on the much larger Maschine Studio, and the capacitive controls and advanced navigation hardware makes working most of the time from Maschine a reality.
Maschine MkIII is a very impressive controller but its redesign plus the advances in the software make it feel more like an instrument than it ever has before. Rationalising the performance features, incorporating the best of the tech from other NI hardware and building in an audio interface makes it an excellent system. Add in the bundled sounds, instruments and effects and it's a package that's hard to top for beat-makers, performers and producers.
Price: £479 / $599
Pros: Much improved layout for production and live performance. Supremely responsive pads with easy mode switching. Smart Strip for effect and note manipulation in realtime. Great audio and MIDI interface features. Nice and loud! Streamlined workflow. Excellent bundled sounds and instruments. USB powered.
Cons: Still needs a computer - if that's something that really bothers you.
Web: https://www.native-instruments.com/en/products/maschine/production-systems/maschine/