Novation's Launchkey gets a major upgrade and a new family member with version 3. Hollin Jones takes you on a tour of this powerful MIDI controller.
Released in 2013 with a second generation in 2016, Novation's Launchkey MIDI controller keyboards have been a tremendously popular addition to many studios around the world, particularly thanks to their tight integration with Ableton Live. Now the company has unveiled the latest model, the Launchkey Mk3, integrating some great new features for users of other DAWs as well as users of standalone MIDI hardware.
Meet the new kid
It comes in four sizes - 25, 37, 49 and 61 keys. The 37 key model - which I reviewed - is new, and an unusual configuration in the MIDI world. Novation says it's a response to user requests for something between 25 and 49 keys that still retained the full size keys while remaining very portable. To achieve this they moved the pitch and mod wheels to allow for the extra keys. The two larger models have 8 faders which are not present on the two smaller models but otherwise the units are functionally identical.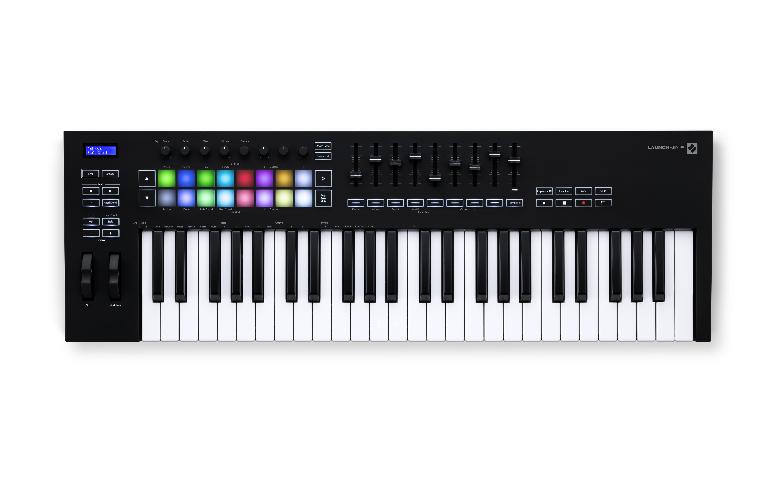 The build quality is solid but the controller itself lightweight enough to transport fairly easily. It's bus powered and sends MIDI over USB, with a USB-A cable supplied, though no USB-C. We're still at a stage where the older USB port format is in widespread use and some manufacturers choose to bundle both cables, while other's don't. On the rear panel is a lock port, a sustain pedal input and a MIDI DIN plug out for hooking up to hardware instruments. Launchkey works in standalone mode too so it's perfectly possible to use it without a computer. The LED screen is small but serviceable, with additional visual feedback provided by backlighting on the pads and many of the buttons. There's also subtle but helpful text marking beneath almost all controls denoting sub-functions that can be triggered from there.
Going Live
Connect it up and you are guided through the setup procedure which installs the relevant scripts to enable DAW communication. Live control is the most comprehensive, with direct buttons on the hardware for all sorts of parameters to operate your Live session. This isn't just regular stuff like recording, mixing and quantisation but also drum racks mapped to the pads, clip and scene launching and project navigation. The two models with faders also allow master volume control and track selection. The 16 velocity sensitive pads are responsive and great for triggering or playing beats or melodies.

There's expanded support for other DAWs too. Logic gets solid representation with good navigation, recording and performance mapping, and there's also HUI integration for a slightly more limited set of mappings to Reason, Cubase, Pro Tools, Studio One, Reaper and others. The downloadable Components app lets you make and save custom mappings - this can also be done via a web browser - for the buttons, pots and where present, the faders. This is really flexible too, with the ability to send different control areas to different MIDI channels to control multiple instruments, and send program changes, CCs and more. It's all well-designed and easy to use.
Sweet Spot
The full size keys feel good under your fingers, and will accommodate more expressive playing as well as just triggering, particularly if you add a sustain pedal. Keys on smaller keyboards can be tricky to get right but Novation has definitely nailed it here, and the three-octave range on the 37 key model I reviewed is quite a sweet spot for range vs. portability. There's easily accessible transposition and octave jump controls of course, but having more keys is always nice.
New MIDI Modes
Speaking of keys, Novation has introduced new Scale and Chord modes, in a similar vein to what NI does with its Komplete Kontrol keyboards. With Scale mode you can choose a scale to map to the keys, essentially meaning it's impossible to play a "wrong" note for the scale you are using. 8 scale types are available. Less experienced players will find this useful for working with more unusual scales, and others perhaps for being more experimental.
Chord mode lets you assign whole chords to individual notes or pads. Fixed, Scale-based or User-Defined chords are available and it's possible to output the pads to a different MIDI channel from the keys for playing multiple instruments. Chord mode lets you play complex, preset chords without needing to know the fingering. Particularly interesting is the idea of assigning a bunch of chords to the pads while leaving the keys in normal mode, sort of giving you two lots of triggers at the same time. There's also a new generative arpeggiator with all the classic modes and also now Mutate, rhythm control and Arp Control Lock which locks the arp controls to the pots and pads.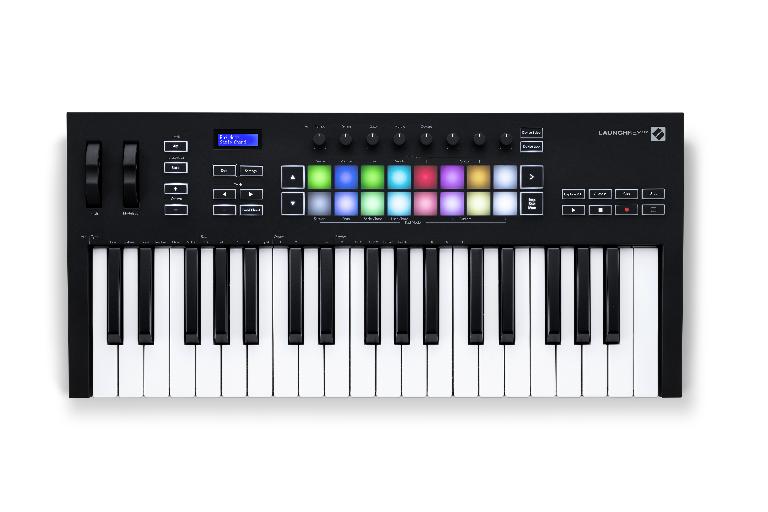 You get a generous bundle of goodies too, in fact more or less everything you need to get started producing music in software. There's Live 10 Lite, Serato Sample LE, Spitfire Audio Expressive Strings, Klevgrand ROVerb and DAW Cassette, XLN Audio Addictive Keys and AAS Session Bundle as well as Novation Sound Collective membership which delivers free and discounted plug-ins on an ongoing basis.
Conclusion
It used to be the case that the Launchkey was of primary interest to Ableton users since this was more or less how it had been designed. But now by the third generation, it is able to hook into a wider range of DAWs - granted not with quite the tight level of integration - but certainly with enough for many users. Its ability to function as a customisable standalone MIDI device is also great news for anyone wanting to being hardware into their setup, especially with the ability to split physical controls over multiple MIDI channels. The 37 key version feels like a sweet spot for power versus portability, though if you want the faders you'll have to look at the 49 or 61-key versions. The new Chord and Scale modes and improvements to the arpeggiator are definite bonuses. All told however, this is an excellent MIDI controller that's well built, well designed and suitable for a wide range of uses. Throw in the software bundle and competitive pricing, and it's a great choice.
Price:
US Dollar MAP: LK25 MK3 - $159.99 / LK37 MK3 - $179.99 / LK49 MK3 - $219.99 /
LK61 MK3 - $259.99

UK Pounds Inc VAT: LK25 MK3 - £159.99 / LK37 MK3 - £179.99 / LK49 MK3 - £209.99 / LK61 MK3 - £259.99

Euros Ex VAT: LK25 MK3 - €147.05 / LK37 MK3 - €168.06 / LK49 MK3 - €193.27 /
LK61 MK3 - €235.29
Pros: Well designed. Powerful but easy to use. New performance features. Works in standalone mode. Comprehensive MIDI tools. Split physical controls to separate MIDI channels. Tight Live integration and beefed up scripts for other DAWs. Good software bundle. 37 key version feels like it will be particularly popular.
Cons: No USB A- USB-C cable in the box. Small screen, if that bothers you.