Minijam Studio from Patchblocks have smashed past their Kickstarter funding goal already. These compact, portable music machines are very affordable and include what you need to make music anywhere.
Getting into electronic music can be a tricky endeavor, as there are a lot of individual devices, and no real, starter kits, that include basic devices you'd need to get started. The makers of Patchblocks are back again, via Kickstarter, and this time they have put a unique ensemble of devices that hopes to provide a mini, complete hardware studio, that even includes a speaker. In this review, let's see how the development is coming along with the prototypes!
Deception in Size…
Nothing really prepares you for the size of the devices, either separate, or individually that make up Minijam Studio. As I open the box, and discover the tiny, tiny little crumples of packing, I almost feel like I've been had, and that I'm going to find a gag note, somewhere in the bottom.
Carefully cutting open each crumple reveals a different, almost macrocosmic relief, as I adjust myself to the next studio I'm going to be spending some time with. Each device comes with a cable, each device feels and exists in the similar dimensions as a bar of soap. And, actually, I think Minijam Studio is lighter is physically lighter than a bar of soap!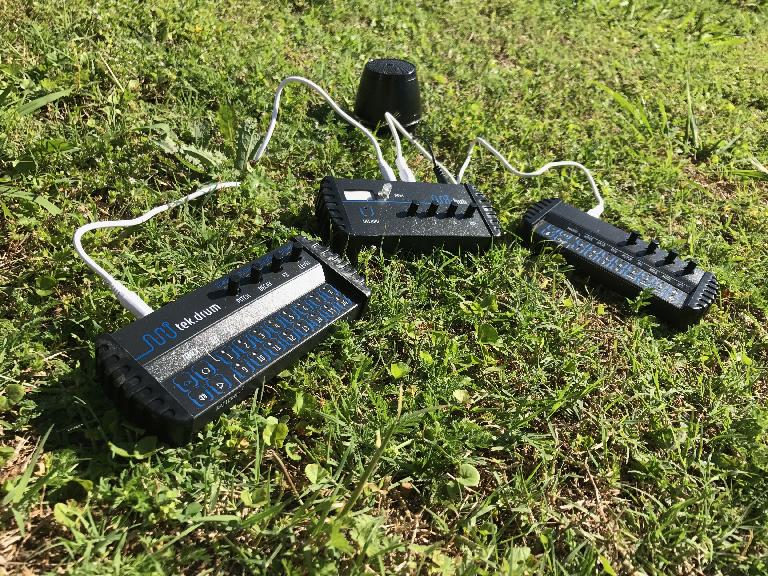 The Cast of Characters…
Within MiniJam studio, there are two predominant performers- Tek.waves, and Tek.drum. Tek.waves is a mini synth of the highest caliber I've seen (and heard) for it's size, and sports an extremely useable and flexible arpeggiator that is a blast to work with. As a fully functional wavetable synth, it provides an unbelievable amount of patch edit-ability, using the four knobs at the top. It also has a built-in, pattern sequencer, that can store up to four patterns.
The pattern sequencer, at first, I found to be a little frustrating. But, when I realized tek.waves place in minijam studio, it really began to make sense. Tek.waves is not the main bass synth, it's the lead synth. And, that being said, it excels at being a lead synth, as well as a rhythmic synth. You can play chords (yep, it's polyphonic), arp out, rock out, tweak and edit patches, in realtime, as if you were working with a regular sized synth. Seriously, you can tweak envelope settings, filter settings, add in some of the built-in echo, and Hearing it, I would've never guessed that this synth is smaller than an iPhone. But, what I am even less prepared for is how expressive and polished both tek.waves and tek.drum feel. I've had less physical performances with synthesizers and drum machines twice the size of these devices. Did they get bigger, or did I get smaller? Or, is it all in my head?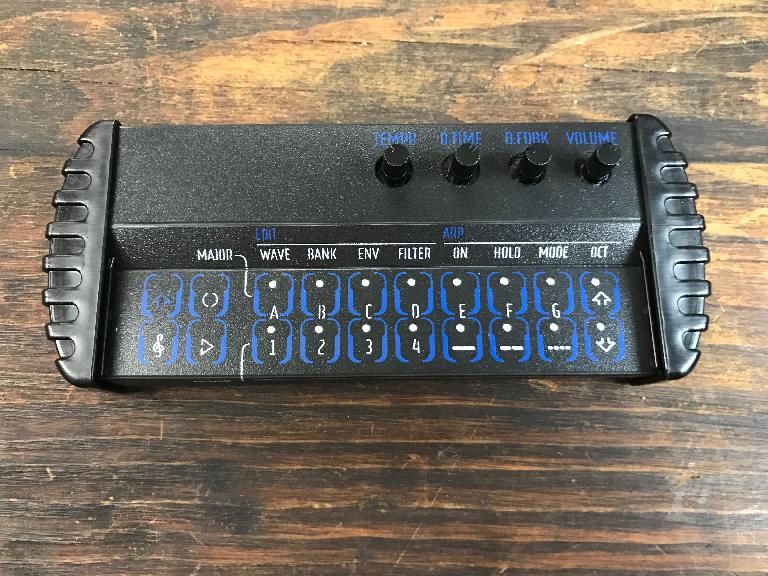 Tek.drum- the drummer of the band, is also the bassist. Yep, there is a bass synth channel, as well as the expected kick, snare, clap, hit, tom, percussion, and cymbal. Like tek.waves, each drum channel is highly editable, with 4 knobs, per drum. So, the Bass synth channel's pitch, like all of the other drums, can be automated, via the assigned pitch knob, giving you a synth bass that can be as melodic as you like. The individual drums, within the tiny drum machine are a lot bigger than you might expect. I was ready for the small, 8-bit sounds with just enough low-end to make it acceptable with some loops. What I got was a big, thumping drums that could exist easily in a German Industrial club, or a giant Trap beat booming through a car stereo.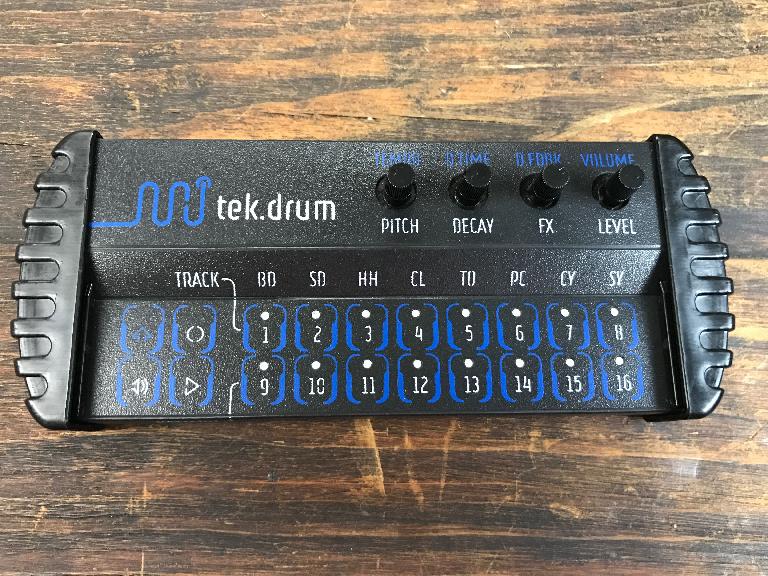 Tek.drum is the biggest sounding, mini drum I've heard so far. I like that it doesn't make any apologies, it doesn't try to be another vintage drum machine. It's got it's own attitude. The kick and snare sound great, out of the gate. But, you can always come back in and trim things up with the decay knob, and even throw some of it's own internal effects on top of one, or several of the drums housed within.
Tek.Hub is the sound guy, or the Minijam mini mixer. And, tek.hub is also the sync source for tek.waves and tek.drum. Interestingly, tek.bub sends sync via it's 1/8" outputs, while accepting audio input coming from tek.waves and tek.drum. There's even an additional audio channel, on .Hub, in case you decide it's time to add in a third tek device. Or, bring in a Volca, or Pocket Operator. With my Pocket Operator, I ultimately end up just using tek.hub as a sync source, and sending the Pocket Operator's output to my mixer, where .Hub's output is going, anyway, in my case. But, just to experiment, I did try sending sync to the Pocket Operator, from .Hub, and then sending the Operator's output back over to .Hub on another port. Granted, I did end up waisting two audio ports. But, I was able to get signal and sync, to a third party device, leading me to believe that an adapter situation might provide a workaround. Correct me if I'm wrong, Patchblocks!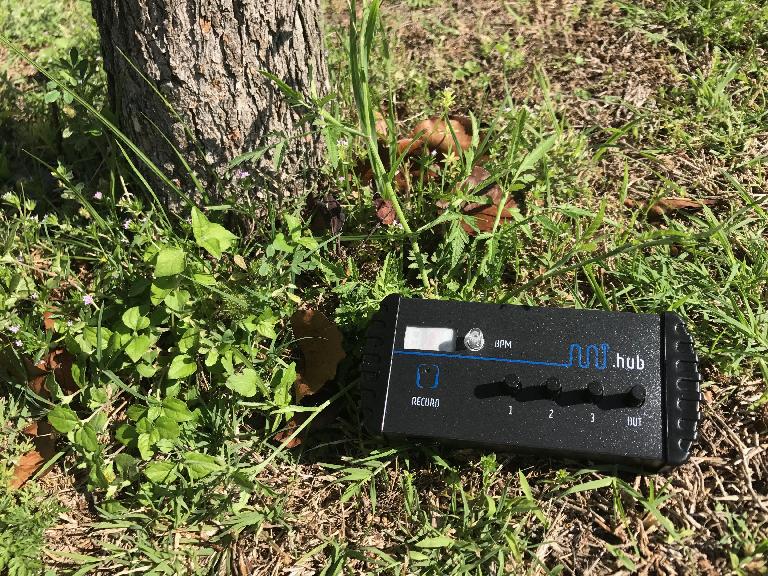 .Hub also incorporates a Digital Recorder of audio currently incoming. In fact, there's a micro SD Card slot where, once you've finished your performance, you can pop it out and drop the SDCard in to your computer, where a monophonic, 44.1 16-Bit WAV file will be waiting for you. I was a little skeptical about how this was going to work, from a distance. And, was pleasantly surprised with the recording quality and just being able to get a quick easy recording for importing in to my DAW, or up on SoundCloud.
In addition to all of the above, there is also the tek.filter, the only item I did not receive, with MiniJam Studio. Sadly, I can't say much about this device, as I've never touched it. But, from what I saw in the videos on the Kickstarter page, I'm going to be looking out for one!
Battery and Power
Each of the Minijam devices have internal, rechargeable batteries. So, each device does have to be charged separately. And, this was a little frustrating, as I was rocking out with some of the pre-release versions of .waves, .drum, and .hub, and the .boom external, powered speaker, devices would lose battery power and just stop, in the middle of a performance, pretty regularly. These pre-release devices have a limited battery life. The final versions will have a 12 hour rechargeable batteries. And, you can use a simple wall to USB adapter, plus mini-USB cable to power your MiniJams directly from the wall. As rechargeable batteries tend to get weaker over time, it's great that Patchblocks will let you power your Minijam devices from a wall.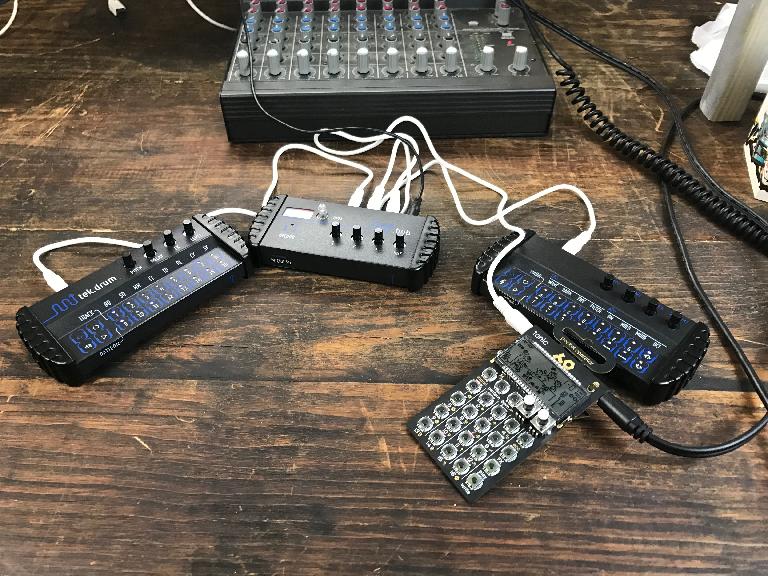 [courses_slider]
Conclusion
Minijam Studio, is one of the best sounding, best buys I have had the pleasure of working with. They (.waves, and .drum) sound huge, allow an unbelievable amount of sound editing, and don't even take up half of a shoe box, when they are stowed. Because they are light, and have soft plastic enclosures, you'll definitely want to be careful with them. But, the knobs are on there, quite well, and are big enough to allow adult, male fingers to still get in there, and really be able to move around, without feeling clumsy. Personally, I do plan to keep MiniJam Studio at home, and not on stage. They are so small that it wouldn't take much to send one of them flying out in to the audience. Regardless of how, or where MiniJam Studio is used, it's a powerful, low-cost package that covers all the bases in a portable, intelligent and thoughtful way. Great work!
Price: From £40 / £45 for individual units. £130 for the complete set + portable speaker.
Pros: A great sounding, tiny, mini-studio that really delivers with amazing performance capabilities and even includes a speaker. Can record to Micro SD, and
Cons: Almost too tiny for live performance, without careful safety measures, ahead of time. Each unit has to be charged/powered separately.
Web: https://www.kickstarter.com/projects/2012099678/minijam-studio-portable-music-machines