In this world-first exclusive review, Sara Simms puts the new Roland DJ-707M through its paces and discovers there's lots to love in this sleek, feature-packed 4-channel Serato DJ controller.
The Roland DJ-707M is a four-channel DJ controller that's optimized for Serato. It's portable, has a slick, futuristic design and features a dual USB input for two computers, dual mic input, LCD menu, FX section, a Zone output section and two small jog wheels. There's a lot of features packed onto this compact unit. To find out how the DJ-707M would perform, I put it through its paces to discover more about this intriguing controller.
Overview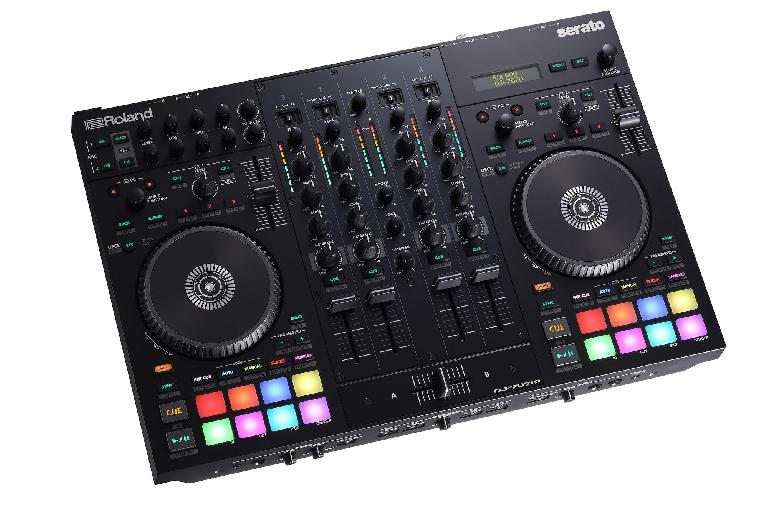 The DJ-707M has two USB ports, which means two DJs can use the controller at once. This gives a lot of versatility for back to back sets or easy changeovers. The controller is optimized for Serato, but can be used with turntables, CD players or other external hardware.

The front of the controller features ¼" and â...›" inputs for headphones, a Cross Fader curve adjust and selectable Cross Fader assign switches for each channel, and a ¼" and 1/8" Stereo Auxiliary Input with a level adjust. The back of the controller features two XLR mic inputs, Line/Phono Inputs for each channel, an XLR Master Output, ¼" and RCA Booth Outputs, RCA Zone Outputs (an alternate output), a MIDI port and two USB inputs. The top upper right hand of the controller features an LCD display that allows users to navigate through the Menu options.
A few of the main features of this controller are found in the LCD menu and allow for signal processing on each output (EQ/multi-band compressor/ limiter/mono mod), speaker management capabilities (i.e. ability to save signal routing/processing into 'scenes'), microphone anti-feedback capabilities, and Zone Output. The DJ-707M can also be used when Serato DJ Pro is not running and an iOS device can be connected to the USB-B Port with an adapter.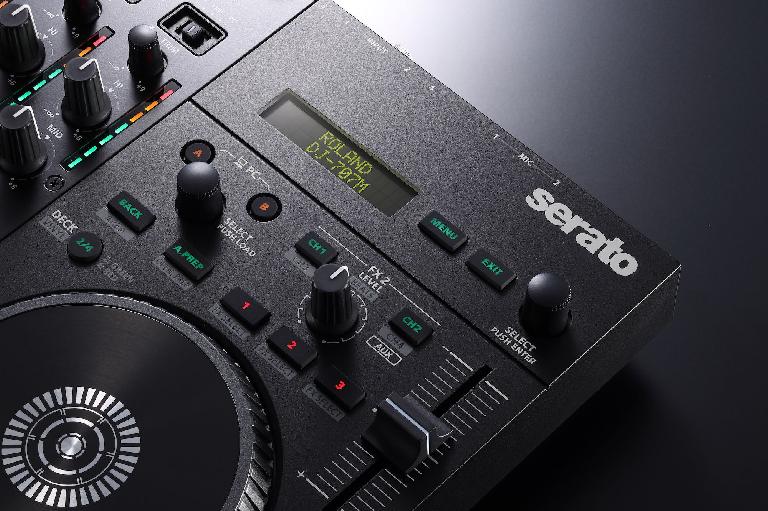 A Scene contains settings for mixer, mics, and output and ten Scenes can be saved in the unit. The DJ-707M comes with pre-saved Scenes including a Standard Scene, which sends the same audio as Master Out from Zone Out, a Two-Room Setting, which means the mic audio is not output from Zone Out, a Deck-Four Zone Out setting, and the Mics-Zone, which means the mic audio is output from Zone Out. There's also a SoundBoost scene, which applies multi-band compression to each output and is useful when mixing using the TR. I think the majority of these output options are interesting, and could be used for mobile DJs who are playing to more than one room. Working more than one room at a time sounds like risky business and you'd have to take care in a performance to select the proper setting.

Mixer Section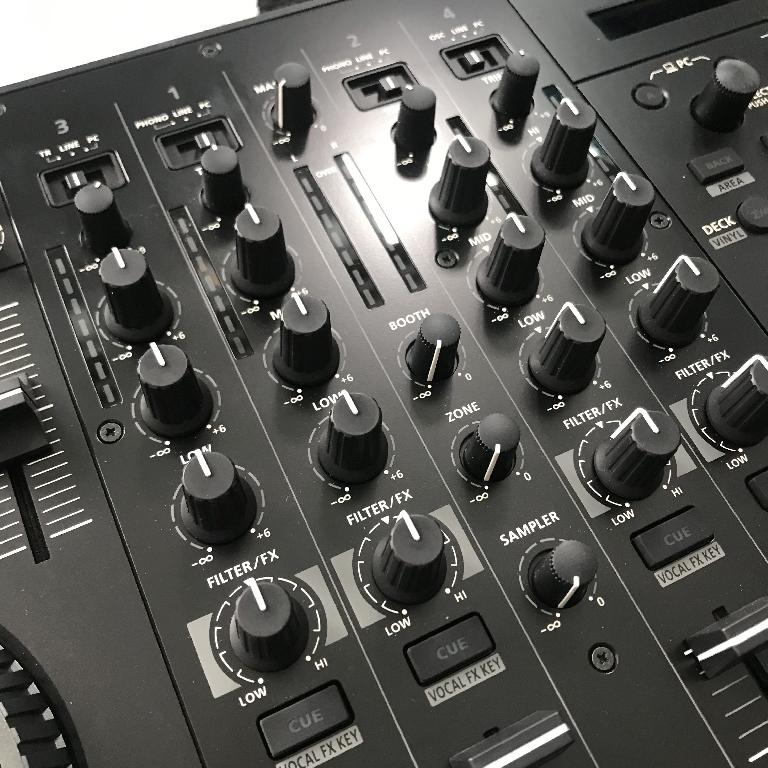 The Roland DJ-707M has a traditional four-channel mixer in the centre of the controller. Each of the channels feature Trim (Gain), Hi, Mid and Low EQ as well as a Filter/FX Knob that applies to either a filter or one of sixteen hardware effects that are assignable to individual channels. There's a Cue button for each channel, which can be switched to make the mic section's effect follow the key information of the song that's loaded into the deck. This is a pretty unique feature that I've never seen on a cue button before and it could be useful if you're into incorporating vocals into your performance. The mixer section also features output level adjust knobs for the Master, Booth, Zone and Sampler and Master Level Indicator.

Channels 1 and 2 allow you to select Phono, Line or PC as a sound source. PC needs to selected if you're using DVS; DVS is the system that allows a DJ to use analog turntables or digital media players to control digital media stored in a computer. Channels 3 and 4 allow you to select the internal OSC sound generator as the source, TR sound generator, line or PC. On Deck 3 you can play patterns created using drum sounds (instruments) such as those of a Roland TR-808 rhythm machine. Patterns contain performance data for instruments and sixteen patterns are provided. This is a cool feature that's very 'Roland' and certainly makes this controller stand out from the rest. On Deck 4, you can use the performance pads to play back sound effects and adjust the velocity of the effects.
Deck Section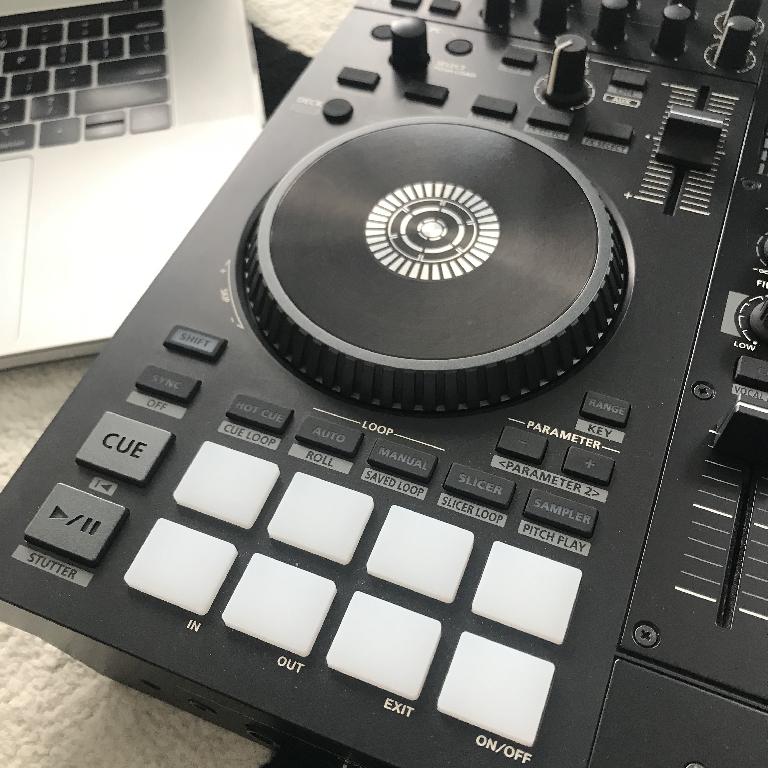 The Deck Section located on the far left and right of the controller controls four decks; on the Left, Decks 1 and 3 and on the right Decks 2 and 4. To use the controller, you'll need to select the computer you'd like to use with either the A or B button. You can use different computers on different sides of the controller, which certainly presents interesting possibilities for sharing the stage. Carefully select which Deck you'd like to use by pressing the Deck 1 and 2 or 3 and 4 button. The pad lights change colours depending on your Deck selection, which can help you to keep track of the Deck you're using. There's a Tempo Slider that allows you to adjust the pitch of a song and a range button that specifies the variable range of the tempo slider. The Deck Section includes standard Play/Pause buttons, as well as Sync. Back and Prep buttons allow you to navigate through your music library and prep your tracks.
The jog wheels allow DJs to scratch, perform pitch bends, skip the playback location and move the playback location. These platters are fairly small, but can be used for simple scratches. If you're used to scratching with vinyl, the small jog wheels will take some getting used to. If you're starting out DJing or are used to playing with controllers, you'll have no problem using these platters. The feel of the jog wheels is light and they're easy to spin with.

The DJ-707M features performance pads that each have a dual feature. Hot Cue can change to Saved Flip mode, (the Serato Flip Expansion Pack must be purchased for Saved Flip Mode) Auto can change to Roll, Manual to Saved Loop, Slicer to Slicer Loop, Sampler to Pitch Play. The Performance Pads add a nice touch to the controller and are fun to use during practise sessions or a show.
Effects Section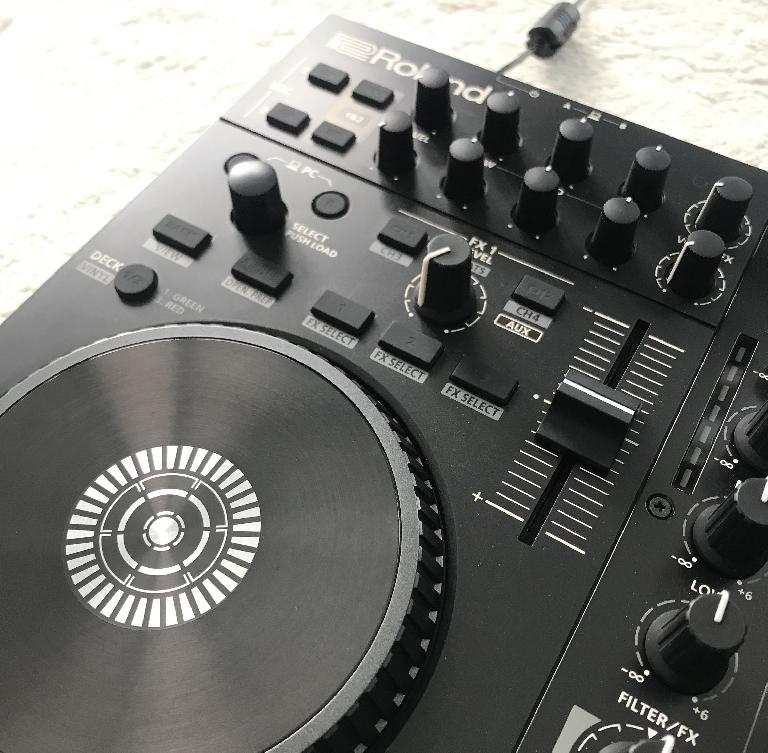 I personally think the FX section is one of the most important parts on a controller. The DJ-707M's FX section has an On/Off Switch that turns FX 1 and FX 2 on and off for Deck 1 and Deck 2, a level knob that adjusts the depth of the FX and three FX buttons that allow you to turn the effect on/off. FX can be used in either Single or Multi-FX mode and there are sixteen effects available for creative use. I would have preferred to see an FX level control for each FX, but there's not enough space on the DJM-707M. However, if you usually apply 1 or 2 effects at a time, the FX section should work out just fine!
Mic Section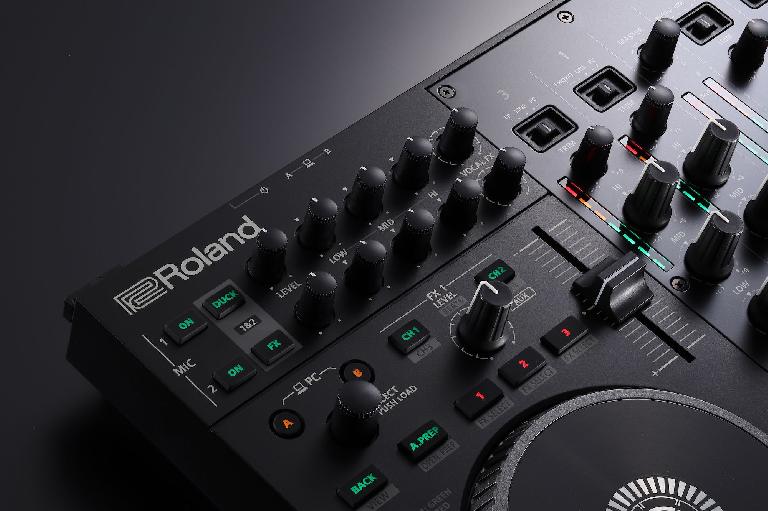 One of the unique features on this controller is the fact that two microphones can be plugged into it via XLR inputs. The top left hand section is a mic input section which allows you to turn the mics on/off, ducks the volume of the mics when other sound sources are playing, and turns the vocal effect on or off. The level of the mics can be adjusted and each of the mics can be EQed and FX can be added. The fact that two microphones can be used with this controller make it an ideal choice for those who perform with vocalists or emcees.

Its worth mentioning that there's also an Auxiliary input on the front of the controller that has two 1/4" inputs, and a 1/8" input. This allows another two microphones to be used, or line input sources (eg. an instrument or keyboard).

Summary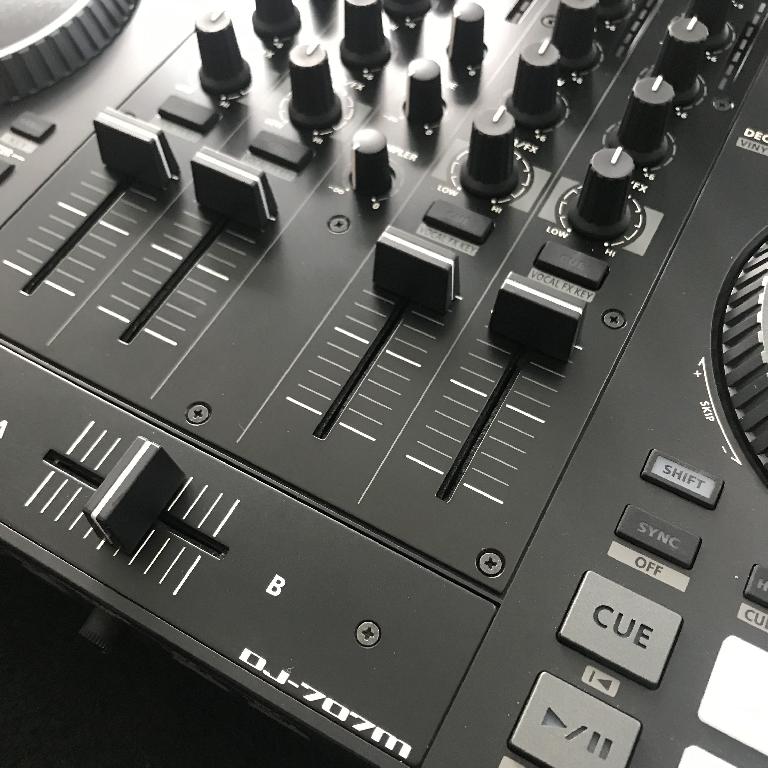 The DJM-707M hosts a lot of features in a small footprint. I like the fact that two computers and two microphones can be used with the controller. Another particularly unique feature is that the mic section's effects can follow the key information of the song loaded into a deck. The jog wheels are small but are certainly a helpful feature for cueing tracks and basic scratching.
Overall this controller has a great design, and packs a ton of useful features into a small footprint. The DJ-707M provides the ability for two or more DJs/artists to perform and use FX with both recorded tracks and microphones. With the multiple output options on the LCD menu, it's aimed at those who want to use one or more rooms for performances, or perhaps artists who want to incorporate 808 style drums or samples into their shows. The DJ-707M is a versatile controller for those who'd like to incorporate spoken word, singing and hardware into their DJs sets and good for those who want to tag team with DJ friends or have smoother changeovers.
Price: $999
Pros: Dual USB Inputs, Dual Microphone Inputs with anti-feedback capabilities
Performance Pads with selectable control modes, Can be used with Turntables or Hardware, LCD Screen, Modern Design.

Cons: Jog wheels could be a little bigger. Level Knob to adjust depth for each individual effect would be useful. With lots of features the overall design looks a little crowded (to be expected if you want to add so many components into small controller).
Learn more DJ skills: https://ask.audio/academy?nleloc=category/audio/topic/djskillsandperforming